Massive artwork taken through streets of Hull
The blade is 250ft long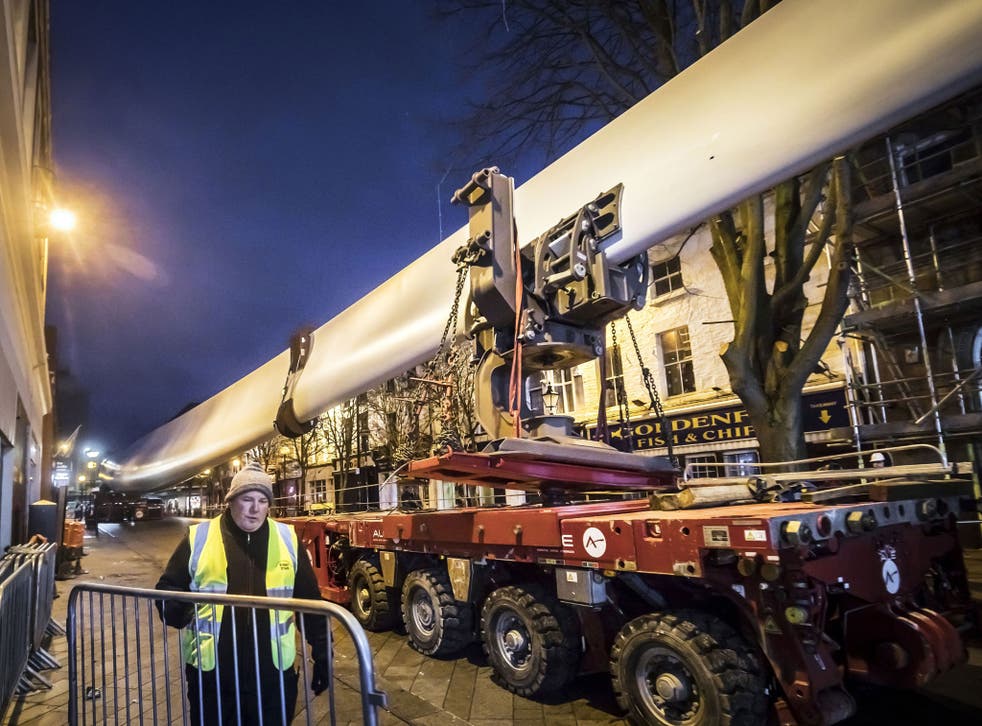 A massive artwork is being unveiled in the centre of Hull - the latest spectacular contribution to the city's UK City of Culture programme.
A 250ft-long (75m) wind turbine blade is being erected in Queen Victoria Square, between the Ferens Art Gallery, City Hall and the Maritime Museum.
Blade has been commissioned from multimedia artist Nayan Kulkarni and created by workers at the Siemens factory in Hull.
Organisers say the B75 rotor blades are the world's largest handmade fibreglass components to be cast as a single object and the one being placed into the centre of Hull is one of the first to be made by workers at the German tech giant's new plant on Alexandra Dock.
Blade will bisect the square and rise to more than 16ft (5m) at its tip. This will allow the city's double-decker buses to pass underneath it.
A complex logistical plan has been put in place to move the 28-tonne Blade into place in the heart of the busy city in the early hours of Sunday morning.
More than 50 items of street furniture, including traffic lights and lamp posts, have had to removed to facilitate its journey into the city centre.
Nayan Kulkarni said: "This ready made artwork, 75 metres long, will divide the square forming a temporary impediment to a free flow.
"Carefully positioned it will force us to drift around its arabesque edges, our sight taking the place of the breeze. The twisting wing although inert and at rest in the street, speaks of movement, but not of freedom."
The work drives home the links between cultural events planned for Hull 2017 and the economic transformation of the city.
Turner Prize exhibition 2015

Show all 7
Organisers and civic leaders have consistently used the £300 million investment by Siemens in its state-of-the-art offshore wind manufacturing plant as a symbol for the city's economic resurgence.
Siemens UK Chief Executive Juergen Maier said: "This collaboration reflects our desire to make a positive impact as a Hull UK City of Culture 2017 Major Partner.
"Blade brings to life the engineering and manufacturing excellence of which we are so proud and makes it tangible for the people of Hull and visitors to the city.
Mr Maier added: "When people see our blades close up they often comment on how beautifully crafted they are. This installation will enable many thousands of people to appreciate that beauty and scale, in the very heart of the city."
Thousands of people turned out on New Year's Day to celebrate the start of Hull's year-long tenure as UK City of Culture 2017.
More than 25,000 people packed on to the city's marina and lined the bank of the Humber for a spectacular fireworks display and crowds flocked to the city centre to visit Made In Hull - a city-wide, week-long, free installation by artists, telling the story of Hull and its people over the last 70 years.
Made In Hull, which was curated by the award-winning documentary maker Sean McAllister, has now been seen by thousands of people and been widely praised as successful start to the year-long programme.
Hull is the second city to be given UK City of Culture status, following Derry-Londonderry in 2013.
The city was selected in 2013 from a shortlist which included Dundee, Leicester and Swansea Bay.
Blade is the first work to be installed in Hull as part of Look Up, a year-long programme of artists' works made specifically for the city's public places and spaces.
Martin Green, chief executive and director of Hull 2017, said: "It's a structure we would normally expect out at sea and in a way it might remind you of a giant sea creature, which seems appropriate with Hull's maritime history.
"It's a magnificent start to our Look Up programme, which will see artists creating site specific work throughout 2017 for locations around the city."
Blade will remain in Queen Victoria Square until March 18.
Join our new commenting forum
Join thought-provoking conversations, follow other Independent readers and see their replies