New Winnie the Pooh illustrations celebrate Christmas traditions including carol singing and playing charades
The drawings were released alongside a survey showing that Britons feel spending time with the family is the most important part of Christmas 
Kashmira Gander
Monday 21 December 2015 14:24 Comments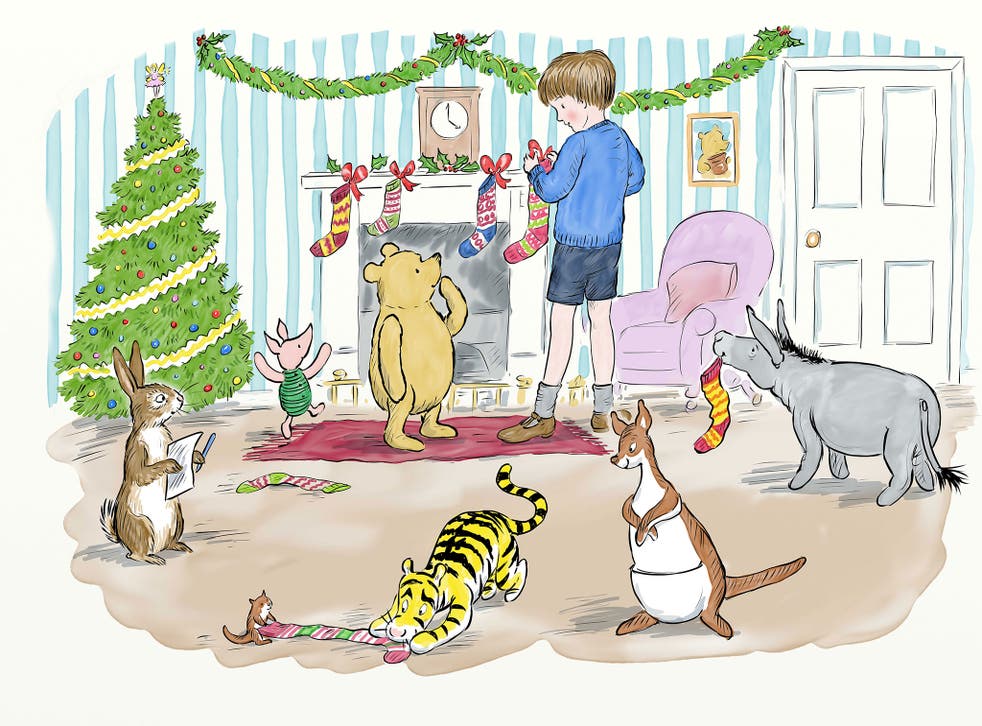 From eating freshly-roasted chestnuts to making colourful paper chains to decorate the home, new illustrations of Winnie the Pooh and his friends have been released to celebrate Christmas traditions.
The drawings by Mark Burgess in the original style of E H Shepard - who illustrated A A Milne's stories - show Pooh and Christopher Robin, Tigger, Piglet, Rabbit and Eeyore taking part in Christmas activities.
Winnie the Pooh at Christmas - in pictures

Show all 7
The images were inspired by a survey of 2,000 UK adults conducted by children's publisher Egmont Publishing, in which they were asked to name the traditions that are in need of saving for future generations.
Playing parlour games with the family topped the list with 33 per cent of the vote, while carol singing followed on 31 per cent. Making paper chains to decorate the home, meanwhile, received 28 per cent of the share, with putting satsumas and nuts in stockings scoring just over a quarter.
A further quarter said they hoped future generations would continue to roast chestnuts during the festive season.
Asked what the most important part of the holiday seasons is, over half of those surveyed said named spending time with their family.
Dr Martin Johnes, from the Department of History & Classics at Swansea University, explained that traditions including wearing your finest clothes and giving fruit and nuts originate from before the Second World War.
"Although satsumas are still given because it links parents with their own childhood, the pre-war tradition of putting a lucky lump of coal in children's stockings has disappeared."
He continues: "Many Christmas traditions are imports from America, but Christmas cards are one that Britain gave to the world. The first Christmas card is widely claimed to date back to 1843, the same year as A Christmas Carol was published by Dickens, but they were actually on sale by the end of 1820s."
The Victorians regarded cards as luxurious items and bought individual designs for each friend and relative, he added.
"Inevitably, a changing world means traditions fluctuate. For example, the tradition of carol singing holds less weight than perhaps it once did – with the musical sphere of Christmas now filled with chart-topping pop songs."
Register for free to continue reading
Registration is a free and easy way to support our truly independent journalism
By registering, you will also enjoy limited access to Premium articles, exclusive newsletters, commenting, and virtual events with our leading journalists
Already have an account? sign in
Join our new commenting forum
Join thought-provoking conversations, follow other Independent readers and see their replies