A homage to Kaspar the friendly cat checks in at the Savoy's new eatery
Alice Jones' Arts Diary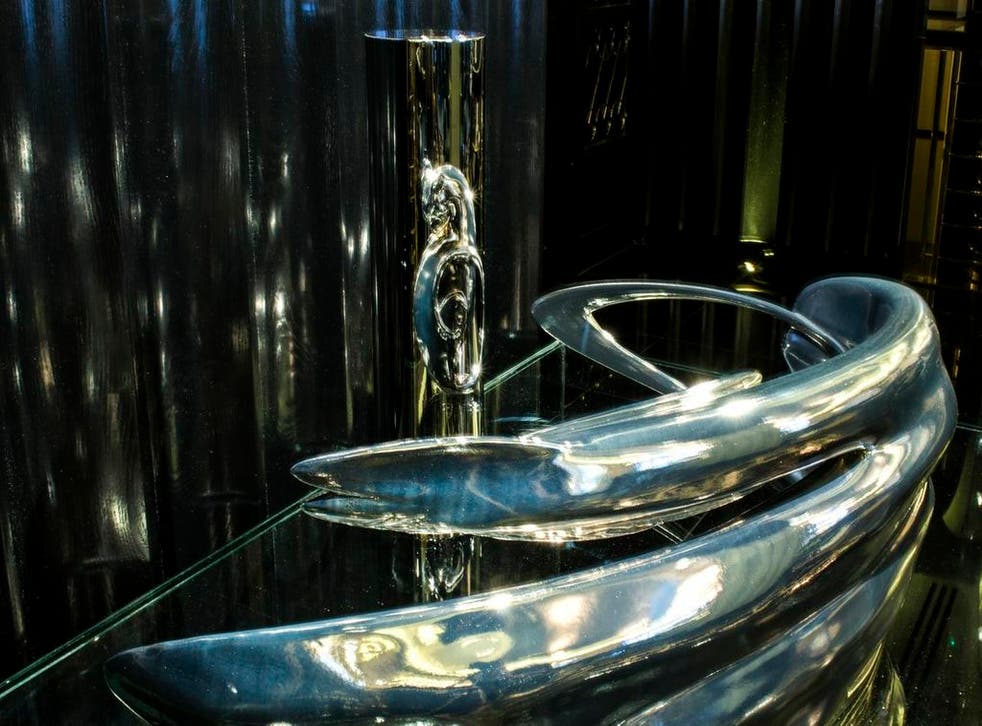 It's a tough job but someone has to do it. For the last six weeks, artist Jonty Hurwitz has been living at The Savoy as he creates a new artwork for Kaspar's, the hotel's new seafood bar and grill, which opens next week.
His piece, titled The 14 Guest, is a chrome and resin sculpture which will sit at the entrance to the Art Deco restaurant in homage to Kaspar, the hotel's lucky cat. The legend runs that in 1898 a South African diamond magnate hosted a dinner at the Savoy for 14 guests. When one cancelled, he went ahead with an unlucky group of 13 and weeks later was shot in Johannesburg. Since then the hotel has always offered groups of 13 an extra guest in the shape of Kaspar, a black cat sculpture with a napkin around his neck, to make the number around the table up to a less unlucky 14.
Hurwitz's sculpture is inspired by superstition, Arthur C Clarke and Pi. "Not cottage pie", the artist points out. "But the mystery of irrational numbers. It's not crafted by hand, it's crafted by science – from spatial scanning to 3D printing, chemistry to the aircraft engineers who created its flawless cylinder." Hurwitz lived and worked in the Monet suite during its creation.
"It has been totally awesome. I've had some great parties", he tells me. "My son stayed a week ago and was skating around on the marble floors." Now the work is installed, it's time for him to move out. "I'm going to have to crawl out of here. I might chain myself to the door handle."
The Savoy has long been entwined with the art world. Whistler painted the scaffolding while the hotel was being constructed while Monet painted the Thames from a river-facing room on the sixth floor. Since last year the hotel has made efforts to bring its collection up to date with a number of new commissions.
In October, a new set of eight portraits of the hotel's famous guests, from Maria Callas to Charlie Chaplin, by the Glasgow artist McAlpine Miller, was installed in the Thames Foyer. David Downes' vast panorama of the Queen's Diamond Jubilee Pageant hangs in the Front Hall. The artist watched the event in June last year from the Savoy's rooftop in the pouring rain.
"We gave him careful guidance to be soft and gentle with us in the reflecting the weather on the day", recalls Kiaran MacDonald, Managing Director of The Savoy. Downes then spent three months in the river lobby sketching the south bank, including one of the first instances of The Shard on canvas, during which time he used 300 pens and drank 250 cups of complimentary Savoy coffee (usually £6 each).
"I had quite a romantic vision of what it would be like having an artist in residence", says MacDonald. "As it turns out he developed quite a taste for our cappuccinos and toasted sandwiches. And scones."
Also in the Arts Diary:
How Warhol become one of the undead who haunts the ark market; and Brighton hosts Kate Bush ambush
Thatcherwrite: First play about the Iron Lady's death to be performed next month
@AlicevJones
Register for free to continue reading
Registration is a free and easy way to support our truly independent journalism
By registering, you will also enjoy limited access to Premium articles, exclusive newsletters, commenting, and virtual events with our leading journalists
Already have an account? sign in
Register for free to continue reading
Registration is a free and easy way to support our truly independent journalism
By registering, you will also enjoy limited access to Premium articles, exclusive newsletters, commenting, and virtual events with our leading journalists
Already have an account? sign in
Join our new commenting forum
Join thought-provoking conversations, follow other Independent readers and see their replies