A symbol of virility – with feather boa and thong: Row over photos of the ancient statue that's dressed up
Gerald Bruneau's photo shoot of the Riace Bronzes (shown unadorned) was stopped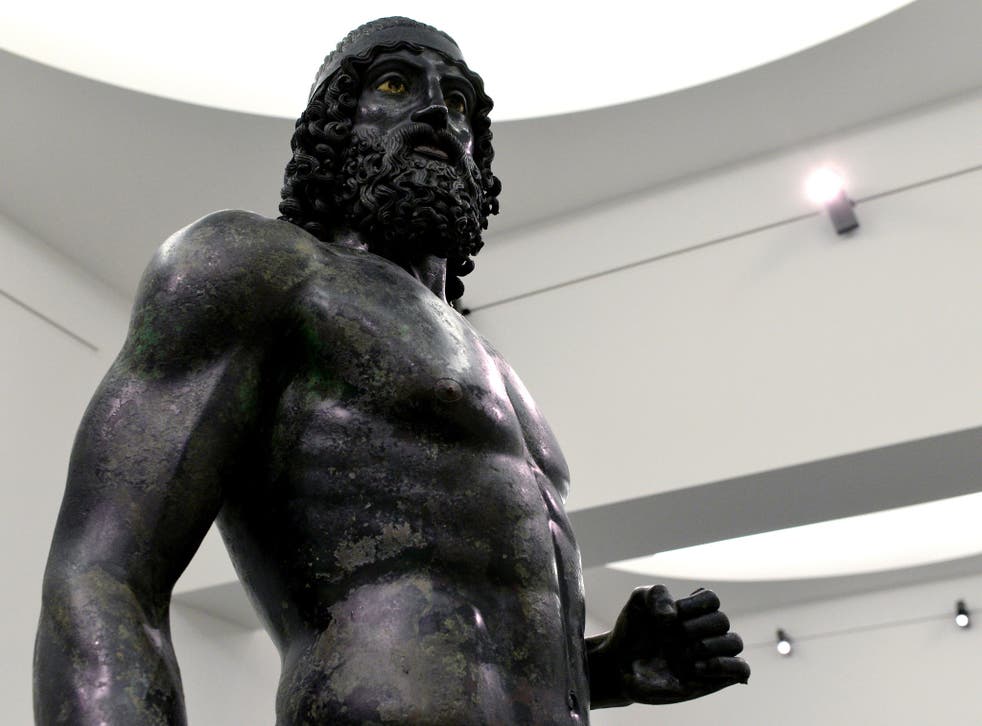 A famous photographer who studied under Andy Warhol has sparked a row in Italy after dressing a 2,500-year-old statue in a pink feather boa, leopard print thong and bridal veil.
Gerald Bruneau dressed the Riace Bronzes in a planned shoot at a museum in Reggio Calabria but startled curators stopped his work when they saw the unconventional outfit.
The statues, of Greek warriors, are two of Italy's greatest archaeological treasures and had been lost for 2,000 years before being discovered buried in the seabed by divers in 1972.
Dating from the 5th Century BC, the rediscovery of the statues was a huge event for archaeologists and the Riace Bronzes are revered in Calabria.
Despite being restored in 2011, they are still very fragile and are kept in a climate-controlled room in the Archaeological Museum of Reggio Calabria on a platform designed to protect them from earthquakes and tremors.
Because of their fame, Bruneau was drafted in with photographers from around the world last year in a festival to promote the Bronzes abroad.
Simonetta Bonomi, head of the local archaeological authority, told Italy's Dagospia website she admired his photos of the Paolina Borghese or "Venus Victrix" in Rome where Bruneau had dressed the statue in a red veil.
"He showed me a shot of the statue with white tulle behind and it was very nice," she added.
"Then, unbeknownst to me, he took the other images, which are terrible.
"When the stewards noticed, they intervened and stopped him, but obviously he had already managed to take some shots."
She did not know why the photos, published on the Dagospia website, have only emerged now.
The news coincided with heated debates about dangers of the statues' planned transfer to other museums.
Register for free to continue reading
Registration is a free and easy way to support our truly independent journalism
By registering, you will also enjoy limited access to Premium articles, exclusive newsletters, commenting, and virtual events with our leading journalists
Already have an account? sign in
Register for free to continue reading
Registration is a free and easy way to support our truly independent journalism
By registering, you will also enjoy limited access to Premium articles, exclusive newsletters, commenting, and virtual events with our leading journalists
Already have an account? sign in
Join our new commenting forum
Join thought-provoking conversations, follow other Independent readers and see their replies