Alberto Giacometti sculpture 'Pointing Man' sells for record breaking $141m as National Portrait Gallery announces his first ever solo exhibition
Picasso's 'Les Femmes d'Alger (Version O)' sold at the same auction for $179m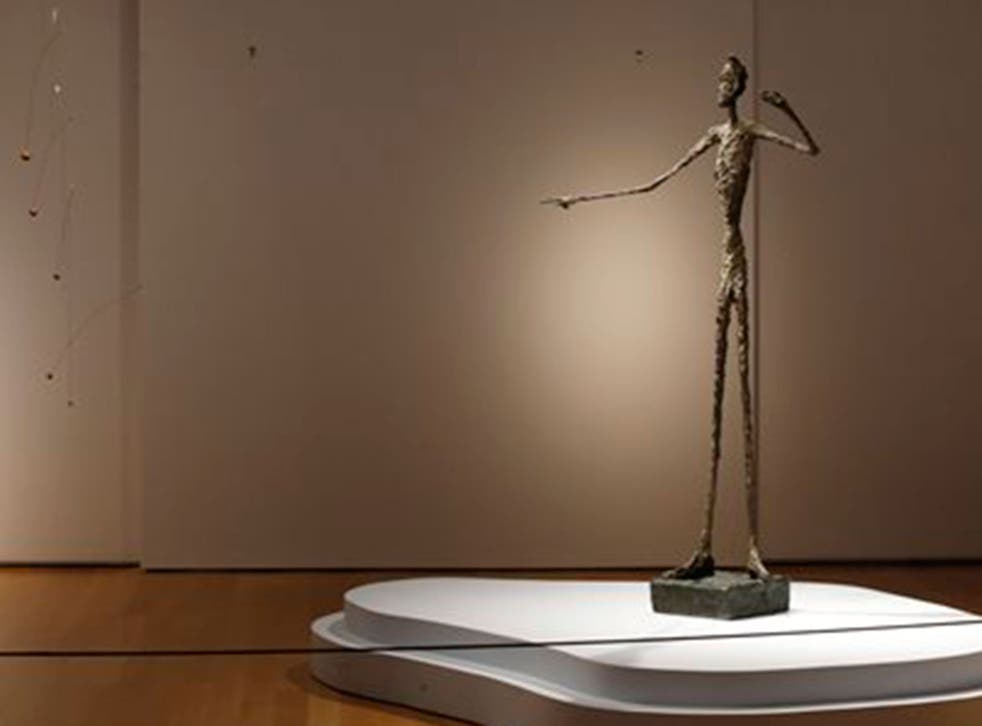 In a record breaking Christie's auction in New York, not only did Picasso's "Les Femmes d'Alger (version O)" set a world record for the most expensive artwork ever sold at auction, but Alberto Giacometti's "Pointing Man" also became the most valuable sculpture, fetching just over $141 million.
"Pointing Man" or "L'homme au doigt", a life sized sculpture of a thin man in typical Giacometti style, was created by the Swiss artist in just one night, between midnight and nine the next morning. It was rapidly made for his first exhibition in New York in 1947.
The piece was originally intended to be part of a larger composition, with his left arm positioned to hook around a second figure, the Tate believes. But Giacometti eventually scrapped this idea, considering the sculpture to be a complete work on its own.
Giacometti already held the record for most expensive sculpture ever sold at auction, his famous "The Walking Man" having sold in 2010 for $104 million.
In light of the latest auction news, The National Portrait Gallery has just announced its first ever exhibition solely consisting of the artist's work to celebrate the fiftieth anniversary of the artist's death.
Running from the 15 October 2015 to 10 January 2016, Giacometti: Pure Presence will feature over 60 of his works, including paintings, sculptures and drawings from throughout his entire career.
Some rare loans from private collections will be included in the series, which will focus on the artist's lesser known 'double-life'. While Giacometti is best known for his tall, thin figures, the gallery will put emphasis on the portraits produced after the artist claimed 'it was necessary to abandon the real.'
Standing at the centre of the exhibition will be one of his most celebrated works, "Woman of Venice VIII", a piece that represents the bond between his famous sculptures and the portraits of the women in his life.
"Giacometti is widely celebrated as one of the giants of modern art, but his almost continuous involvement with portraiture is less well known," Paul Moorhouse, Curator of Giacometti: Pure Presence, said.
"In devoting individual rooms to his main models, the exhibition exposes the singular, obsessive and intense nature of Giacometti's portraits. Repetition, variation, accretion and dissolution are revealed as vital elements in his extraordinary vision.'
Giacometti: Pure Presence will take place between the 15 October 2015 and 10 January 2016, at the National Portrait Gallery, London.
Register for free to continue reading
Registration is a free and easy way to support our truly independent journalism
By registering, you will also enjoy limited access to Premium articles, exclusive newsletters, commenting, and virtual events with our leading journalists
Already have an account? sign in
Register for free to continue reading
Registration is a free and easy way to support our truly independent journalism
By registering, you will also enjoy limited access to Premium articles, exclusive newsletters, commenting, and virtual events with our leading journalists
Already have an account? sign in
Join our new commenting forum
Join thought-provoking conversations, follow other Independent readers and see their replies