Teenager paints Van Gogh's 'Cafe Terrace at Night' on her leg instead of self-harming
The painting received thousands of likes and supportive comments on social media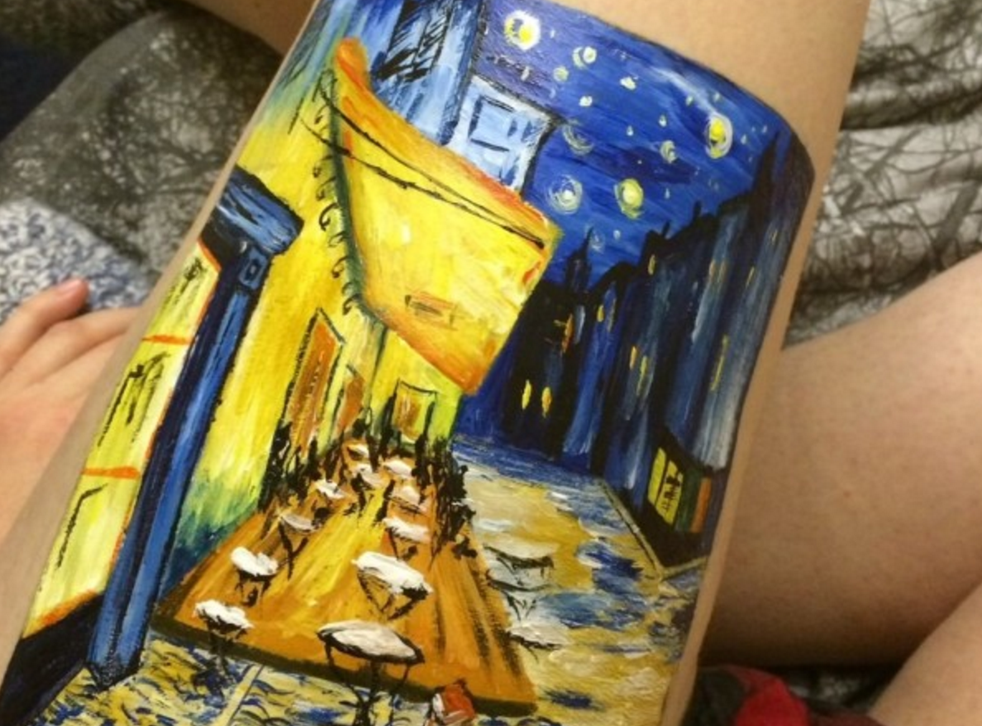 A student at the University of Manchester has attracted praise after sharing a Van Gogh painting she recreated on her leg in order to prevent herself from self-harming.
Amelia Hall, 18, from Essex, has suffered with depression for around five years, and after a particularly bad day she decided to turn her body - "something I don't consider to be beautiful" - into a canvas.
It took three hours to complete, and Amelia said she contemplated giving up half-way through. She posted the finished result on her Twitter account (now private) where it received over 3,000 likes and hundreds of positive comments.
"I'm so glad I kept working on it because I have something wonderful to show form a particularly bad day, instead of just self-harm marks," she told Buzzfeed.
"I didn't exactly feel better when it was finished. It didn't make the depression go away - it was never going to do that."
Speaking to The Independent Amelia said that she decided to paint the Van Gogh image because he is one of her favourite painters, and "painting helped me realise that there are far less destructive methods of coping with depression that self harm. I wanted to create something positive".
"The reaction on social media has been amazing," she said. "I never expected it to become so popular or for so many people to see it, and everyone has been incredibly supportive, saying that they've proud of me and that I'm inspiring."
Amelia said that she felt issues around mental illness had become more open to discussion due to social media, and hoped that her painting could help reduce more of the stigma around depression.
"I think the stigma around depression and mental illness has slightly lessened over the last couple of years, particularly with the rise of social media," she said. "It [social media] has created a platform for people to discuss it more easily.
"There's still definitely a long way to go but I think it's becoming easier to talk about, and by posting the painting I was hoping to try and further reduce some of that stigma."
If you feel at risk of self-harm or are concerned about someone else, you can call the Samaritans 24/7 on 116 123
Join our new commenting forum
Join thought-provoking conversations, follow other Independent readers and see their replies