Art by Damon Albarn's father is anything but Blurry
Jay Merrick
Thursday 23 May 2013 15:44 Comments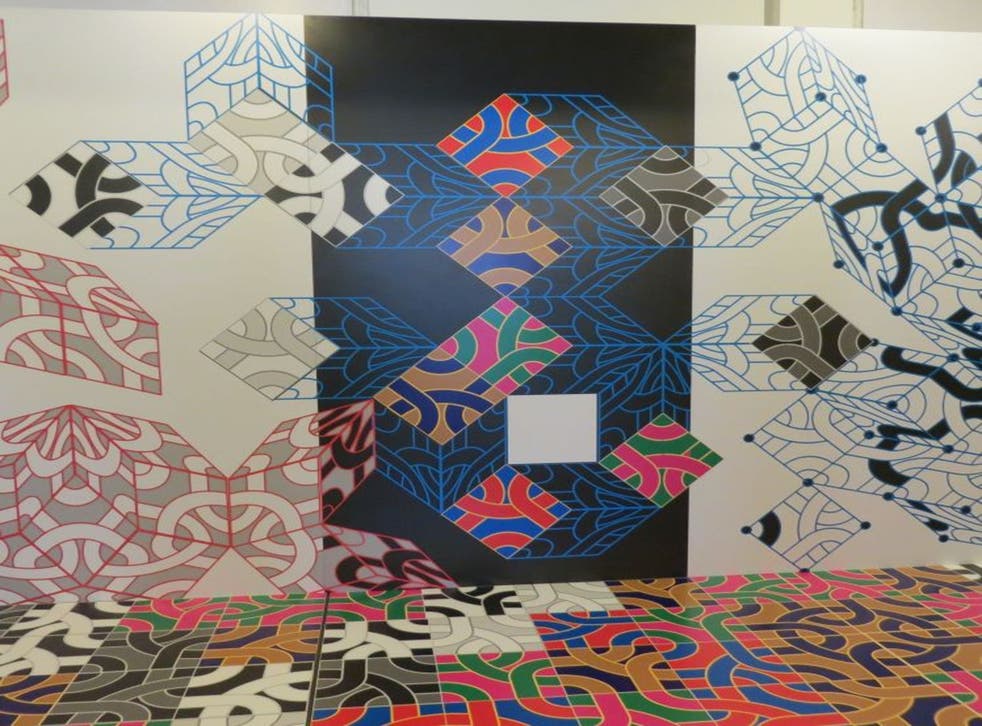 The scene is ostensibly retro: Colchester's Minories Gallery packed with artists and liggers, jigsaw-puzzle pieces being exchanged for free drinks, the walls and floors covered with Op Art and trippy digital prints. And centre-stage is a tallish man in a mustard-yellow corduroy suit.
Keith Albarn (yes, father of Blur's frontman Damon, and yes, he's here too ) who has re-emerged as an artist with Pattern and Belief, a series of artworks formed by pattern, number theory, and viral progressions.
The Albarns lived in Colchester and it was while here that Damon got his first record deal. Now Albarn senior and his wife live in London, and they share a get-away-from-it-all farm in the West Country with Damon, which is where he does his art-work.
Albarn, who was the head of Colchester art school in the 1970s and 1980s, has worked with Soft Machine and the Boyle Family, and presented Late Night Line-Up. The roots of Pattern and Belief go back to a show on Islamic art that he curated at the ICA in the 1970s. And his creative position remains strongly influenced by Islamic pattern and faience. "I became fascinated in what was going through their heads when they designed these patterns and geometries," he says.
Albarn's vividly engaging artworks are "a blend of intellect and intuition" – pattern as both order and permeable vision. Unlike his natty yellow threads.
Pattern and Belief, Minories Galleries, Colchester (colchester.ac.uk/art/minories) to 13 July (patternandbelief.com)
Register for free to continue reading
Registration is a free and easy way to support our truly independent journalism
By registering, you will also enjoy limited access to Premium articles, exclusive newsletters, commenting, and virtual events with our leading journalists
Already have an account? sign in
Register for free to continue reading
Registration is a free and easy way to support our truly independent journalism
By registering, you will also enjoy limited access to Premium articles, exclusive newsletters, commenting, and virtual events with our leading journalists
Already have an account? sign in
Join our new commenting forum
Join thought-provoking conversations, follow other Independent readers and see their replies