Artists 'not paid' by Pertwee gallery founder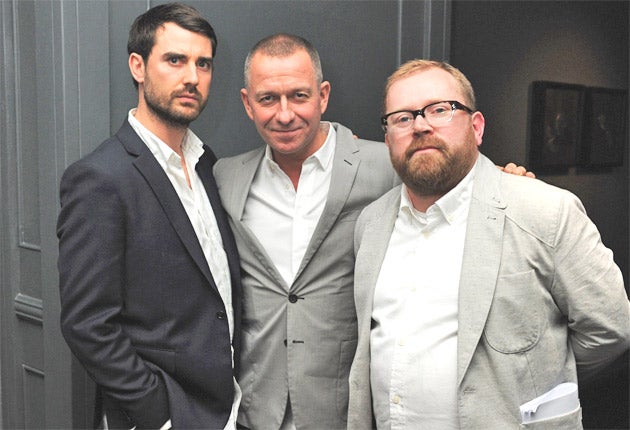 Soho's Pertwee, Anderson & Gold is the latest celebrity gallery on the block, launched with a lavish party last month and run by the actor Sean Pertwee and entrepreneurs Simon Anderson and James Golding.
Now, barely days into its first exhibition, one of its founding partners has become embroiled in a controversy over non-payment to artists exhibiting at his previous gallery.
Mr Golding has been hit with accusations that east London's Leonard Street Gallery, of which he is a former director, delayed payment to a suite of its artists. The gallery ceased trading in 2008. A Thailand-based painter, Chris Beejoir, 31, claims to still be owed in excess of £20,000 from an exhibition held there in March 2008, in which hundreds of copies of a special edition work were sold.
When contacted via email, a New-York-based graffiti artist, Jeff Green, aka Doze Green, also claimed to be owed a "substantial amount of money" by the now defunct gallery.
Emails sent to Mr Beejoir seen by The Independent show Mr Golding acknowledging a number of artists, including Mr Beejoir, were delayed payment after the gallery's closure. In one email, while Mr Golding acknowledges that he wants to try to pay the artists, they still claim to have not been paid.
"We'd done a show for them when they were going bankrupt and got the rough end of the stick," said Mr Beejoir. "We did an edition for charity and nothing ever came of it in the end. I had agreed to do it but was reluctant because the image had been used a lot but decided it wouldn't hurt. We didn't get our cut."
Mr Beejoir, who specialises in street art, claims to have sold hundreds of editions of work at the 2008 exhibition, Souled Out. Leonard Street also exhibited the work of world-famous graffiti artists including Blek Le Rat, Eine and D*Face.
Soho's Pertwee, Anderson & Gold's 17 February launch was attended by senior media figures including the Channel 4 newsreader, Krishnan Guru-Murthy ,who tweeted from the launch: "Great space, very welcoming. The door is always open to the public they say."
The gallery's inaugural exhibition features the work of installation artist Kate MccGwire, whose work has been bought by Charles Saatchi.
In his correspondence, Mr Golding reveals his initial intention to set up an art website with Mr Pertwee and Mr Anderson "to sort out the money you [Mr Beejoir] are short" before settling on the idea for a physical gallery. "I have asked them [Mr Pertwee and Mr Anderson] if they would allow me to use the site to help make things good with artists who lost out due to the closure of LSG [Leonard Street Gallery] and they have agreed," he writes. "I have proposed that I ask artists such as yourself if they would consider allowing us to sell artwork on their behalf."
Now, Mr Beejoir claims to not trust Mr Golding after their initial dealings.
Mr Pertwee is best known for his film and voice-over work. He co-ran the production company Natural Nylon with Jude Law, Sadie Frost, Jonny Lee Miller and Ewan McGregor, though the venture folded in 2003. Numerous message boards including the Urban Art Association's Banksy Forum have recently been flooded with sympathetic messages for the artists.
Pertwee, Anderson & Gold was contacted for comment but a spokesperson said Mr Golding was unavailable to provide a statement by the end of yesterday.
Join our commenting forum
Join thought-provoking conversations, follow other Independent readers and see their replies