Baltimore riots: Artist hangs 'lynched' black dolls from tree in protest at deaths of Walter Scott, Eric Garner and Michael Brown
The artwork has come to attention following the riots in the city this week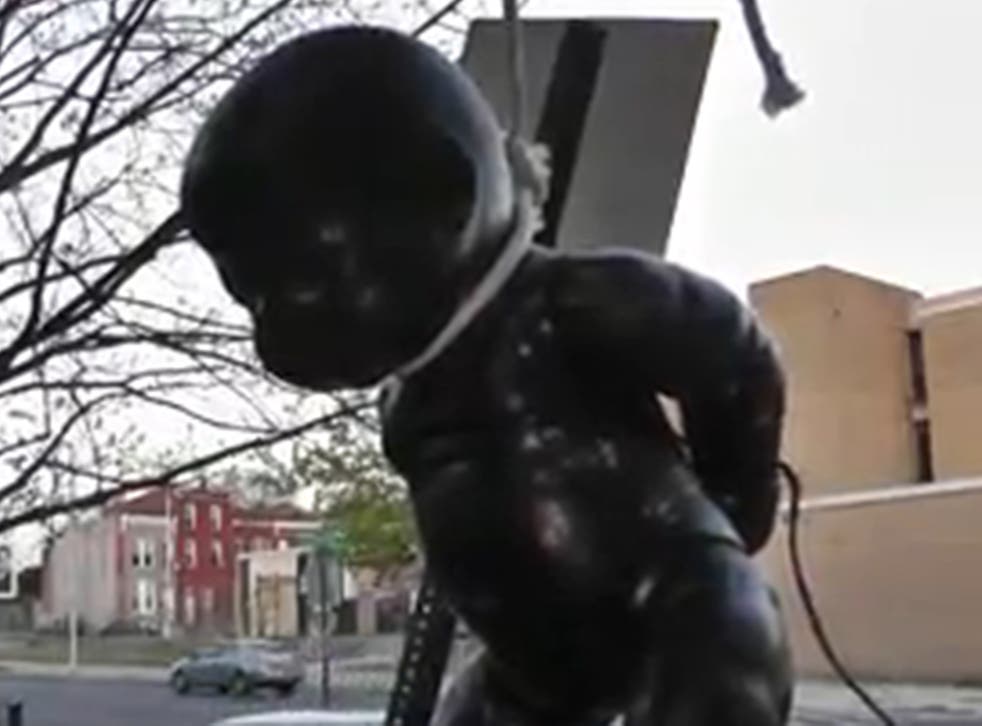 It's a hard-hitting sight that will leave many in contemplation: black dolls hanging from the branches of a tree in Baltimore, Maryland.
The 'lynched' dolls are part of an exhibition by local artist Loring Cornish, who was affected by the deaths of Walter Scott, Eric Garner and Michael Brown.
The black dolls of various shapes and sizes all have nooses around their necks. Beside the tree there is a sign which reads "lynching still exists, white police use bullets and law to lynch blacks legally."
"I hung them from the tree to let people visually see what we feel. We're feeling this. This is not something we should just gloss over. We're actually feeling death in our community," Cornish told WBAL.
"We are being lynched, killed, and murdered legally in the United States," he added.
Before hanging up the dolls, Cornish put up signs in the windows of his gallery voicing his condemnation at the deaths.

This week Baltimore was engulfed in violence after the death of black man Freddie Gray, who died while in police custody.
Gray was arrested on 12 April and died a week later of a spinal injury he allegedly sustained either while being arrested or while being transported in the police van.
A state of emergency was declared in Baltimore on Monday after peaceful protests turned to rioting with shops ransacked and cars burnt.
Hundreds of people are believed to have been involved in the destruction, which put the spotlight back on US race relations.
Register for free to continue reading
Registration is a free and easy way to support our truly independent journalism
By registering, you will also enjoy limited access to Premium articles, exclusive newsletters, commenting, and virtual events with our leading journalists
Already have an account? sign in
Register for free to continue reading
Registration is a free and easy way to support our truly independent journalism
By registering, you will also enjoy limited access to Premium articles, exclusive newsletters, commenting, and virtual events with our leading journalists
Already have an account? sign in
Join our new commenting forum
Join thought-provoking conversations, follow other Independent readers and see their replies