Banksy: The greatest artworks from the mysterious graffiti artist
A look back at all the mysterious artist's work
Banksy publishes video detailing auction stunt plan
Street artist Bansky has been surprising the world since the Nineties.
Over the past few decades, his stencils – with their recognisable style and often bearing searing political statements – have unexpectedly appeared in various cities across the globe.
Despite the worldwide acclaim, Banksy remains anonymous, something that has only served to help heighten the buzz around his work: two of his pieces have been sold for twice their reserved prizes, with one stencil selling for just under £300,000 in 2007. More recently, a stencil of Girl with Balloon sold for £860,000 at auction, only to double in value after the work's frame – designed by Banksy – began to shred the piece.
One of the biggest signs of Banksy's growing iconic status came in 2014, when young adults abroad named the artist as one of the people they most associated with UK culture alongside William Shakespeare, The Beatles and Queen Elizabeth II.
Below, you can flick through a gallery of the artist's works, including some of his most iconic works, such as Kissing Coppers and Rage, the Flower Thrower.
Best of Banksy

Show all 68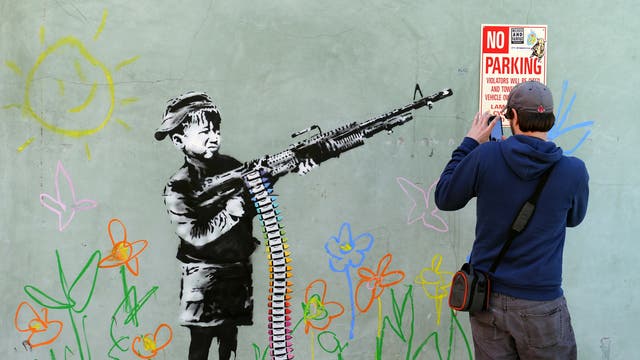 Exactly who Bansky is remains a mystery, but there are multiple likely candidates. The Independent has broken down who they are, and why they could be the famed artist, here.
Join our new commenting forum
Join thought-provoking conversations, follow other Independent readers and see their replies