Banksy breaks cover to join debate over 'Mobile Lovers' artwork
The mysterious graffiti artist wants the work to go to a Bristol boys' club
Ian Johnston Comments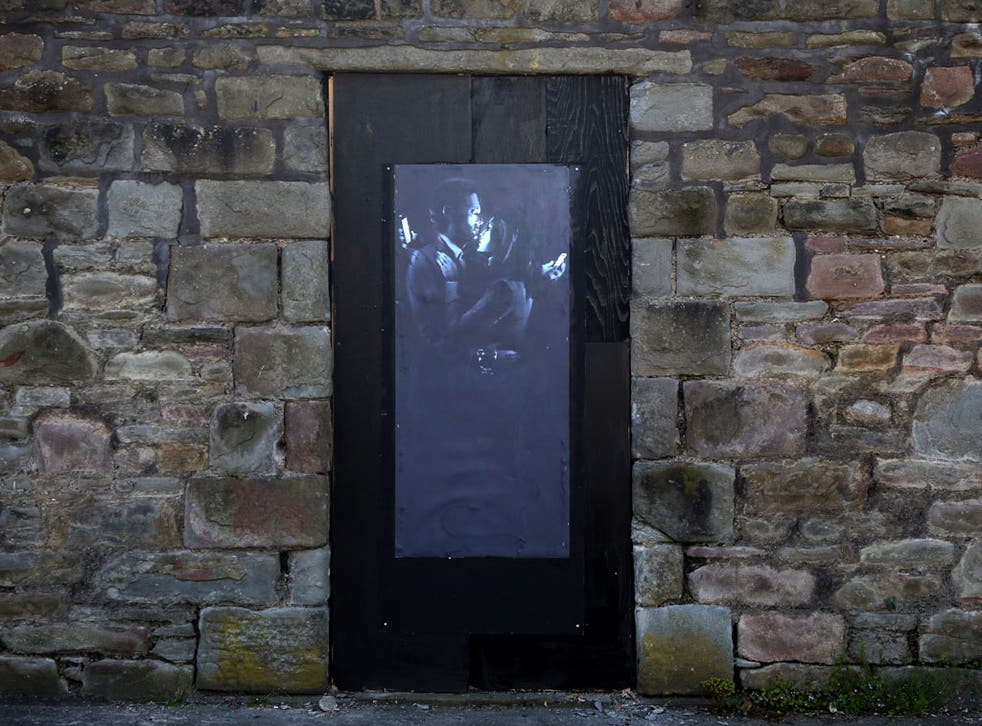 Banksy has made a rare intervention into public life to ensure that one of his artworks – probably worth millions of pounds — goes to a boys' club in Bristol.
In doing so, however, the mysterious graffiti artist may have revealed a new detail about his past.
When his piece 'Mobile Lovers' - an image of two lovers kissing while using smartphones - appeared in a doorway in Clement Street in the city, it was taken away by the leader of nearby Broad Plain Boys' Club to help its fundraising effort.
Bristol City Council then appeared to claim ownership, saying the work was on its property, and took it to a museum.
However, Banksy then wrote to the club to say: "As far as I'm concerned, you can have it."
Banksy's New York residency

Show all 14
The letter is signed in graffiti style and has since been authenticated by the artist's representative, BBC News reported.
The letter opens: "Dear Dennis, I hope this finds you well. As you know I recently painted on a doorway near the club."
He says he does not usually admit "committing criminal damage" but added that he was "a great admirer of the work done at the club" and would be "chuffed" if his letter would help the club claim the picture.
"I assume you're familiar with the quote attributed to Abraham Lincoln – 'Things may come to those who wait, but only the things left behind by those who hustle,'" he adds.
Dennis Stinchcombe, the club leder who found the note, said: "I'm absolutely elated. Words don't express how delighted I am. As soon as I read it and saw the signature I knew what it was."
He said he thought the artist had visited Broad Plain during his childhood.
"I think as a young man (Banksy) went to Barton Hill youth club and probably came into my club several times," Mr Stinchcombe said. "He's come clean to us and it's lovely."
George Ferguson, the mayor of Bristol, said Banksy's intervention had resulted in a "proper resolution".
"We've done our job by looking after it and in the meantime we've collected a bit more for the boys' club, and thousands of people in Bristol and farther afield have seen it," he told the BBC.
"This was never a case of Dennis and I not seeing eye-to-eye. Dennis has said that if it fetches as much at auction as it could do, the money will go not just to the boys' club but also to youth projects in Bristol."
Register for free to continue reading
Registration is a free and easy way to support our truly independent journalism
By registering, you will also enjoy limited access to Premium articles, exclusive newsletters, commenting, and virtual events with our leading journalists
Already have an account? sign in
Join our new commenting forum
Join thought-provoking conversations, follow other Independent readers and see their replies