Thousands struggle to get tickets to Banksy's Dismaland 'bemusement park' on first day of opening
The park's bizarre website teases users trying to buy tickets
Doug Bolton
Wednesday 26 August 2015 08:36 Comments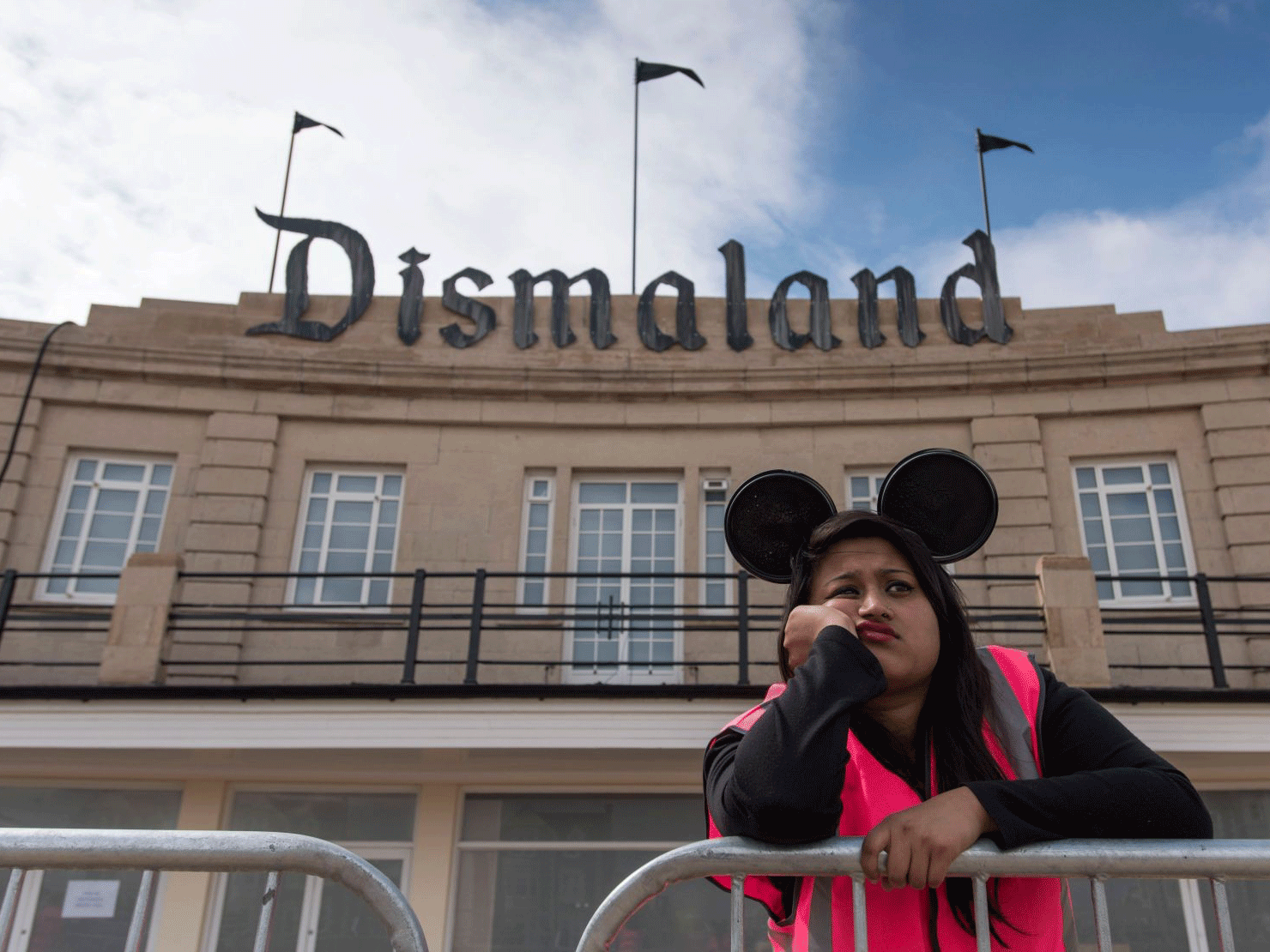 Everyone has been talking about Banksy's Dismaland 'bemusement park' that has opened to locals in Weston-super-Mare - but thousands are struggling to get tickets.
The park was opened to the town's locals on 20 August, who had to show a copy of local paper, the Weston Mercury, to get in.
Only 1,000 free tickets were made available in the paper, and locals queued in their hundreds along the seafront to get in.
Dismaland's website now suggests that tickets are now available to everyone, but the bizarre booking section has made some would-be visitors question whether Banksy is just trying to play a huge prank on the thousands clamouring to get into the park.
On the booking page, visitors are told that they will be able to book timed tickets for £3 for the following ten days. They're even taunted with a conventional booking form that allows them to pick what day they want to go on.
However, the booking form is just a static image, meaning users can't click it. It looks like that tickets are literally impossible to get, at the moment.
However, looking at the contents of the park, this odd trickery isn't a surprise.
As well as galleries showing some of Banksy's famous street art, the park features a police riot van partially submerged in a pond with a children's slide coming out of the side, an "oil caliphate themed crazy golf course made from the hockey pitch at Cheltenham Ladies' College", and a mock payday loans shop aimed at children looking for more pocket money.
Pictures from the park, taken by locals and members of the press who were invited on a special preview, show a fairly bleak and dystopian park, complete with cartoonish airport-style security at the entrance, and crumbling and peeling scenery, some of which is the remnants of the Tropicana swimming pool, which closed in 2000 due to declining visitor numbers.
Chris Smith, a Barts medical student who visited the park on the locals only day, said: "It's bloody amazing. Everyone should go."
For an entry price of only £3 (according to the unreliable website), Dismaland seems like a fairly good deal.
Speaking about the park, Banksy said: "This is an art show for the 99 per cent who'd rather be at Alton Towers."
Featuring work from Banksy and a number of other world-class artists such as David Shrigley and Mike Ross, there are also concerts in the works.
The website says there will be live events every Friday night, featuring names like Run the Jewels, Sleaford Mods, Pussy Riot and Massive Attack.
If tickets ever do go on sale, visitors should expect long queues - a free Banksy exhibition at the Bristol Museum in 2009 saw hundreds of thousands of visitors queueing for hours to get into the museum.
Inside Banksy's Dismaland

Show all 13
Register for free to continue reading
Registration is a free and easy way to support our truly independent journalism
By registering, you will also enjoy limited access to Premium articles, exclusive newsletters, commenting, and virtual events with our leading journalists
Already have an account? sign in
Join our new commenting forum
Join thought-provoking conversations, follow other Independent readers and see their replies