Banksy's Mobile Lovers: Youth club owner who sold artwork in Bristol receives death threats
The piece, which sold for over £400,000, will help to keep a 120-year-old youth club in Bristol open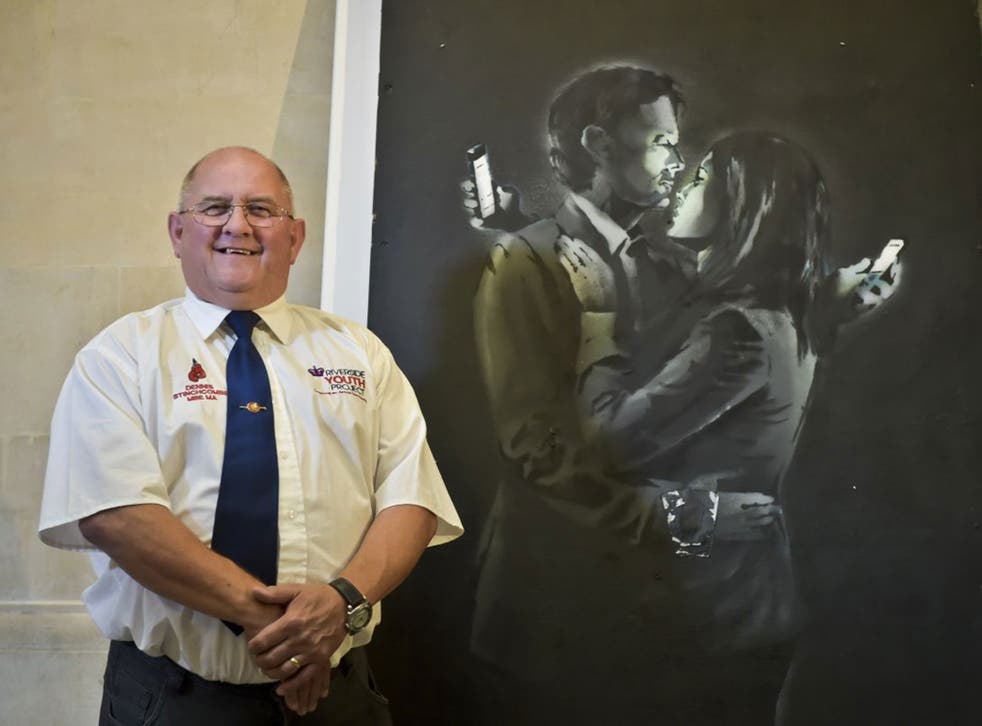 A youth club owner who sold a piece of artwork by Banksy to keep the facility open, has spoken of how he was subjected to death threats.
The artwork called Mobile Lovers sold to a private collector for £403,000 on Wednesday.
It depicts a couple embracing while checking their mobile phones, and appeared on a doorway next to the Broad Plain Working With Young People club in April.
Fearing the artwork would be stolen, club owner Dennis Stinchcombe moved it into a corridor where it could be viewed by members of the public, and asked for optional donations.
But Bristol City Council argued that the work was on its property, and police removed the piece on behalf of authority. It had been on display at the Bristol City Museum and Art Gallery since April while its ownership was established.
In May, the mysterious artist took the unusual step of sending Mr Stinchcombe a letter to confirm the graffiti was authentic.
"As far as I'm concerned, you can have it," the letter read.
Mr Stinchcombe told Sky News that he received death threats over his decision to sell the work.
"It did get silly. There were a couple of death threats that I had, people were offering silly sums of money," he told the broadcaster after it emerged he had received bids of £2million.
The owner welcomed the sale of the piece and thanked Banksy for saving the youth club, which has operated in Bristol for 120 years.
"We are incredibly lucky to have Banksy donate their piece to our club," Mr Stinchcombe told a packed press conference at the Bristol City Museum and Art Gallery.
"Within 12 months we could have well been closed, which means 120 years of exceptional youth work in Bristol would have been lost.
"That would have been a tragedy for Bristol."
All proceeds from the sale will go to Broad Plain Working With Young People, with a portion shared with a number of other voluntary sector youth clubs across Bristol.
Since the windfall, Mr Stinchcombe added that members of the youth club had widened their hobbies from sport to art, with a "Thank You Banksy" wall erected by the side of the site.
Join our new commenting forum
Join thought-provoking conversations, follow other Independent readers and see their replies