Banksy mural 'Spy Booth' has been a curse not a blessing for one Cheltenham homeowner
David Possee has faced a serious of struggles with the council over the artwork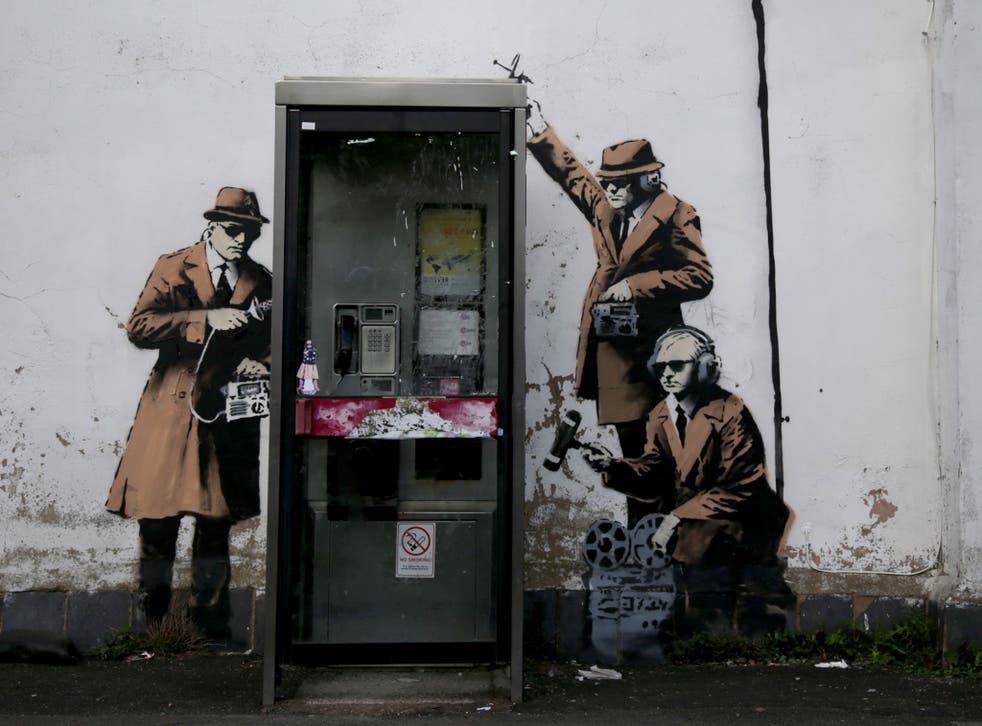 You might assume that finding a Banksy mural on your wall is a dream come true, but one home-owner would tell you to think again.
David Possee from Cheltenham has spoken for the first time about the struggles he has faced since the famous graffiti artist decided to use his Grade II-listed home as a canvas for "Spy Booth" last April.
"It all unravelled when this mural appeared on the side of the property," he told local radio station Swindon 105.5, adding that discussions with Cheltenham Borough Council about how best to protect the artwork soon became "messy".
"They didn't come up with any sort of ideas," he said. "I suggested Perspex but they said it's against listing consent. They just said, 'You can't put that on there', and I was threatened with a fine. They offered no alternative."
Banksy: The Unauthorised Retrospective

Show all 10
Possee has criticised the council for ordering him to remove cement render on the wall of his house, only to prevent him from doing so once the mural appeared.
"We had the scaffolding up and then we had a huge panic in Cheltenham thinking I was going to cut it out, which was not the case," he continued.
"Suddenly there's a 28-day stop notice issued on me so I couldn't repair the render, which they [fined] me for not repairing. They weren't working closely at all with me."
Up until now, Possee has talked about the painting only through art dealer Robin Barton and business partner Roger Wilson.
Eager to "get on with [his] life", he admits that he has had substantial offers from collectors looking to buy "Spy Booth".
"I don't think I've done anything wrong. I bought a house in Cheltenham and one day that racks up and I'm the bad guy," he said.
"If it was about money for me I'd have sold it by now. If Cheltenham wants it, Cheltenham can have it. So buy the building off me."
Martin Chandler, team leader of development management for Cheltenham Borough Council, said: "The mural appeared in April 2014 and was subsequently following by an application to retain it in September 2014, submitted by Mr Kaveh.
"There has been ample opportunity for Mr Possee to discuss a positive way forward for the mural but unfortunately this has not happened. The notice in relation to the hazardous condition of the render was served in January 2014, long before the mural appeared. In the three months before the mural appeared, no application was forthcoming to repair the building.
"The stop notice was served in relation to unauthorised works to the gable end of 159 Fairview Road – no discussions had taken place with the council in relation to these works and listed building consent had not been applied for or granted. This was an entirely pragmatic response to the situation given the level of public interest around the case.
"The Council has in no way been obstructive in relation to this site and this has been demonstrated with the recent decision to grant consent for the work itself. Should Mr Possee wish to discuss the mural further as land owner, we will of course meet with him; and this should be on the basis of some firm proposals for the site which acknowledge and respond to the fact that the building is listed."
Register for free to continue reading
Registration is a free and easy way to support our truly independent journalism
By registering, you will also enjoy limited access to Premium articles, exclusive newsletters, commenting, and virtual events with our leading journalists
Already have an account? sign in
Register for free to continue reading
Registration is a free and easy way to support our truly independent journalism
By registering, you will also enjoy limited access to Premium articles, exclusive newsletters, commenting, and virtual events with our leading journalists
Already have an account? sign in
Join our new commenting forum
Join thought-provoking conversations, follow other Independent readers and see their replies