Banksy donates refugee crisis paintings worth £1.2m to Bethlehem hospital charity auction
Paintings have been on display in Banksy's Walled Off hotel in Bethlehem for the past three years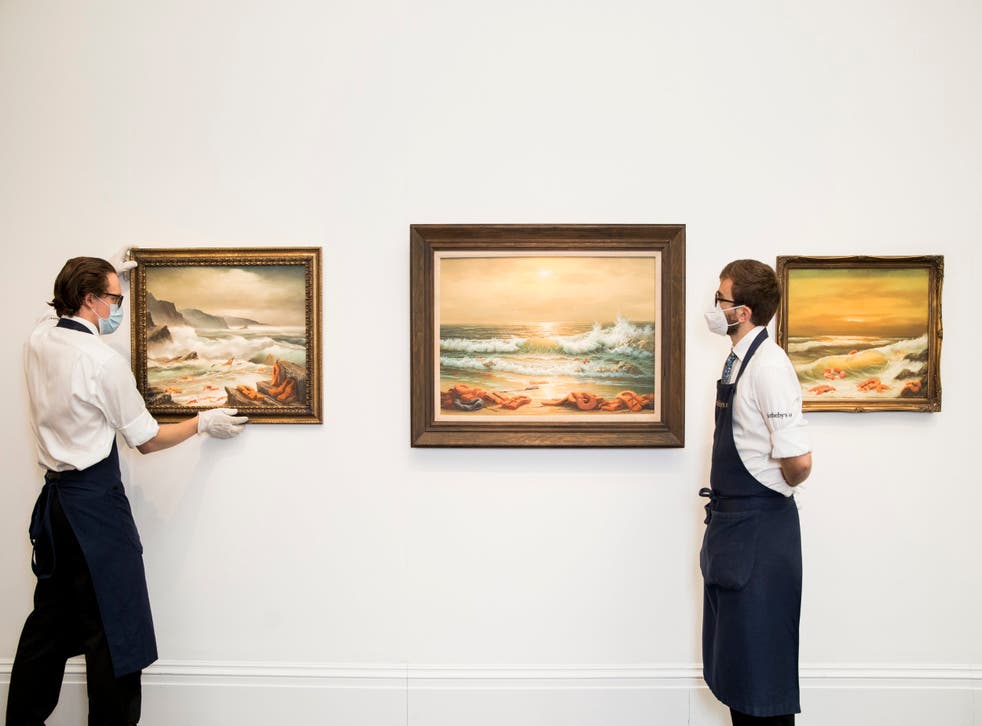 Leer en Español
Banksy has donated a triptych of paintings referencing the European refugee crisis to a charity auction, which will raise money for a hospital in Bethlehem.
The works, titled "Mediterranean Sea View 2017", are estimated to be worth between £800,000 and £1.2m.
Originally created for Banksy's Walled Off hotel in Bethlehem – where they have been on display since its opening – the paintings add abandoned life jackets and buoys to 19th Century-style seascapes.
The triptych will appear in Sotheby's Rembrant to Richter evening sale on 28 July.
Proceeds will go towards building a new acute stroke unit and purchase children's rehabilitation equipment for Bethlehem Arab Society for Rehabilitation.
Alex Branczik, Sotheby's head of contemporary art for Europe, said: "In Mediterranean Sea View 2017, Banksy corrupts three found oil paintings with his own witty reworkings to create something that, while posing as a 19th-century seascape, spotlights one of the burning issues of the 21st century.
"In Rembrandt to Richter, this triptych hangs in Sotheby's galleries alongside works by some of history's greatest landscape painters, including Bellotto, Van Goyen and Turner.
"Banksy's work, however, stands alone for its potent political message."
Banksy's latest stunt in the UK involved spraying a London Underground train carriage with messages about the spread of coronavirus.
The Bristol artist uploaded footage captioned "If you don't mask – you don't get" to social media last week, which showed him spray-painting a Circle line train with stencilled depictions of his signature rats.
One creature appeared to be sneezing pale blue droplets of virus across a carriage window, while one struggled under a face mask. Another used the protective gear as a parachute.
Hours later, however, TfL announced that the artwork was removed "some days ago due to our strict anti-graffiti policy". A Tfl spokesperson said Banksy was welcome to recreate his message "in a suitable location".
"We appreciate the sentiment of encouraging people to wear face coverings, which the vast majority of customers on our transport network are doing," the spokesperson said.
Additional reporting by Press Association
Register for free to continue reading
Registration is a free and easy way to support our truly independent journalism
By registering, you will also enjoy limited access to Premium articles, exclusive newsletters, commenting, and virtual events with our leading journalists
Already have an account? sign in
Register for free to continue reading
Registration is a free and easy way to support our truly independent journalism
By registering, you will also enjoy limited access to Premium articles, exclusive newsletters, commenting, and virtual events with our leading journalists
Already have an account? sign in
Join our new commenting forum
Join thought-provoking conversations, follow other Independent readers and see their replies