Banksy's 'Kissing Coppers' sells for $575,000 at Miami street art auction
The British graffiti artist's famous work originated on a pub wall in Brighton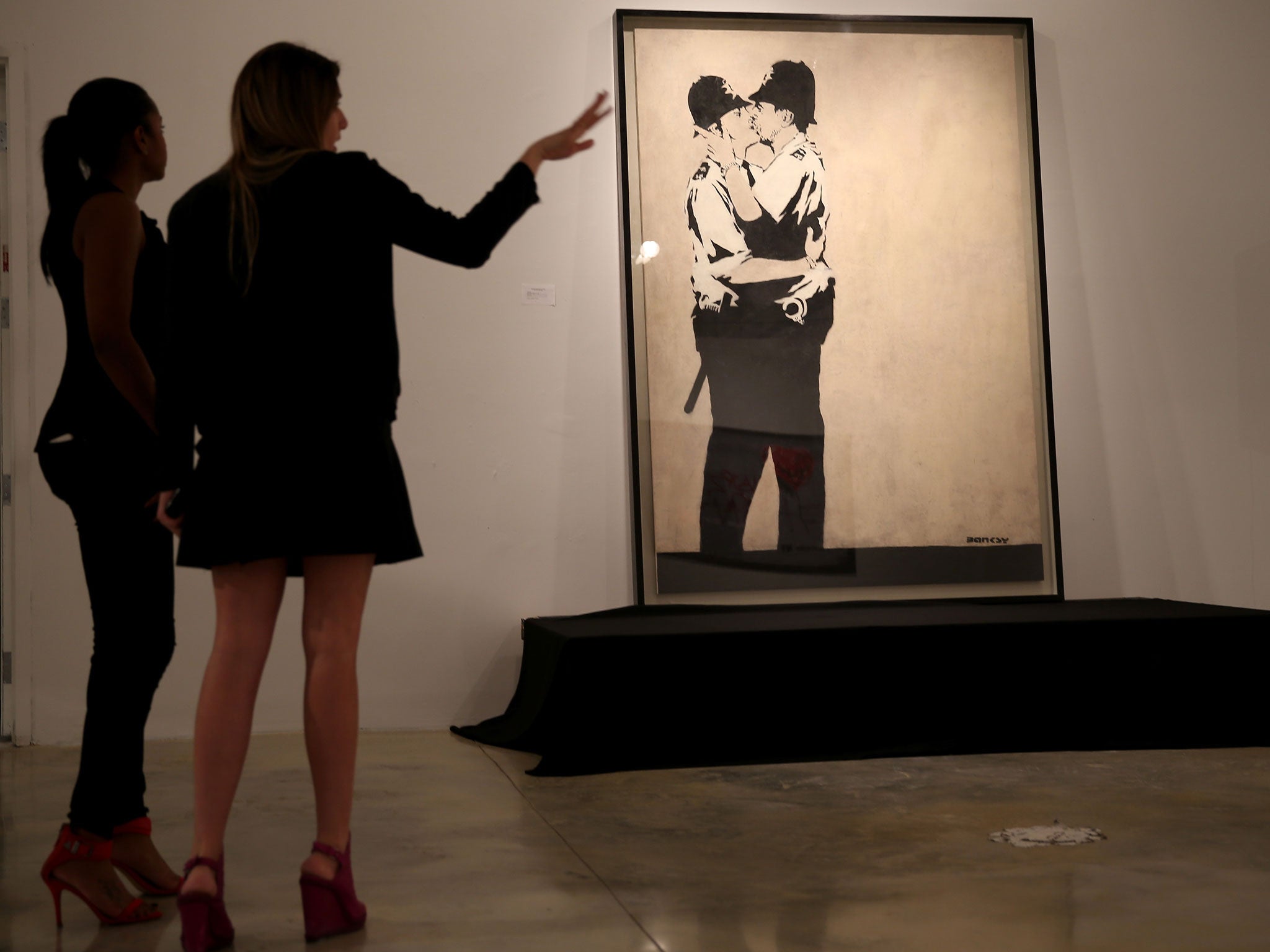 Banksy's "Kissing Coppers" has sold for $575,000 (£354,000) in Miami in the latest big auction success for street art.
The British graffiti artist's black and white stencil of two policemen kissing was bought on Tuesday by an unknown telephone bidder.
One of Banksy's most famous works, the 2005 mural first appeared on a side wall of the Prince Albert Pub in Brighton.
Fifty-four pieces were auctioned alongside "Kissing Coppers", including two more Banksy paintings – "Bandaged Heart Balloon" and "Crazy Horse Car Door".
Both artworks were created during the elusive artist's New York 'street residency' in 2013, but failed to reach their respective asking prices of $200,000 and $100,000.
Banksy's New York residency
Show all 14
"Kissing Coppers" had been expected to fetch up to $700,000, but its winning bid still fell within the estimated price bracket of $500,000.
Banksy, whose real name still remains unknown, gained international fame after members of the public noticed his work in Bristol in the early 1990s.
Often satirical and political, his graffiti has since popped up around the globe, including in places as far-flung as Bethlehem and New Orleans.
Banksy's first film, Exit Through the Gift Shop, debuted at the Sundance Film Festival in 2010 and was Oscar-nominated for Best Documentary. Today, his artworks are highly sought-after by collectors.
"Young people want to have a message, a dialogue, and they want a way to express themselves," Frederic Thut, director of Fine Art Auctions Miami told Reuters.
"The potential of this market is incredible. I was at the first sales of pop art and it was exactly the same people coming from nowhere and buying immediately."
Many critics have spoken out in defence of keeping Banksy's graffiti in its original locations, as the artist's intention was for his work to be accessible for all.
The Miami art scene hit headlines earlier this week when a $1 million vase by controversial Chinese artist Ai Weiwei was smashed in protest at the Florida city's Perez Art Museum.
Join our commenting forum
Join thought-provoking conversations, follow other Independent readers and see their replies