X-ray exhibition marks artist's return to health after serious illness
Boo Beaumont hopes the exhibition will inspire her to start creating art once again after three years largely bed-ridden
Nick Clark
Arts Correspondent
Thursday 18 February 2016 23:25 Comments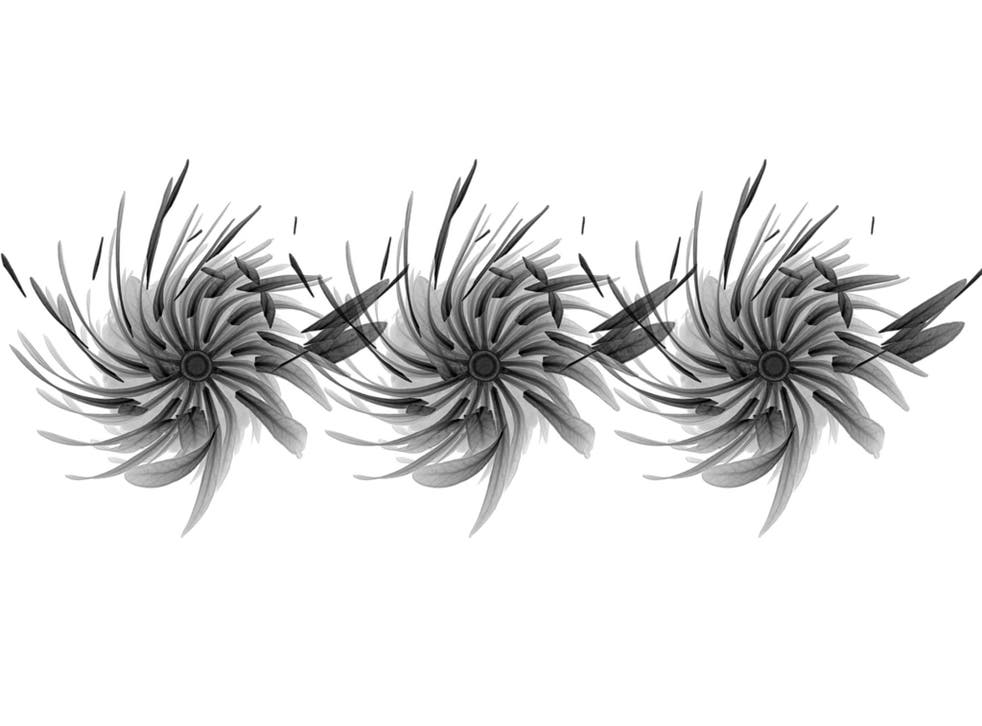 An artist known for her use of X‑rays and MRI machines is holding her first major exhibition since falling seriously ill three years ago – an experience that gave her a particularly poignant insight into the medical equipment used in her work.
Boo Beaumont spent a decade using medical scanning equipment to create award-winning pieces, including X-rays of plants, flowers and shells. But after three years spent largely bed-ridden with a condition that knocked out her immune system, Beaumont hopes a new exhibition of her work at the Royal Cornwall Museum will inspire her to start creating art once again.
"Metamorph – Film and X-ray Images by Boo Beaumont" opens on Monday and runs for four months. The exhibition will include some of her X-ray works, as well as a film journeying through the insides of a flower.
"Having this exhibition is what's giving me the link back to my art," she told The Independent. "I'm longing to go back to creating. Whether my work will change will be interesting to see."
Beaumont graduated from art school in 1974 and early in her career designed neon sculptures for rock bands including Japan and The Stranglers.
She later specialised in close-up photography of flowers, inspired by artists such as Georgia O'Keeffe. An exhibition at the Great Western Hospital in Wiltshire in 2002 then marked her first foray into the use of medical imaging equipment.
Her X-ray images have been displayed in the V&A and the Brazilian Museum of Art in Sao Paulo, and she was the first woman to have works hung in the Museum of Islamic Art in Qatar.
But in 2012, a cream she used to help treat her skin cancer had devastating side-effects, causing her immune system to fail. "Once that happens there's nothing you can do," she said. "You just have to allow your body to recover."
The long recovery process included being scanned in the machines she had come to know so well in her art. "I've always had claustrophobia, but when I went for the MRI scan I thought of the beautiful intricate detail it can record and that helped me immensely."
Beaumont has not been able to work for three years because of her illness. "It unfortunately affects every part of my body," she said. "I can't go out, or cook. I have no energy."
While attempting to re-train her brain she found diaries written by her great aunt – one of the first women to go to the Slade School of Art, in 1871 – and slowly started transcribing them. "That helped me hugely," she said. "Over the course of the three years, and particularly the last few months I'm managing better."
The National Portrait Gallery has a set of 12 photographs from Beaumont's "Remarkable Women" series, including portraits of former House of Commons Speaker Betty Boothroyd, the first female director general of MI5 Stella Rimington, and Royal Ballet founder Ninette de Valois.
Register for free to continue reading
Registration is a free and easy way to support our truly independent journalism
By registering, you will also enjoy limited access to Premium articles, exclusive newsletters, commenting, and virtual events with our leading journalists
Already have an account? sign in
Join our new commenting forum
Join thought-provoking conversations, follow other Independent readers and see their replies