Brooklyn Beckham book has 'terrible photos and even worse captions'
People on social media are not impressed by an early glimpse at the teenager's photography book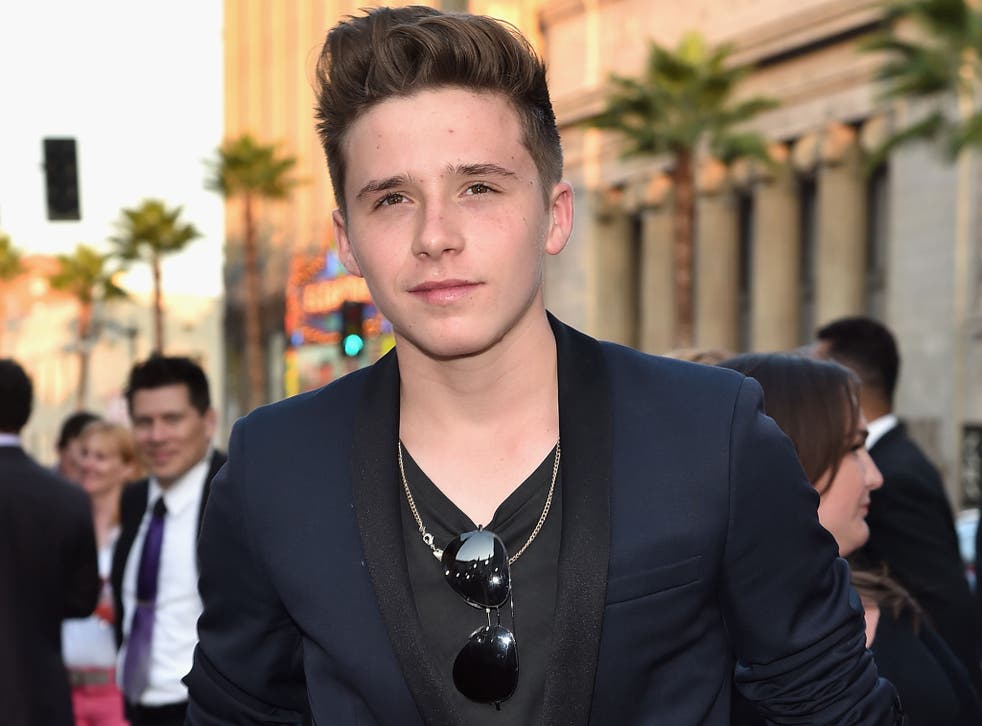 Images from Brooklyn Beckham's new photography book have been leaked and it seems not everyone is a fan.
People are taking to social media to share their views, with particular criticism aimed at at the captions.
On one page, next to a picture of an elephant in the shadows, the caption read: "Elephants in Kenya. so hard to photograph, but incredible to see."
On the next page, next to a blurry shot of a crowd at a restaurant, the 17-year-old son of David and Victoria Beckham wrote: "Dinner. i like this picture - it's out of focus but you can tell there's a lot going on."
Alice Jones, arts editor of the i Paper, posted an early look at the book, which is priced at £16.99, and tweeted: "Huge fan of Brooklyn Beckham's terrible photographs and even worse captions."
While several fans have tried to defend him by saying he's "just a kid having fun with a camera", it has been pointed out that few of those would be handed a book deal with Penguin Books.
Brooklyn himself posted a selfie with the book on Instagram where he said he was "excited" about the release and would be signing copies for fans next week.
Unfortunately is not the first time he and the companies he works with have attracted criticism.
In January 2016 he drew the ire of professional fashion photographers after being invited to take part in a shoot for Burberry.
Fashion photographer Chris Floyd told the Guardian at the time that Burberry's decision to employ the inexperienced teenager was a "devaluation of photography" that showed a lack of respect for experienced professionals.
He also said that Brooklyn's jump to professionalism "goes against everything his parents represent".
"David and Victoria Beckham represent sheer willpower and graft," he said. "Especially her, she's climbed that mountain all by herself. They represent hard work and then their 16-year-old year son comes along and it's sheer nepotism. He hasn't done it from hard work, which is counter-intuitive to what his parents represent."
Jon Gorrigan, a photographer who has worked with Esquire, Grazia and the Observer and high profile models, said he expected Burberry would have made things easier for him.
"He's obviously not going to be doing the lighting, he'll have no clue of the programmes, the cameras or Photoshop," he said.
David Beckham opens social housing in Somerset
"It's going to be so well managed – he'll have the best hair and makeup, the best models, the very best equipment, so that the chance of any risk is greatly reduced.
Brooklyn's book What I See is released via Penguin Books on 26 June. The Independent has contacted the publisher for comment.
Register for free to continue reading
Registration is a free and easy way to support our truly independent journalism
By registering, you will also enjoy limited access to Premium articles, exclusive newsletters, commenting, and virtual events with our leading journalists
Already have an account? sign in
Register for free to continue reading
Registration is a free and easy way to support our truly independent journalism
By registering, you will also enjoy limited access to Premium articles, exclusive newsletters, commenting, and virtual events with our leading journalists
Already have an account? sign in
Join our new commenting forum
Join thought-provoking conversations, follow other Independent readers and see their replies