Calais migrants start charging visitors to see Banksy's Steve Jobs mural
The painting remains covered by a red blanket unless visitors pay five eurors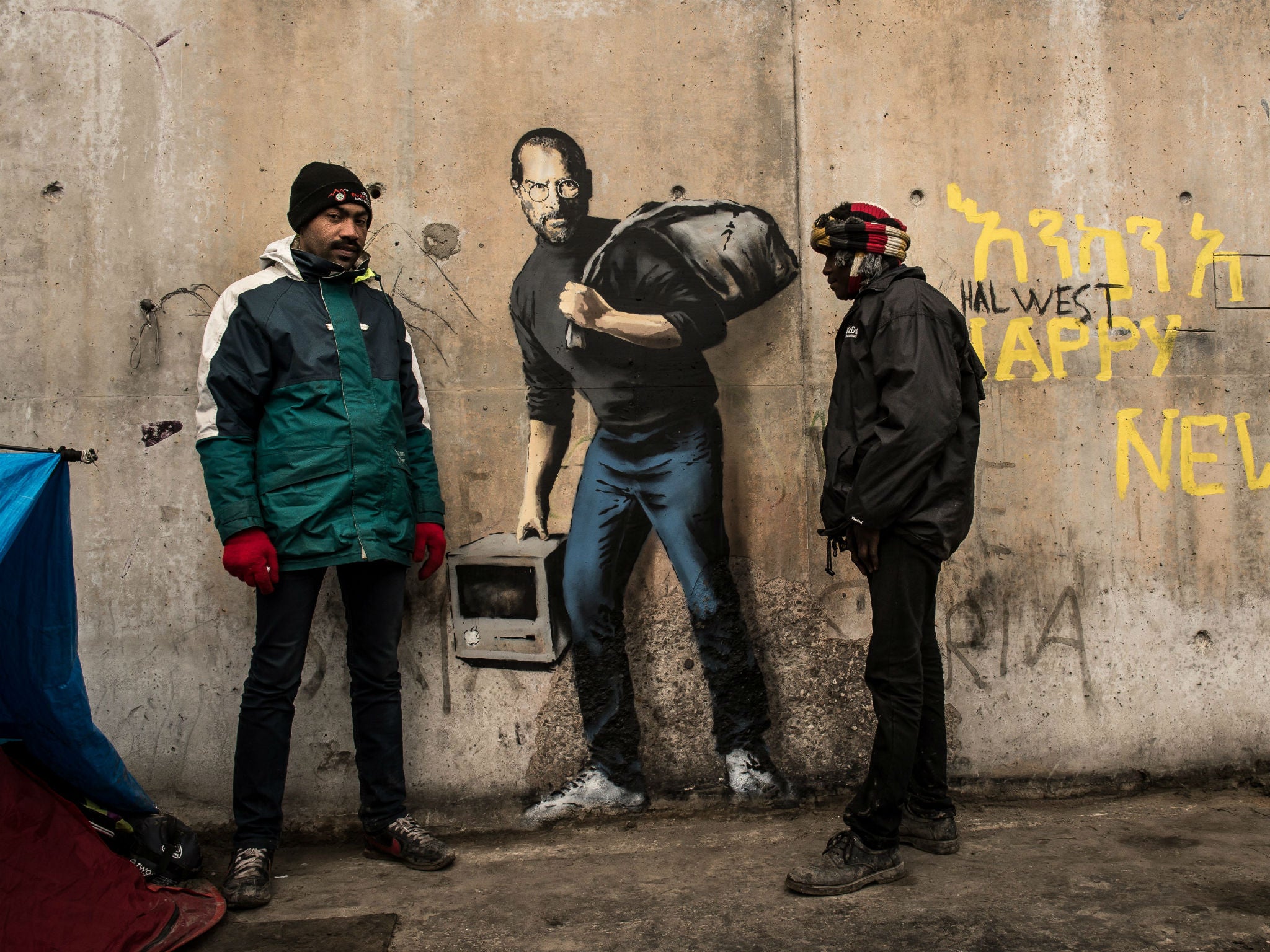 Migrants living in the Calais Jungle have started charging people to see Banksy's new Steve Jobs mural by covering it up with a blanket and only revealing it to those who pay.
The graffiti artist's latest artwork emerged on a wall in the makeshift town last week, showing the late Apple co-founder in his trademark spectacles, carrying an early Apple computer and a bag of belongings. Jobs was the son of a migrant from Homs, Syria who emigrated to the US.
More than 7,000 migrants from Syria, Afghanistan and other war-torn countries are currently camping in Calais, hoping to start new lives in the UK.
Tourists and Calais residents have been flocking to the concrete wall to admire Banksy's life-size painting, but must now hand over five euros (£3.60) to a migrant living in a tent next to it.
Multiple pictures can be seen on Banksy's official website, with "Nobody deserves to live this way" written further along the wall.
Banksy said in a statement: "We're often led to believe migration is a drain on the country's resources, but Steve Jobs was the son of a Syrian migrant.
"Apple is the world's most profitable company, it pays over $7 billion a year in taxes - and it only exists because they allowed in a young man from Homs."
Banksy has been supplying aid to the Calais 'jungle' in the form of leftover infrastructure from his now closed UK 'bemusement park' Dismaland. The materials are being used to create emergency shelters, community buildings and play areas for those in need.
Join our commenting forum
Join thought-provoking conversations, follow other Independent readers and see their replies