Paris attacks: Powerful cartoons from around the world
Images range from anti-terrorism reactions to those defending innocent Muslims from Islamophobia
Jess Denham
Monday 16 November 2015 11:27 Comments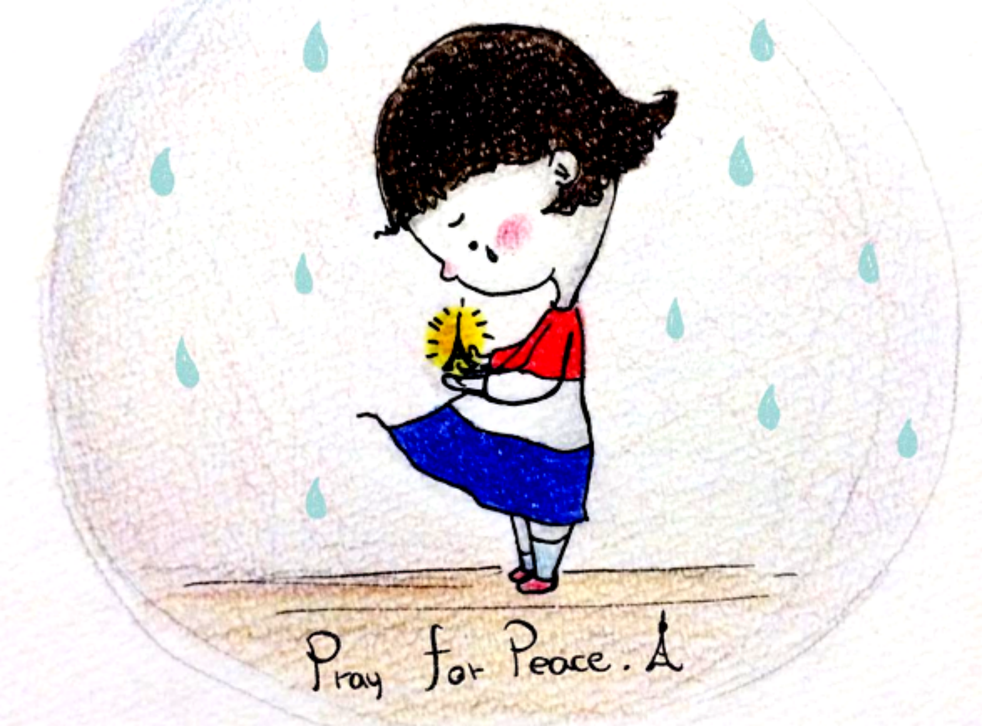 Cartoonists from around the world have picked up their pens and pencils to pay tribute to those killed in the Paris atrocities on Friday night and spread a message of peace, love and solidarity.
From the poignant image of a girl crying into her hands in front of the Eiffel Tower as a gun and the Tricolore lie in her lap, to the iconic landmark recreated from red, white and blue tears, the resulting drawings are sparking strong emotional responses in newspapers and on social media.
Some cartoonists are sharing anti-terrorism reactions to what happened, while others are defending innocent Muslims against rising Islamophobia.
In total, at least 132 people were killed and many more critically injured in a series of co-ordinated attacks throughout the French capital, including a siege at Le Bataclan theatre, bombings at Le Stade de France and shootings at restaurants and cafes.
Here are some of the most powerful artworks to emerge after the tragedy:
Osama Hajjaj draws Paris as a beautiful weeping woman
Mathilde Adorno shows a city defiant in the face of violence
Carlos Latuff focuses on France mourning its dead
Ross McIntosh builds the Eiffel Tower out of tears
Joann Sfar calls for no more religion
For more from the Charlie Hebdo cartoonist, see here.
Cristian Dzwonik draws a world crying for Paris
Jean Julien's Eiffel Tower peace sign went viral
"It was a reaction. The first thing that came to me was the idea of peace, that we needed peace," Julien told Wired. "I was trying to look for a symbol of Paris, and obviously the Eiffel Tower was the first thing that sprang to my mind. I just connected both of them."
Drawl de News focuses on the intense sadness
Sarah Chalabi creates a rose from the Eiffel Tower
Kelly C shows a crying little girl holding a shining Eiffel Tower
Violet Shwimer brands the world media hypocritical for neglecting similar attacks that also killed civilians in Middle Eastern countries
"The only word that came to my mind - hypocrisy. I really sympathize with the victims in Paris, but the attacks occur almost every day and no one pays attention to them. What's wrong with you? Paris is the same city as the rest of the world. It is not necessary to give ALL the attention only to this city. Why does no one mourns victims in Iraq or Syria? I'm ashamed of modern society."
Alexandra Senes pays tribute to victims of terrorism worldwide
Carlos Latuff suggests President Hollande is to blame for his "explosive foreign policy" of intervention in Syria
Frederique calls on people to not confuse innocent Muslims with terrorists
Elsewhere in the art world, pianist Davide Martello travelled 400 miles with his portable piano to play an instrumental version of John Lennon's pacifist anthem "Imagine" to grieving Parisians, while numerous high profile musicians have paid their respects to those who lost their lives in the attacks.
Register for free to continue reading
Registration is a free and easy way to support our truly independent journalism
By registering, you will also enjoy limited access to Premium articles, exclusive newsletters, commenting, and virtual events with our leading journalists
Already have an account? sign in
Register for free to continue reading
Registration is a free and easy way to support our truly independent journalism
By registering, you will also enjoy limited access to Premium articles, exclusive newsletters, commenting, and virtual events with our leading journalists
Already have an account? sign in
Join our new commenting forum
Join thought-provoking conversations, follow other Independent readers and see their replies