Charlie Hebdo: Asterix creator Albert Uderzo comes out of retirement to draw 'Je suis Charlie' cartoon
The 87-year-old cartoonist draws a furious Asterix, punching an assailant into the air and exclaiming 'I'm Charlie too'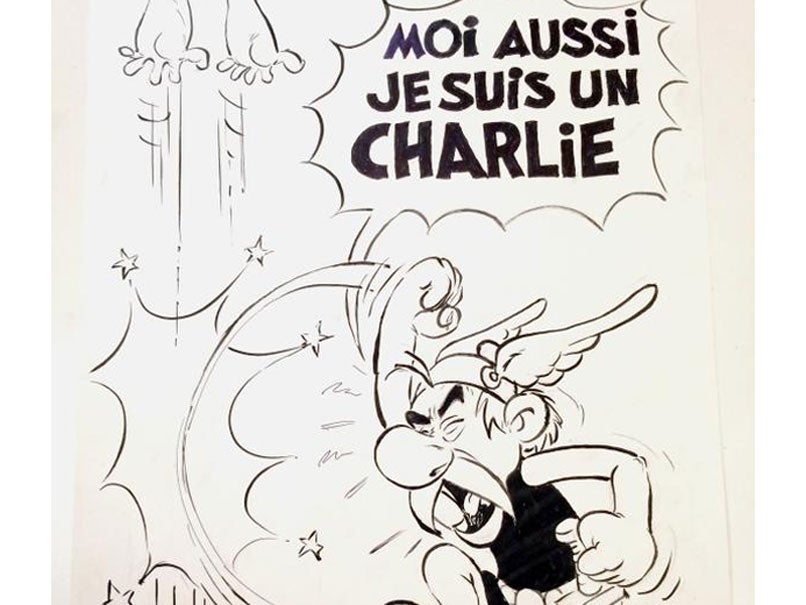 Albert Uderzo, the 87-year-old creator of the well-loved French comic series Asterix, has come out of retirement to draw a new cartoon to show solidarity with the victims of the Charlie Hebdo attack this week.
The two new cartoon have appeared, the most powerful of which shows Asterix punching an assailant high in to the air, while angrily exclaiming: "Moi aussi je suis un Charlie", meaning: "I'm Charlie too".
Another image appears to be a sketch showing the characters Asterix and Obelix stood next to each other, their head bowed and their hats in their hands. Asterix holds a single rose in one hand, and the small Dogmatix is seen looking sadly over his shoulder.
The images have been published in French newspaper Le Figaro, where Uderzo is quoted as saying: "I am not changing my work, I simply want to express my affection for the cartoonists that paid for their work with their lives."
In pictures: Reaction to Charlie Hebdo attack
Show all 39
Twelve people were killed when the offices of satirical French magazine Charlie Hebdo was attacked on Wednesday. Ten of those killed were staff members of the magazine, and two were French police officers, one of whom was Muslim.
Among the victims were the magazine's editor and chief cartoonist, Stephane Charbonnier, known as 'Charb', cartoonist Jean Cabut, known as 'Cabu', and cartoonist Bernard Verlhac, known as 'Tignous'.
Join our commenting forum
Join thought-provoking conversations, follow other Independent readers and see their replies