Chinese vase fetches £9m at auction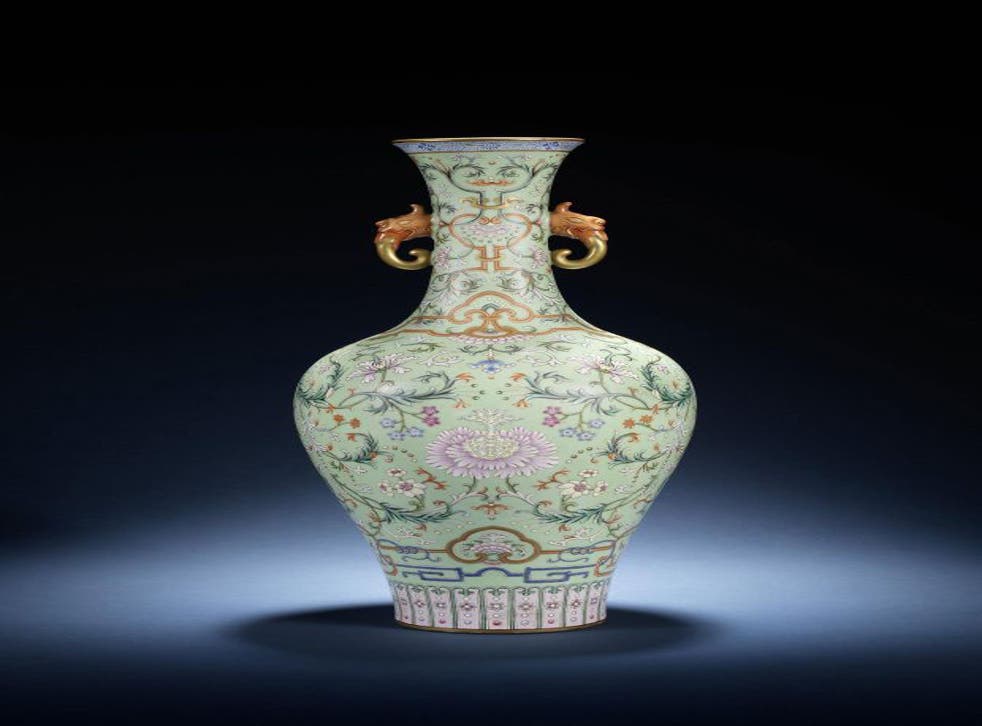 An Imperial Chinese vase thought to have been kept at the royal palace in Beijing's Forbidden City sold for more than £9 million at auction tonight.
The turquoise vase, decorated with chrysanthemums, was bought over the phone during a 700-lot Chinese sale at Bonhams auction house in London.
The buyer, from the Chinese mainland, paid £9,001,250, making the vase the highest-priced Asian artwork to be sold in London this year.
Its pre-sale estimate was £5 million to £8 million but it went for a higher price following a bidding war between three separate phone buyers. The final figure includes the buyer's premium.
Asaph Hyman, a senior specialist at Bonhams Chinese Art Department, said: It has been a very great privilege to have sold such an extraordinary work of art.
"The interest in Chinese art continues to grow and the number of remarkable objects coming to auction is astonishing."
The vase is thought to date from the 18th century Qianlong period and to have been kept in the Forbidden City's royal palace.
It was then brought over to Britain from Hong Kong in the 1920s.
A blue and white pear-shaped vase, also from the Qianlong period, was sold for £505,250 at the auction.
PA
Register for free to continue reading
Registration is a free and easy way to support our truly independent journalism
By registering, you will also enjoy limited access to Premium articles, exclusive newsletters, commenting, and virtual events with our leading journalists
Already have an account? sign in
Register for free to continue reading
Registration is a free and easy way to support our truly independent journalism
By registering, you will also enjoy limited access to Premium articles, exclusive newsletters, commenting, and virtual events with our leading journalists
Already have an account? sign in
Join our new commenting forum
Join thought-provoking conversations, follow other Independent readers and see their replies