Classic paintings and film stills given wheat-free makeovers in 'Gluten Free Museum' project
One of the internet's more bizarre artistic offerings
Jess Denham
Wednesday 18 November 2015 14:39 Comments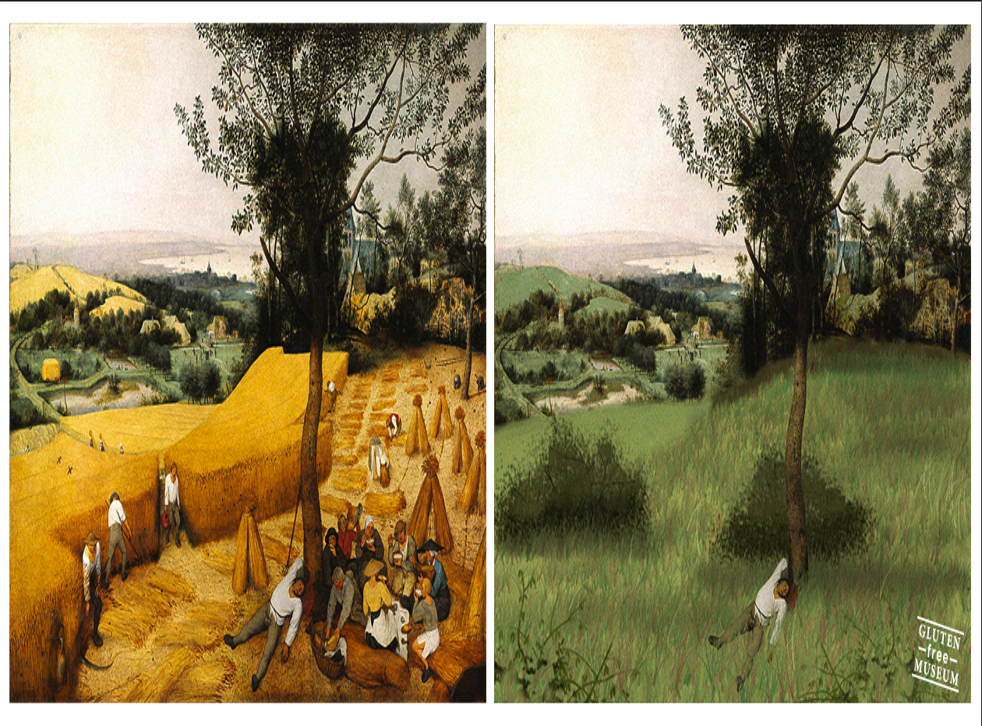 It is well known that a lot of very strange stuff lurks on the internet, but one French blogger's 'Gluten Free Museum' is one of the stranger artistic discoveries.
Graphic artist Arthur Coulet decided to airbrush all wheat-containing products out of classic paintings and film stills, not to make fun of the gluten-free movement, but as "a joke". The idea first came to him when he noticed gluten-free ads, but he does not follow a gluten-free diet himself.
Up to 1 per cent of the British population suffers from coeliac disease, a gluten-triggered disorder that can lead to serious health problems, and are forced to avoid wheat. But some celebrities have highlighted the supposed benefits of a wheat-free diet regardless, leading to a food craze with sales of gluten-free products rising 15 per cent last year.
Coulet's Gluten Free Museum started drawing attention in April and soon, news sites began interpreting his project as a mockery of the suddenly popular gluten-free diet. "It's art, minus the gluten. Finally," The Huffington Post wrote, but Coulet insists there is no message behind his blog.
"This is a serious matter, that's why I've decided to bring lightness and pleasure with art," he told the BBC.
Bread has been removed from a still lifes by Jean Simeon Chardin, bales of wheat crops erased from a late summer Vincent Van Gogh and even the spaghetti made famous in Disney film Lady and the Tramp has been stolen from the enamoured dogs' shared plate.
Gladiator would have had to forgo that iconic wheat scene
"The Milkmaid" by Johannes Vermeer
Chief Wiggum from The Simpsons would seriously miss that donut
"Siesta" by Vincent Van Gogh
Jean Simeon Chardin still lifes would be lacking
The classic Guinness advert would look...different
Lady and the Tramp would have no spaghetti to fall in love over
For more from Coulet, visit his website at glutenimage.tumblr.com.
Register for free to continue reading
Registration is a free and easy way to support our truly independent journalism
By registering, you will also enjoy limited access to Premium articles, exclusive newsletters, commenting, and virtual events with our leading journalists
Already have an account? sign in
Join our new commenting forum
Join thought-provoking conversations, follow other Independent readers and see their replies