Coming soon to a public space near you – a big red ball
A New York artist is the latest to bring his witty works to our streets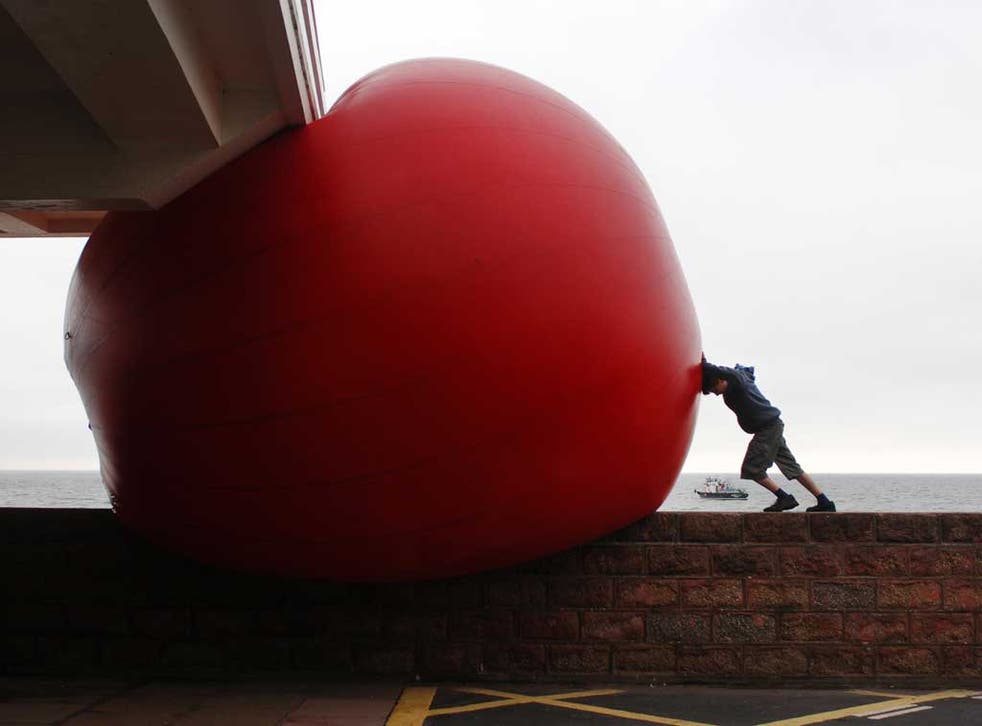 To some it is a startling, temporary and contemporary sculpture that redefines the nature and significance of our public spaces. To others it's just a giant travelling space hopper without the ears. Kurt Perschke's RedBall Project has toured the world from Barcelona, Taipei and Abu Dhabi to Toronto, Sydney and St Louis. Now it has arrived in the UK.
The 15ft inflatable red ball, weighing 250lb – which has been squeezed into alleyways and inflated in town squares, squashed into bus shelters and bridge archways – arrived yesterday in Torbay. This month it will be making appearances in Plymouth, Exeter, Weymouth and across London, ending on the South Bank.
It is part of a growing trend for unexpected artworks that cause unsuspecting passers-by to do a double take, not only at the work, but at the public spaces they take for granted around them. The works range from giant rubber ducks floating downriver to giant octopus tentacles creeping out of buildings, and mosaic space invaders adorning statues and sculptures.
Perschke, 43, a New York artist who works in sculpture and video, said: "It is a lot more imaginative than many monuments. The ball is a tool: it draws people's attention to parts of cities they may not have previously noticed. It's not about the ball – it's about seeing the city. It's very much an invitation, as it moves through the city: people can take it as they want."
While the current tour has been co-produced by the Dartington Trust, and the artwork has permission to show at Waterloo Bridge and Golden Jubilee Bridge, elsewhere it has been exhibited illegally, notably in Barcelona. Perschke said perceptions of street art are changing. "It doesn't matter to people if it is illegal or legal. People would not have the same reaction if it were displayed in a white-box gallery. It's not explaining something; it's doing it. It brings out ideas of seeing your environment: people email me saying they have seen a great spot for it. That is what the piece is about."
Tristan Manco, the author of street art books Street Logos and Raw + Material + Art, said: "Although permission and funding have been given to the RedBall Project technically making it a public art piece, there is something about its temporary nature that links this work to today's street art scene. It's the element of surprise and humour in this work – an unexpected encounter in our day-to-day environment that we associate with street art – which can be so joyfully effective." He also says it plays into the current rise in inflatable art.
The ball, which received a national award from the Arts Public Art Network in the US, started life as a commission in St Louis, Missouri. Perschke wanted to find something that was contemporary and involved people. "I just drew this huge red sphere and laughed. I felt like that was it."
The ball has elicited strong reactions across the globe. Matt Buchanan of The Sydney Magazine said: "The absurdity of this balloon-at-large makes you smile. It also brings, like all good sculpture, a compulsion to reach out and touch."
Perschke is unconcerned by critics. "There's always a risk: if you do something funny you open yourself up," he said. "I was talking to a curator who said, 'Anybody can have a ball, it's what you do with it.' It's about the imagination, and that is true with this piece."
Zezao
Brazilian subterranean street artist Zezao decorates hidden spaces, including Brighton sewers and Paris catacombs, with his work. The self-taught artist uses performance art, videos, films, photographs and paintings and through his work highlights the plight of outcasts who live underground in the city.
Antony Gormley
Gormley's statues peered out from rooftops across London in 2007, and are currently surveying the scene in Sao Paulo. The life-size casts of the artist's body, made from cast iron and fibreglass, were spotted on bridges, rooftops and streets. They travelled to Madison Square in New York in 2010.
Florentijn Hofman
Dutch artist Hofman took the rubber duck out of the bathroom and on to the river. His 26m-high inflatable floated around Osaka, Sao Paulo and Auckland. His other sculptures have included Fat Monkey, a 15m primate tied together with 10,000 coloured flip-flops, and Look-out Rabbit, made from wooden planks.
Invader
From London and Manchester to New York, Avignon and Paris to Tokyo, Bangkok to Mombasa – even briefly on the Hollywood sign in LA: the French street artist has put mosaics on the side of buildings and added to statues around the world. He was inspired by the 1978 computer game to attack – and brighten up – urban environments.
Slinkachu
Slinkachu's Little People Project started in 2006, using tiny models on the street. The miniature scenes include insect-sized men taking aim at a dead bumblebee, suited characters sitting between the cracks in pavements to admire the view, and manning life rafts after a storm to sail across puddles.
Filthy Luker
The Bristol-based street artist has "Octopied" buildings, so tentacles come out of windows; has placed huge banana rinds in the middle of roads, and given model pigeons Doc Marten-style boots to stomp around dirty streets. He is currently working on Musii, a soft inflatable object that gives non-musicians the experience of playing an instrument.
Join our new commenting forum
Join thought-provoking conversations, follow other Independent readers and see their replies