Damien Hirst says he considered pickling human corpses after famous shark artwork
Artist has two new exhibitions taking place this year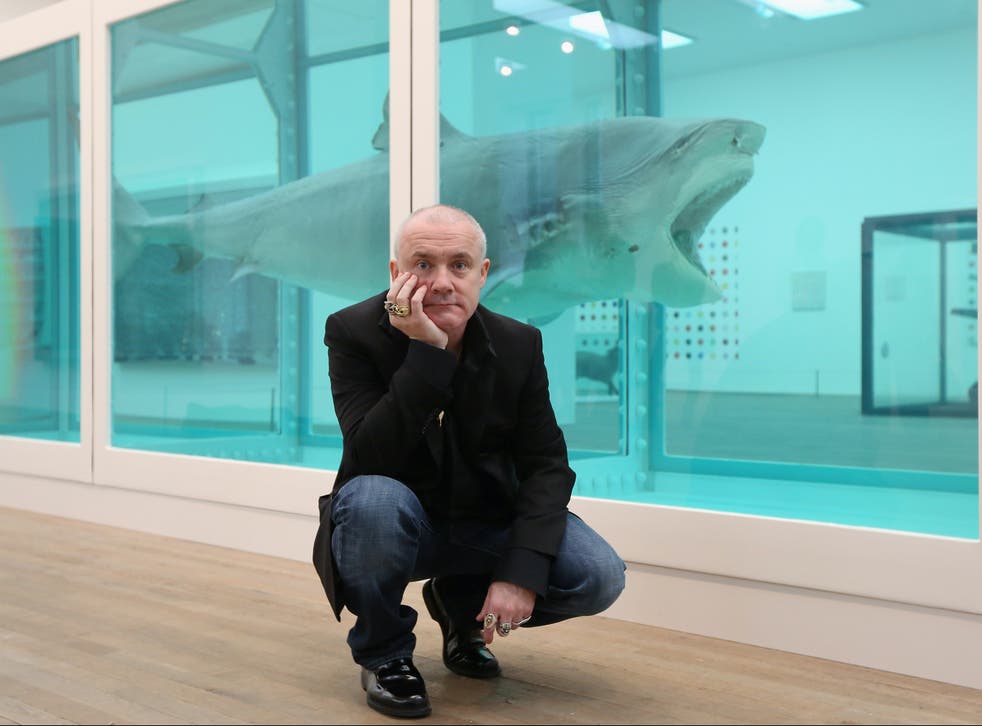 Damien Hirst has revealed he once considered placing human corpses in formaldehyde after his famous artworks using a shark and a sheep.
In an interview with The Guardian, the English artist was asked why he had never progressed from animals to "pickling people".
"I flirted with the idea," he responded, explaining that he had considered getting a male and female corpse, cutting them in half and fitting their sexual organs together.
Hirst was apparently influenced by Leonardo da Vinci's drawing of the anatomy of human copulation.
However, he said that he preferred working with a "neglected thing like a sheep, which is meat – you're thinking why am I feeling empathy?"
"That's a great thing because you should. Because it's not just meat," he continued.
During the pandemic, Hirst created a rainbow from butterfly wings to express solidarity and support, as part of The Independent's Help the Hungry campaign.
Hirst's Mental Escapology exhibition of over 40 works is currently being held across five locations in St Moritz.
His Cherry Blossoms exhibition of paintings is being held at the Fondation Cartier in Paris on 1 June.
Register for free to continue reading
Registration is a free and easy way to support our truly independent journalism
By registering, you will also enjoy limited access to Premium articles, exclusive newsletters, commenting, and virtual events with our leading journalists
Already have an account? sign in
Register for free to continue reading
Registration is a free and easy way to support our truly independent journalism
By registering, you will also enjoy limited access to Premium articles, exclusive newsletters, commenting, and virtual events with our leading journalists
Already have an account? sign in
Join our new commenting forum
Join thought-provoking conversations, follow other Independent readers and see their replies