Damien Hirst unveils new artwork 'Mickey'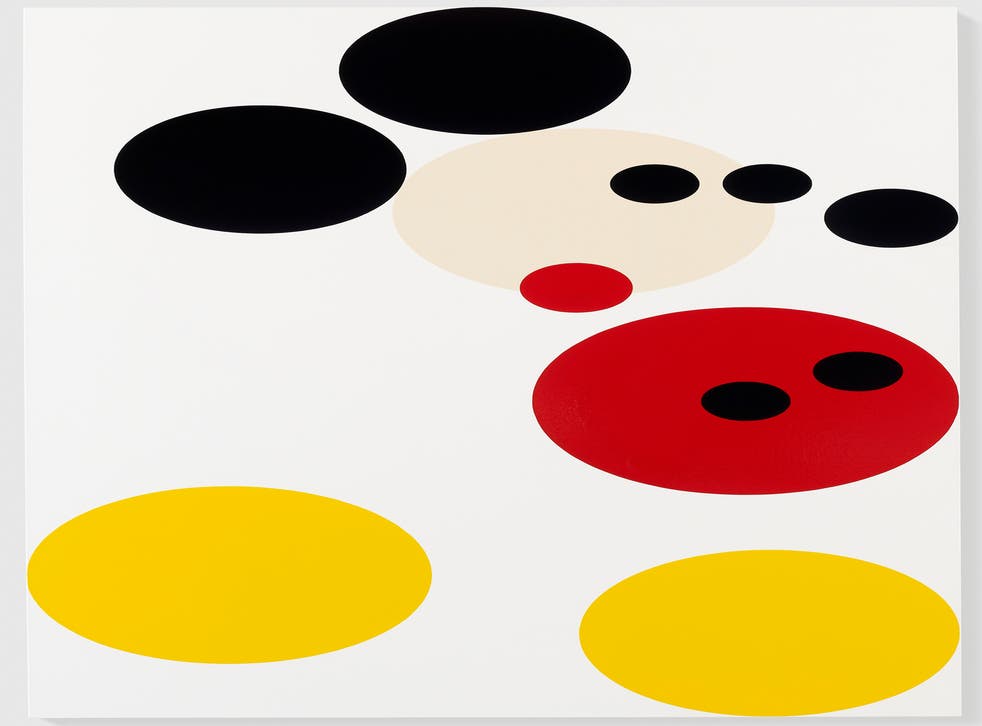 Damien Hirst has today unveiled a new spot painting based on Disney character Mickey Mouse.
Hirst said he was inspired to paint the Disney character because it reminded him of "the joy of being a kid".
He said: "Mickey Mouse represents happiness and the joy of being a kid and I have reduced his shape down to the basic elements of a few simple spots. I hope people love it, because it is still instantly recognisable - Mickey Mouse is such a universal and powerful icon."
"Mickey", painted in household gloss on canvas, will be auctioned next month at Christie's to raise money for children's charity Kids Company.
The artist follows in the footsteps of Andy Warhol, Roy Lichtenstein and Claes Oldenburg, who have all painted the iconic mouse during their careers.
Francis Outred, head of post-war and contemporary art at Christie's Europe, described Hirst's interpretation of the popular Disney character as a bringing together of two icons.
He said: "Damien's is an exciting and hugely significant addition to this rich artistic vein of Mickey depictions. Taking his own universally recognised painterly language – the spots – and applying it in a striking yet simple composition to Mickey, the resulting image speaks of the profound way that both icons have entered our collective consciousness."
Hirst, who first started working on his 'spot paintings' in 1986, has painted over 1,000 artworks in the series.
His "Pharmaceutical" paintings, which are among his best known works, consist of canvases painted with a series of randomly coloured circles.
Two signed paintings in the Pharmaceutical series thought to be worth £33,000 were stolen from a London Gallery last month.
Speaking about his spot paintings in 2001, Hirst said: "To create the structure, to do those colours, and do nothing. I suddenly go what I wanted. It was just a way of pinning down the joy of colour."
"Mickey" will be on view to the public as part of Christie's auction's pre-sale exhibition from Saturday 8 February.
Register for free to continue reading
Registration is a free and easy way to support our truly independent journalism
By registering, you will also enjoy limited access to Premium articles, exclusive newsletters, commenting, and virtual events with our leading journalists
Already have an account? sign in
Register for free to continue reading
Registration is a free and easy way to support our truly independent journalism
By registering, you will also enjoy limited access to Premium articles, exclusive newsletters, commenting, and virtual events with our leading journalists
Already have an account? sign in
Join our new commenting forum
Join thought-provoking conversations, follow other Independent readers and see their replies