Another Banksy hoax? Man going around claiming to be Robin Banks is not the street artist
Does the Bristol-born graffiti legend have an impersonator in Cumbria?
Matilda Battersby
Wednesday 28 January 2015 14:57 Comments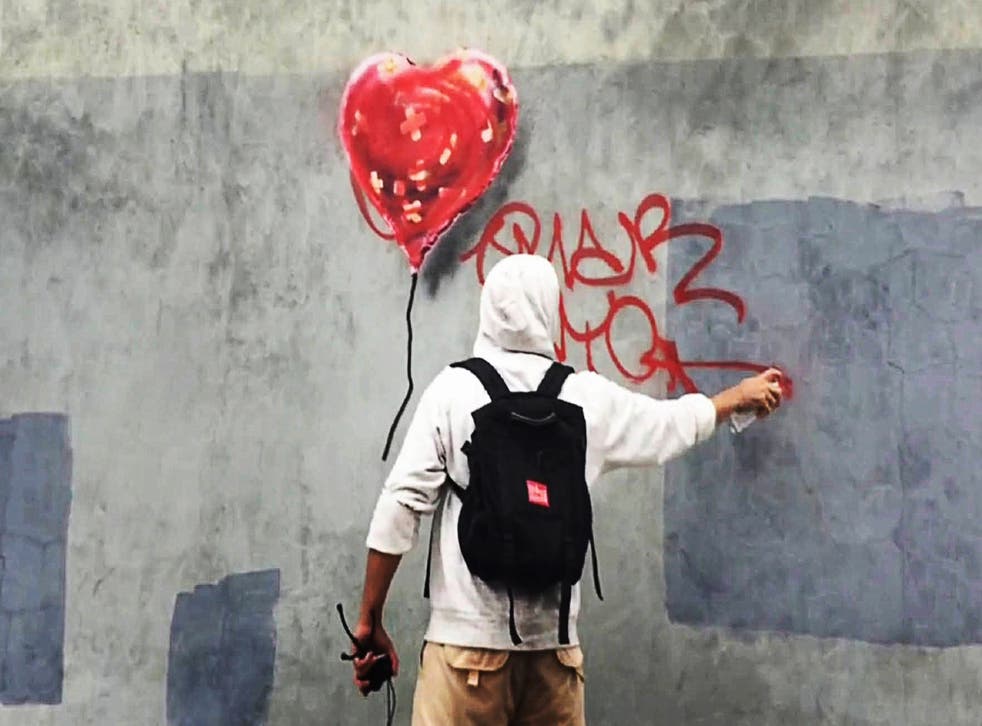 The elusive street artist known as Banksy has been less-than elusive in 2015 introducing himself to a schoolboy on a train and popping into a restaurant to admire the décor. But is it really him?
In both cases a man fitting the profile of the legendary graffitist (white, forties, well-spoken English accent) introduced himself as "Robin Banks" another name used by Banksy.
But, according to Banksy's publicist (who would say that, but would normally refuse to comment if it were true) both stories are complete rubbish and the artist wasn't anywhere near where they were supposed to have taken place.
"It isn't true. I don't know where it has come from, it is really strange," Jo Brooks said.
Both stories about Robin Banks occurred in Cumbria: the first reported that a schoolboy, Ben Azarya, 14, was given a print which, if original, would be worth around £20,000, by a stranger travelling on the Oxenholme to Penrith train.
The latest "sighting" comes from Cockermouth where Banksy is alleged to have popped into Wild Zucchinis restaurant on 19 January to admire the street art on the walls.
Restaurant owner Manon Plouffe, 48, told The Independent: "He was looking at the décor. We have a bit of graffiti art on the walls. He said 'that's funky, I like it'. He said 'I'm a graffiti artist'.
Banksy: The Unauthorised Retrospective

Show all 10
Manon, who was "trying to get rid of him" as she was closing up, said she didn't twig that he might be Banksy until she mentioned the conversation to her colleague.
"He was half out the door and I said 'What's your name?' He said 'Robin Banks'. I asked him to come back for a coffee the next day we never saw him again."
In both cases Robin Banks was described as in his forties, wearing baggy clothes and a black fedora hat.
Schoolboy Azarya, who had no idea who Banksy was, said a man claiming to be Robin Banks gave him a signed copy of an iconic print, and said:"This will be worth about £20,000 - have a good life."
He couldn't believe it when he went home and looked him up on the internet. "He was on the phone for most of the time talking to someone called AK47.
"He opened his rucksack and had a gas mask and spray paints inside," Azarya toldThe Mirror.
"He got out a piece of paper and had colours marked on it of what he had been trying out and he dropped his colours. I picked them up for him and after that he started signing it in weird letters and numbers. He said 'do you know who Robin Banks is?"
It isn't the first time that the most famous name in Britain's street art scene has been the subject of a hoax or impersonation.
Last October a false story, published on US website National Report, alleged that the identity of the British street artist had finally been revealed and that he had been arrested "without bail on charges of vandalism, conspiracy, racketeering and counterfeiting".
The story claimed that Banksy's London art studio had been raided, where "thousands of dollars of counterfeit money along with future projects of vandalism" were found, along with ID thought to belong to the famed anonymous street artist, which allegedly identified him as Liverpool-born Paul Homer.
In 2008, it was claimed that Banksy was actually Robin Gunningham, a former public schoolboy from Bristol. The artist denied the claim.
There have been numerous photographs published purported to be of the artist. He is believed to have been caught on camera in New York in 2013 and previous photographs claiming to be of Banksy were taken in Santa Monica in 2011 and East London in 2007.
Last month a drawing posted on instagram in the wake of the Charlie Hebdo attacks was wrongly attributed to Banksy - but it was shared thousands of times and he was widely praised for it before the real artist, French illustrator Lucille Clerc, was revealed.
Read more:
Register for free to continue reading
Registration is a free and easy way to support our truly independent journalism
By registering, you will also enjoy limited access to Premium articles, exclusive newsletters, commenting, and virtual events with our leading journalists
Already have an account? sign in
Join our new commenting forum
Join thought-provoking conversations, follow other Independent readers and see their replies