Fairy tales from a time of evil
Jewish artist Bruno Schulz was ordered to paint a nursery for a Nazi officer before he was murdered. After being hidden for decades, his touching final work has gone on show in Jerusalem. Donald Macintyre reports
Saturday 21 February 2009 01:00 GMT
Comments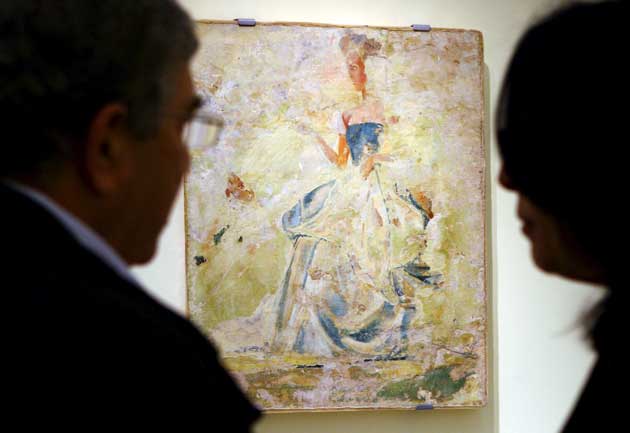 Even without their tragic history, the murals would count as an extraordinary vibrant, work of art. Yet for six decades they were hidden from view in a Ukrainian family home after Second World War, carelessly overlaid and damaged by pantry shelves and pink paint. Yesterday some of the surviving fragments, painstakingly conserved to maintain as much as possible of their original vitality, went on public display for the first time – finally doing justice to the subversive genius and courage the great Polish-Jewish writer and artist Bruno Schulz brought to a commission from a sadistic murderer he had every reason to hate and fear.
In the evening of 30 June 1941, Schulz's Galician home town of Drohobycz, part of Poland until September 1939 and Ukrainian ever since, was overrun by the Nazis. In a three-day pogrom, the first of many in the town, 900 Jews were executed. Among the officers serving at the newly-established headquarters was SS Hauptscharführer Felix Landau. A man with a love of riding, Landau liked to roam the streets with a whip in one hand a pistol in the other. He was said to shoot Jews randomly from windows and had the job of enlisting forced labour from the Jewish ghetto. Installed in what became known as the Villa Landau with his lover Getrud Segal and his children, two and four, from his failed marriage, the Nazi officer ordered the 49-year-old Schulz, already highly regarded in Poland as a writer who illustrated his own books, to decorate the nursery.
Saved for the time being from the deportation and death which progressively engulfed his fellow residents of the ghetto, Schulz went each day to the villa to depict scenes from fairy tales and children's stories; Snow White, Cinderella, Hansel and Gretel, a witch, a black cat with its tail up. But the pictures were probably the last this brilliant and charming artist, who had captivated and fallen in love with the women around him before the war, would produce.
On 19 November 1942 – "Bloody Thursday" as it became known in Drohobycz – Schulz had just collected his ration of bread from the Judenrat when he was shot in the back of the head by another SS man, Karl Günter. He was buried that night in the Jewish cemetery with almost 200 fellow Jews. One of several versions of the legend surrounding Schulz's death is that the two Nazis had quarrelled over cards and that Gunther simply murdered him to get back at Landau, telling him: "I killed your Jew." Landau is said to have retorted: "Fine, soon I'll kill your Jew."
Look closely at the murals and you begin to understand the words of Yehudit Shendar, senior curator at Yad Vashem's Holocaust Art Museum: "What you see is not what you get, that nothing is what it looks like." Since this is "Art under Coercion", to use the title Yad Vashem has chosen for the exhibition, you might expect that Schulz would have simply done as he was told and contented himself with pleasing the Nazi's children. Instead he has inserted a self-portrait in a picture of a carriage driver – a motif in Schulz's earlier work – and he is wearing a helmet because, says Ms Shendar, he is "going to war, which means he is trying to flee the ghetto". As he was, having received false papers from well-wishers in Warsaw to use when the opportunity came, which it never did.
A Holocaust survivor from Drohobycz has identified the murals' princess as Getrud Segal, a woman as cruel as her lover. What did Landau make of the seductively-dressed Snow White, so like the women Schulz's pre-war work depicted, with the artist adoringly prostrate at their feet? Presumably he did not realise the dwarf on her right was Schulz's father Jakub or Snow White was modelled on Adele, a housekeeper father and son had adored. The Hansel and Gretel are his nephew and niece, Ella and Jakub. Landau was unsophisticated, but Schulz was still taking a huge risk because the murals – innocent at first glance – had so much of himself and his circle in them. Ms Shendar adds: "How much defiance did it take to do that in the house of a Nazi whose job was taking Jews into forced labour, then killing them?"
The permanent exhibition of the murals and a selection of Schulz's drawings and prints which opened at Yad Vashem yesterday marks closure of a dispute, which broke out in 2001 after Yad Vashem specialists took the fragments to Jerusalem, over whether they belonged in Israel or Ukraine. Yad Vashem asserted the "moral right" to retain at least some of the work on the grounds that Schulz had been killed solely because he was a Jew. Yesterday's ceremony included a lecture by David Grossman, the Israeli author inspired to write his Holocaust novel See Under: Love by that monstrous exchange between the two SS officers after Schulz's death. It was also attended by Ukraine's ambassador to Israel and its Deputy Minister of Culture, signifying that Kiev is now happy that the fragments are on "long term loan" to Yad Vashem.
Wherever they were, they would testify to a genuinely heroic work of art. As Ms Shendar says, Schulz shows himself as an "artist of defiance" whose "artistic impetus does not allow him to succumb".
Join our commenting forum
Join thought-provoking conversations, follow other Independent readers and see their replies