Female cartoonist could have 12 year prison term extended for shaking her lawyer's hand
Atena Farghadani who is already serving a disproportionately lengthy sentence is due to be tried for handshake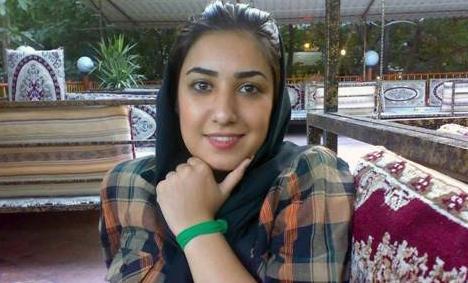 An Iranian artist currently serving more than 12 years in prison for criticising the government now faces further charges of "indecency" for allegedly shaking her male lawyer's hand.
Amnesty International reports that Atena Farghadani, 29, who was jailed after she depicted Iranian government officials as monkeys and goats in a satirical cartoon, may face a longer sentence amid claims over the handshake.
Charges of an "illegitimate sexual relationship short of adultery" have been brought against Farghadani and her lawyer Mohammad Moghimi amid allegations he visited her in jail and shook her hand - which is illegal in Iran.
Farghadani was sentenced to 12 years and nine months in prison earlier this year following the publication of her cartoon which was drawn in protest at plans by the Iranian government to outlaw voluntary sterilisation and to restrict access to contraception.
The cartoonist was arrested in August 2014 after publishing her satirical artworks on Facebook and spent three months in Evin prison in Tehran before being released in November.
She was later found guilty by a Tehran court of "colluding against national security", "spreading propaganda against the system" and "insulting members of the parliament" through her artwork.
However, Farghadani's letters of protest written to Ayatollah Ali Khamenei, the Supreme Leader, Hassan Rouhani, the President, and the Head of the Prison Service, over her treatment during those initial three months in jail are believed to have contributed to her 12 year sentence.
Having received no response from Iran's leaders the artist recorded a video (above) in which she explained what happened to her in Evin prison, with details including being strip-searched over a minor offence, beaten and verbally abused by guards.
She was re-arrested in January 2015 and sentenced in June by judge Abolghassem Salavati who is notorious for leading numerous controversial trials, many of which resulted in executions.
The artist now faces a fresh trial on indecency charges and Amnesty predicts that her sentence could be extended.
A statement from Amnesty reads: "Atena's lawyer, Mohammad Moghimi, visited Atena in prison after her trial and shook her hand. The handshake led to charges of an 'illegitimate sexual relationship short of adultery' and 'indecent conduct' being brought against both Atena and Moghimi, who will be tried for those charges in due course."
It continues: "Iran has pledged to protect free speech, including through artistic activities, as a signatory of the International Covenant on Civil and Political Rights." The Iranian Embassy in London declined to comment on the case.
Farghadani is believed to be serving her sentence in Gharchak jail and is reported to have gone on hunger strike.
Join our commenting forum
Join thought-provoking conversations, follow other Independent readers and see their replies