Female cartoonist on indecency charge for shaking man's hand: Thousands petition to free Atena Farghadani
Amnesty claims trial sentencing her to 12 years imprisonment lasted just half an hour
Matilda Battersby
Friday 11 September 2015 09:51 Comments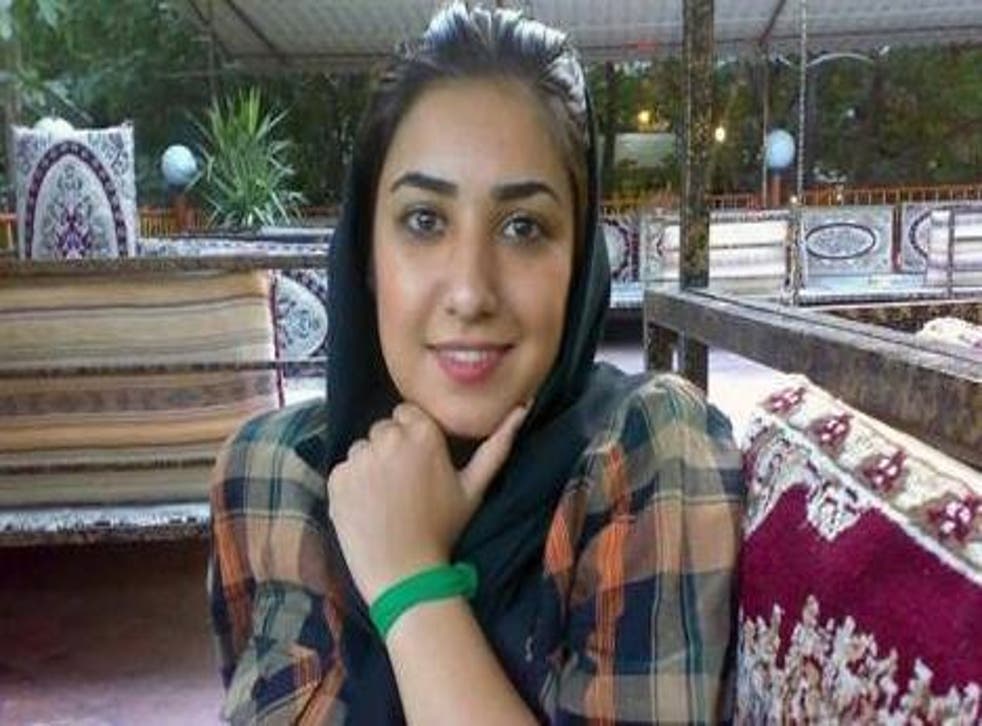 A petition calling for the release of an imprisoned Iranian artist whose sentence looks set to be increased because she shook her lawyer's hand has reached nearly 10,000 signatures.
Satirical cartoonist Atena Farghadani, 29, was jailed earlier this year for depicting Iranian government ministers as monkeys and goats, but is now facing a longer sentence amid claims over the handshake.
Charges of an "illegitimate sexual relationship short of adultery" have been brought against Farghadani and her lawyer Mohammad Moghimi amid allegations he visited her in jail and shook her hand. Handshakes between men and women are illegal in Iran.
She and Moghimi are due to be tried over the handshake and lawyers predict that her already lengthy sentence of 12 years and nine months will be increased.
A petition launched by Amnesty International calling for Iran to release her immediately has been signed by 9,867 people at the time of going to press.
Amnesty's petition is in relation to Farghadani's initial conviction and claims that her trial on charges of "insulting members of parliament through paintings" lasted just half an hour and relied on "evidence" extracted under interrogation.
Farghadani was found guilty in June of "colluding against national security", "spreading propaganda against the system" and "insulting members of the parliament" through her artwork.
The conviction relates to a cartoon protest at plans by the Iranian government to outlaw voluntary sterilisation and to restrict access to contraception which Farghadani published on social media.
However, the cartoonist was first arrested in August 2014 after publishing her satirical artworks on Facebook and spent three months in Evin prison in Tehran before being released in November.
It is believed that her actions in protest at her treatment during the initial jail time she did last year contributed to the considerable length of her subsequent sentence.
Click here to sign the petition
In December last year Farghadani wrote letters of protest to Ayatollah Ali Khamenei, the Supreme Leader, Hassan Rouhani, the President, and the Head of the Prison Service.
When she received no reply from any of Iran's leaders she published a video on YouTube in which she claims she was ill-treated during her time in Evin prison in 2014, with details including being strip-searched for a minor offence. beaten and verbally abused.
She was re-arrested in January 2015 and sentenced in June by judge Abolghassem Salavati who is notorious for leading numerous controversial trials, many of which resulted in executions.
A statement from Amnesty reads: "Atena's lawyer, Mohammad Moghimi, visited Atena in prison after her trial and shook her hand. The handshake led to charges of an 'illegitimate sexual relationship short of adultery' and 'indecent conduct' being brought against both Atena and Moghimi, who will be tried for those charges in due course."
It continues: "Iran has pledged to protect free speech, including through artistic activities, as a signatory of the International Covenant on Civil and Political Rights." The Iranian Embassy in London declined to comment on the case.
Banned, censored and 'offensive' artworks

Show all 8
Farghadani is believed to be serving her sentence in Gharchak jail and is reported to have gone on hunger strike.
The artist now faces a fresh trial on indecency charges and Amnesty predicts that her sentence will be extended.
Register for free to continue reading
Registration is a free and easy way to support our truly independent journalism
By registering, you will also enjoy limited access to Premium articles, exclusive newsletters, commenting, and virtual events with our leading journalists
Already have an account? sign in
Join our new commenting forum
Join thought-provoking conversations, follow other Independent readers and see their replies