Frieze Art Fair 2015: Ken Kagami will do a comedy drawing of your genitals for free in 30 seconds
'Art fairs can be stuffy, and this lightens things up a bit'
Jack Shepherd
Wednesday 14 October 2015 12:38 Comments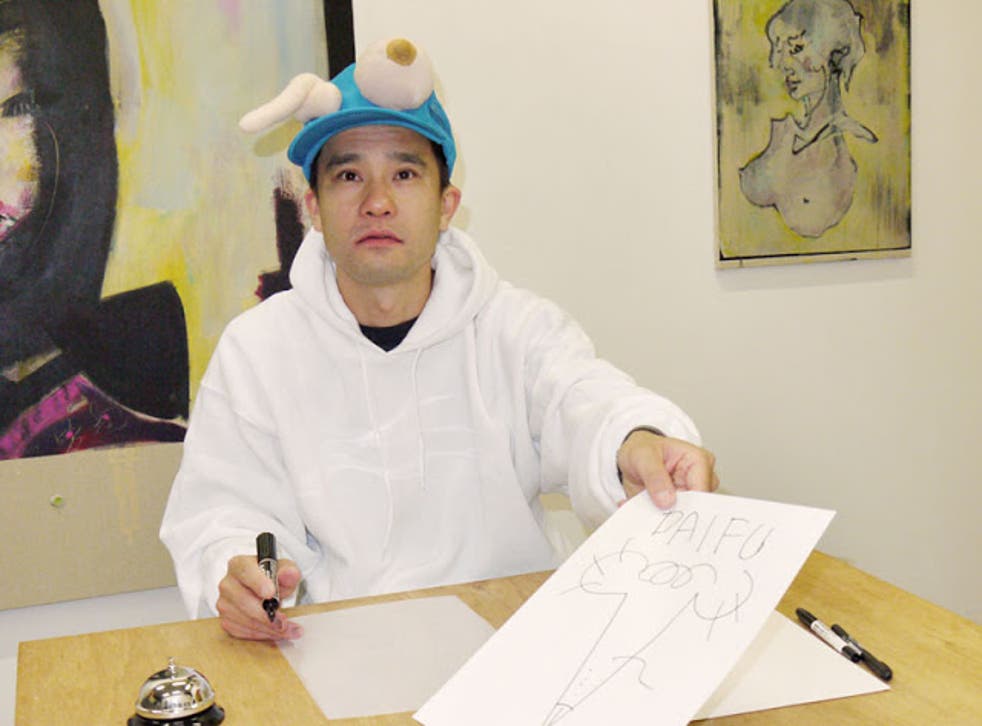 If you're attending the Frieze in London over the next few days, there are a couple of exhibits you're going to want to check out.
Of course you'll want to walk around the sculpture park (curated by Clare Lilley), listen to the speakers (including Vivienne Westwood, Tania Bruguera and Prem Sahib), and tour the galleries.
While this is all regular Frieze affair, this year organisers have upped the amount of performance art on display. Notably Xifopagas Capilares - better known as the Siamese Hair Twins - will be walking around the fair's Live section.
If you're looking for something lighter, then it is definitely worth visiting the Misako & Rosen stand, where Ken Kagami will be drawing pictures of people's genitals.
The Tokyo-born artist takes your name, looks at your face, and draws a comedy version of your genitals - if you are a woman, he draws your breasts. After 30 seconds it's all done, and he rings a bell for the next person to come in.
People have been sharing the results all over Twitter.
The performance is billed as 'A free one-on-one intimate portrait session with artist Ken Kagami for all interested exhibition visitors'.
"His sensibility seemed to sit very well with the sensibility of Frieze," Kagami's gallerist Jeffrey Ian Rosen told The Guardian.
"They are encouraging us to have fun in the right kind of way. If they're game, we're game! Art fairs can be stuffy, and this lightens things up a bit."
To get your drawing done is completely free, but if you're wanting something a little more extravagant you can spend £6,500 an entire performance by the artist.
Frieze London runs at Regent's Park, London, 14-17 October. You can check out Ken's other work on his website, here.
Register for free to continue reading
Registration is a free and easy way to support our truly independent journalism
By registering, you will also enjoy limited access to Premium articles, exclusive newsletters, commenting, and virtual events with our leading journalists
Already have an account? sign in
Join our new commenting forum
Join thought-provoking conversations, follow other Independent readers and see their replies