Frieze Art Fair 2015: Where you can buy art work featuring real twin girls joined together by their hair for just £20,000
An 'iconic work' by Brazilian artist Tunga is not the sort of art that you hang on the wall, says Nick Clark
Nick Clark
Wednesday 23 September 2015 22:12 Comments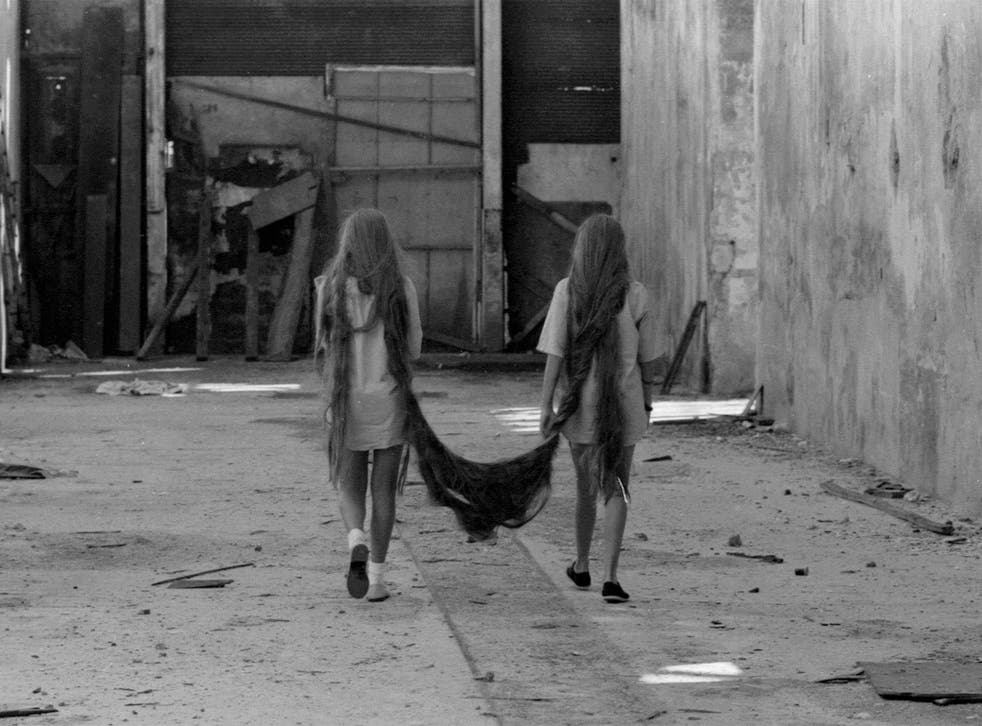 For sale: one art work featuring real twin girls joined together by the hair. Must provide own twins. Yours for just £20,000.
An artwork offered for sale at this year's Frieze Art Fair, a showcase of contemporary art, would make an unusual addition to any living room: two real twin girls wandering about joined together by their hair. The only proviso for the performance work is the buyer has to provide their own twins.
Xifopagas Capilares, which roughly translates as Siamese Hair Twins, was described yesterday as an "iconic work" by the Brazilian artist Tunga. He staged the work in 1984 when it was documented in a series of eerie photographs showing the two girls in different settings with their long hair braided together.
Frieze organisers dubbed Tunga the "greatest living Brazilian artist" and he is expected to travel to Frieze London, which opens on 14 October to see one of his most iconic performances restaged and possibly sold.
Victoria Siddall, the director of Frieze Fairs, said that it would probably go to a museum though any one can buy the piece, "but the twins are not included". The buyer will be given a certificate and the rights to the work.
Frieze is currently looking at hiring twins, aged about 12, for the work using an agency though the final choice has to be approved by Tunga. Those selected will then wear a long wig that joins them together. The galleries that own the work did not give the cost yesterday but it was estimated at well over £20,000.
The work will see the twins wander around the vast venue in Regent's Park two or three times a day for about an hour each time during the four-day run of the fair.
"People who feel art should be paintings on a wall are missing elements that are really exciting," Ms Siddall said. "They might actually find if they come to the fair and see the twins, their experience of that is richer and more exciting than seeing a painting on a wall. It could be really memorable… Performance art is about being part of something."
The 13th Frieze contemporary art fair in London will comprise of 164 galleries from 27 countries showing their work. Siamese Hair Twins is one of six performance works for sale as part of Frieze's "live" section of the fair. It offers galleries a commercial platform to sell these works, Ms Siddall said.
Last year, little known Adam Linder rented himself out by the hour for performance art at the fair, and has subsequently taken his work around the world.
Jo Stella-Sawicka, one of the artistic directors at Frieze, said selling performance art was "on the rise rather than just being a niche thing".
She continued: "When you collect performance, each artist is very different in terms of how they do it. Some will provide you with a set of instructions and you do it. Some want to be there every single time." Tino Sehgal, who was shortlisted for the Turner Prize in 2013, does not even give the buyer a piece of paper but will take them in front of a judge to swear an affidavit.
Catherine Wood, the senior curator of performance at Tate Modern, said: "In the last 10 years artists have started selling actions in the same way they'd sell an edition print or sculpture. It's not the 60s and 70s' idea, it's outside the market and anti the operation of the art world. It can be treated as a commodity as much as it can be exhibited or collected."
Art movement: Performance pieces
The Tate has collected performance art for over a decade. It bought Roman Ondak's Good Feelings in Good Times from Frieze in 2004, the first artwork the gallery listed as having "people" as its materials.
In the work, the Slovakian artist hired actors to queue up randomly in front of a painting or even a fire exit. Organisers were bemused to see that members of the public would often join the queue.
Tate Modern was the first major gallery to establish a permanent space for performance when it opened the Tanks in 2013. It now owns 14 works including by Tino Sehgal, who was shortlisted for the Turner Prize in 2013.
Register for free to continue reading
Registration is a free and easy way to support our truly independent journalism
By registering, you will also enjoy limited access to Premium articles, exclusive newsletters, commenting, and virtual events with our leading journalists
Already have an account? sign in
Join our new commenting forum
Join thought-provoking conversations, follow other Independent readers and see their replies