Gaza Banksy mural sold to 'conman' for just $175
The street artist snuck into Gaza in February and left behind four murals
Matilda Battersby
Wednesday 01 April 2015 16:01 Comments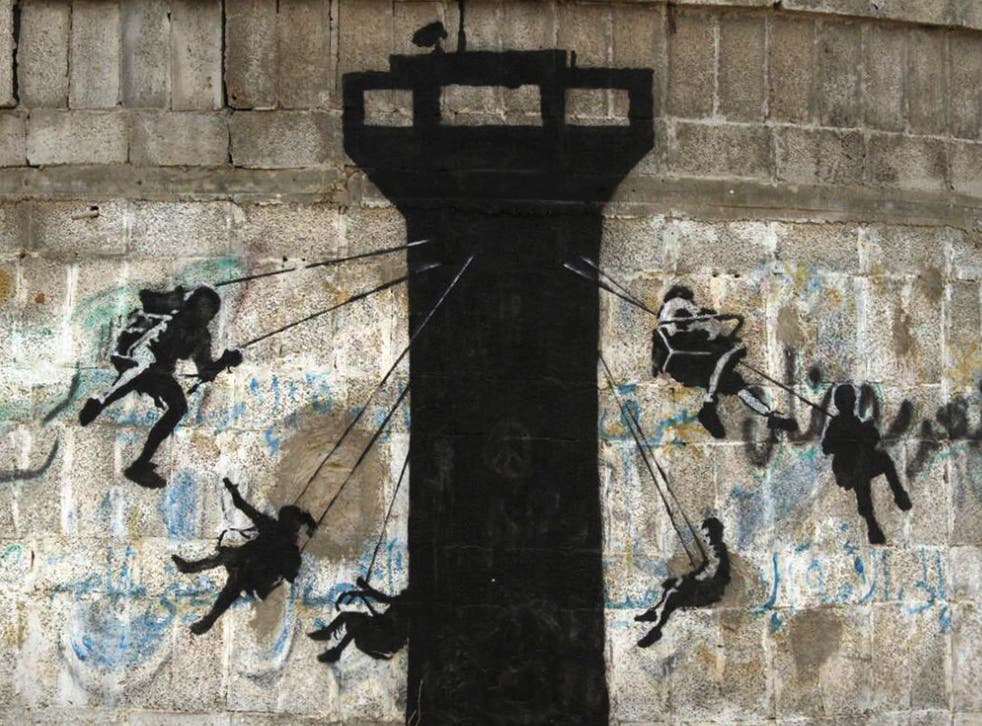 A man from Gaza claims to have been tricked into selling a potentially valuable Banksy piece titled 'Bomb damage, Gaza City' for just $175 (£118).
Rabie Darduna, 33, sold the powerful artwork showing a crouching woman - believed to be a depiction of the Greek goddess Niobe — with her head in one hand in a gesture of despair for far less than the commercial value of a Banksy piece.
The stencil appeared on the last remaining door of Mr Darduna's home – the rest of which was reduced to rubble during last year's war — in the Gaza strip in February.
Mr Darduna told the BBC he was conned into selling the piece by a local man who pretending to work for Banksy.
"Really, we're depressed. It's a matter of fraud," he said, adding he now wants the door back.
The artist who bought the door, Belal Khaled, told PA he did not mean to trick anyone.
He said he just wants to protect the painting and has no intention of profiting.
Mr Khaled said: "I bought the painting to protect its artistic value and preserve it from damage. Another reason is to display it in other places as well. I don't have any monetary interest in this."
He said he has been in touch with Banksy's representatives hoping to get a clearance to showcase it in Gaza art exhibits.
Banksy arrived in the war hit region earlier this year to conduct one of his most political projects to date, drawing attention to the devastation with a series of works.
"Gaza is often described as 'the world's largest open air prison' because no-one is allowed to enter or leave," Banksy wrote in the caption to 'Bomb damage, Gaza City' published on his official website soon after the artwork appeared.
"But that seems a bit unfair to prisons – they don't have their electricity and drinking water cut off randomly almost every day."
Mr Darduna's home is one of 18,000 destroyed in the 50-day war between Israel and Gaza's Hamas rulers last summer.
Banksy is a vocal critic of Israel and the works he created in Gaza and the West Bank in February were intended to draw attention to the plight of the Palestinians.
Describing his mural of a large white cat, Banksy said: "A local man came up and said 'Please – what does this mean?'
"I explained I wanted to highlight the destruction in Gaza by posting photos on my website – but on the internet people only look at pictures of kittens."
A number of Banksy murals have been chopped out of walls and sold on the common market by the owners of the property they appeared on but they normally fetch a much higher price.
In January a collection of 32 of the artist's prints sold at Bonhams for nearly £435,000 – more than double what they were estimated.
Last summer a mural by Banksy on the wall of a social club in Bristol sold for more than £400,000.
Register for free to continue reading
Registration is a free and easy way to support our truly independent journalism
By registering, you will also enjoy limited access to Premium articles, exclusive newsletters, commenting, and virtual events with our leading journalists
Already have an account? sign in
Join our new commenting forum
Join thought-provoking conversations, follow other Independent readers and see their replies