German art world rocked as artists use renowned fat sculpture to distil schnapps
Part of Joseph Beuys' 1982 sculpture Fettecke - made of fat - used in distillery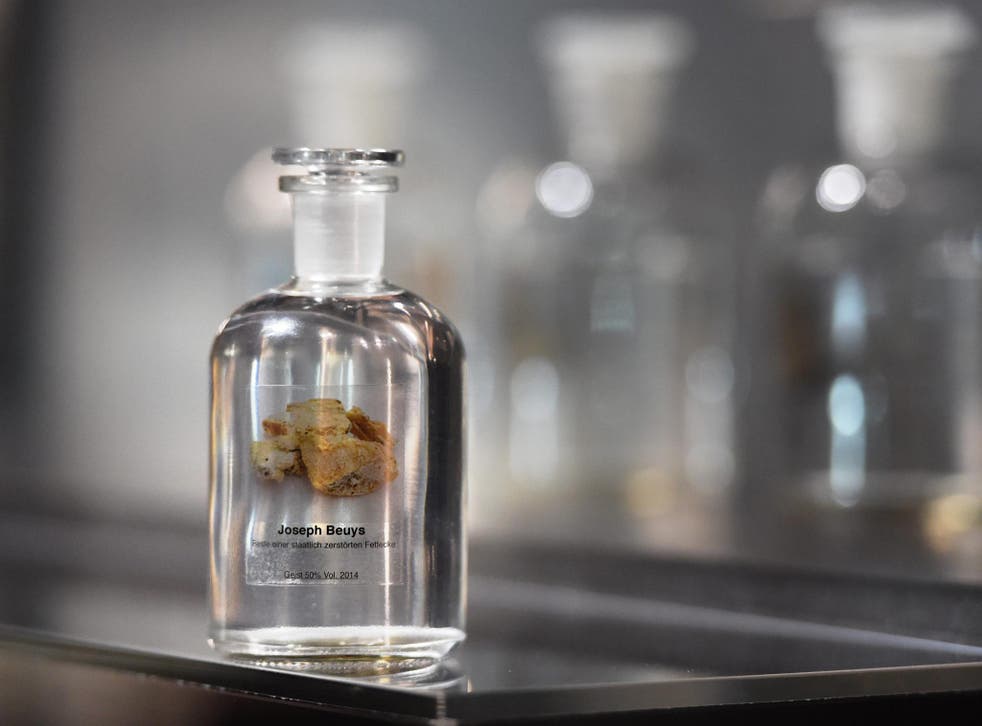 Three artists have sparked outrage from the family of a renowned German sculptor after they destroyed part of a 32-year-old work to brew schnapps.
Joseph Beuys, described by the Tate as "one of the most influential figures in post-war European art", made Fettecke in 1982.
This week Markus Loeffler, Andree Korpys and Dieter Schmal used a four-pound chunk of the work made of fat to distil the alcoholic drink as part of a performance art piece.
The artist's widow, Eva Beuys, labelled it "crap and stupid", saying she was furious and her husband's rights had been violated, according to reports in Germany.
Beuys, who died in 1986 aged 64, often used fat in his work, and Fettecke – which translates as "fat corner" – was made using five kilograms of butter.
The performance was part of the Dusseldorf Quadriennale. It was during the show Art and Alchemy held at the Museum Kunstpalast.
The three artists used the fat to produce four litres of the schnapps before drinking it and offering sips to the audience who had turned up to watch the performance. They were unconcerned that 30-year-old fat could have health implications.
Mr Loeffler, professor of art in Bremen, said the mixture's taste was "reminiscent of parmesan" cheese, ArtNet reported adding: "It stays with you afterwards." He has made liquor out of other works including books and a bust of Beuys' contemporary Dieter Roth.
Fettecke has a colourful past. Nine months after Beuys' death a caretaker who worked at the Kunsthakademie Dusseldorf, where the artist had his studio, threw out the work.
It was salvaged by Johannes Stuttgen, who won a protracted legal battle to save it from the academy. Beuys' widow criticised Stuttgen for given the three brewers a portion of the salvaged work.
Beuys was a well respected artist during lifetime and a major retrospective of his work was held at the Guggenheim Museum in New York in 1979.
His regularly used fat in works "to stimulate discussion" included The Pack in 1969 which also used a Volkswagen bus. On Fat, Beuys said: "People instinctively feel it relates to inner processes and feelings."
His use of fat and felt was sparked by his wartime experience, he said. Beuys volunteered for the Luftwaffe in 1940 at the age of 19, and three years later his aeroplane crashed on the Crimean front.
The artist claimed he survived after Tartars found his unconscious body and covered him in fat and felt to keep warm. He said the smell of the fat inspired his artistic tendencies; however doubts raised have been over the veracity of his account.
Join our new commenting forum
Join thought-provoking conversations, follow other Independent readers and see their replies