Gilbert and George to emulate social critic William Hogarth in new exhibition at the White Cube Bermondsey gallery
 Gilbert and George will use modern day references of bombs, burkas and 'hippy crack'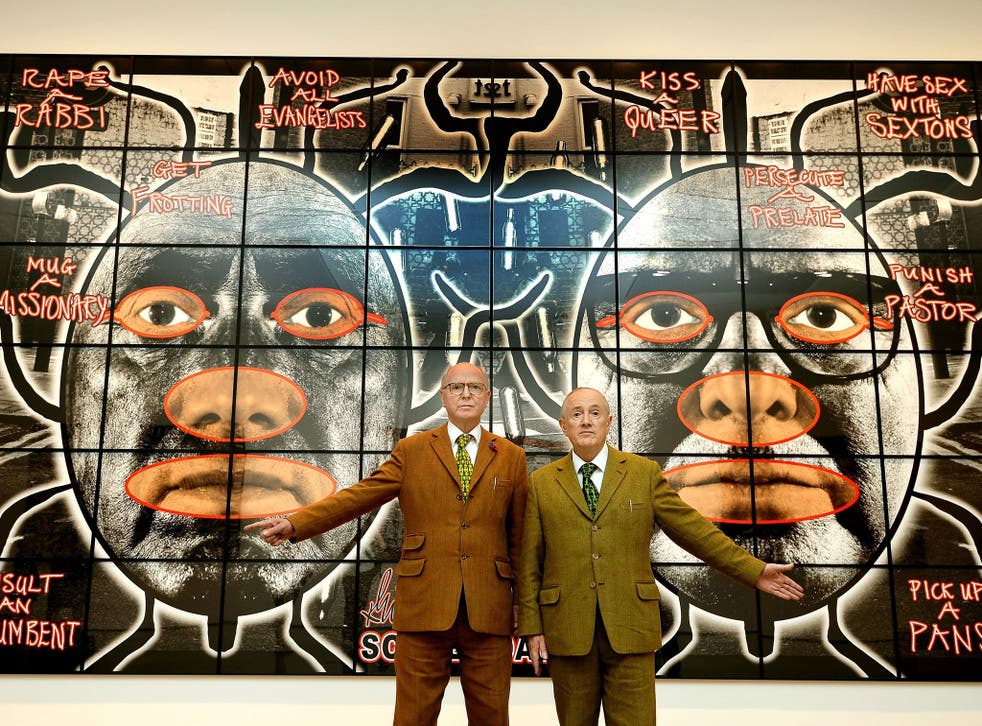 Social critic, artist and satirist William Hogarth chronicled the excesses of 18th-century London in works such as Beer Street and Gin Lane.
Now, celebrated and controversial artists Gilbert and George have sought to emulate Hogarth with a show portraying the changing face of the capital, but using the modern day references of bombs, burkas and "hippy crack", the canisters of laughing gas that have become a popular party drug among clubbers.
The new exhibition Scapegoating Pictures for London by one of the art world's most famous double acts opens today at the White Cube Bermondsey gallery, in east London.
George Passmore, 72, said the new works were "of the 21st century, they talk about now" but added there was "an element of Hogarth" in there "just with nitrous oxide, or hippy crack, instead of gin".
They said that over the decades they have witnessed the community around their home and studio change in race and religion, occupation, wealth, class and attitude. Gilbert Proesch, 70, said: "The whole modern world is changing. We like that. Change is part of life. We always see it as progress."
It is the first time that the pair has put women in burkas into their work. Gilbert said: "We've always been wrongly accused of choosing the soft target of Christianity and not including women in our pictures. Happy now?"
The huge photomontage works include messages such as "molest a mullah," "fuck a vicar" and "rape a rabbi".
This is the latest in the pair's long campaign against religion, and they said yesterday: "We are against religion. Ban it. Now we are just being more inclusive."
George said: "This is about the tension of the multi-faith world. This is about the reality of Brick Lane, where there are many people in burkas. We are just showing what we see."
He added: "Things are changing. This is the first time on these streets that people don't say 'hi' back."
The show comprises more than 60 new works, which continue to use the image of the artists themselves at their heart. They are surrounded by objects found in the streets that speak to modern life.
Alongside the women in burkas, among the most striking images are the canisters of nitrous oxide the pair found littering the streets around their home.
They picked up and categorised "thousands" of the small canisters during their early morning walks around Brick Lane. Nitrous oxide, known as "hippy crack" or "laughing gas," is inhaled recreationally from balloons to induce euphoria, hallucinations and laughter. Last year 350,000 people between 16 and 24 admitted to having used it.
The cultural commentator Michael Bracewell described the show as "a view of modern humanity that is at once libertarian and free-thinking, opposed to bigotry and dedicated to secular realism".
Gilbert, who was born in San Martin de Tor in the Dolomites in Italy, and George, from Plymouth in Devon, have worked and lived together since meeting at St Martin's School of Art in London in 1967.
Register for free to continue reading
Registration is a free and easy way to support our truly independent journalism
By registering, you will also enjoy limited access to Premium articles, exclusive newsletters, commenting, and virtual events with our leading journalists
Already have an account? sign in
Register for free to continue reading
Registration is a free and easy way to support our truly independent journalism
By registering, you will also enjoy limited access to Premium articles, exclusive newsletters, commenting, and virtual events with our leading journalists
Already have an account? sign in
Join our new commenting forum
Join thought-provoking conversations, follow other Independent readers and see their replies