Grayson Perry: Doors open to Turner Prize-winning artist's House for Essex
Grayson Perry's 'A House for Essex' is a conceptual holiday home that he believes exposes the 'Grand Designs' generation as being 'lame'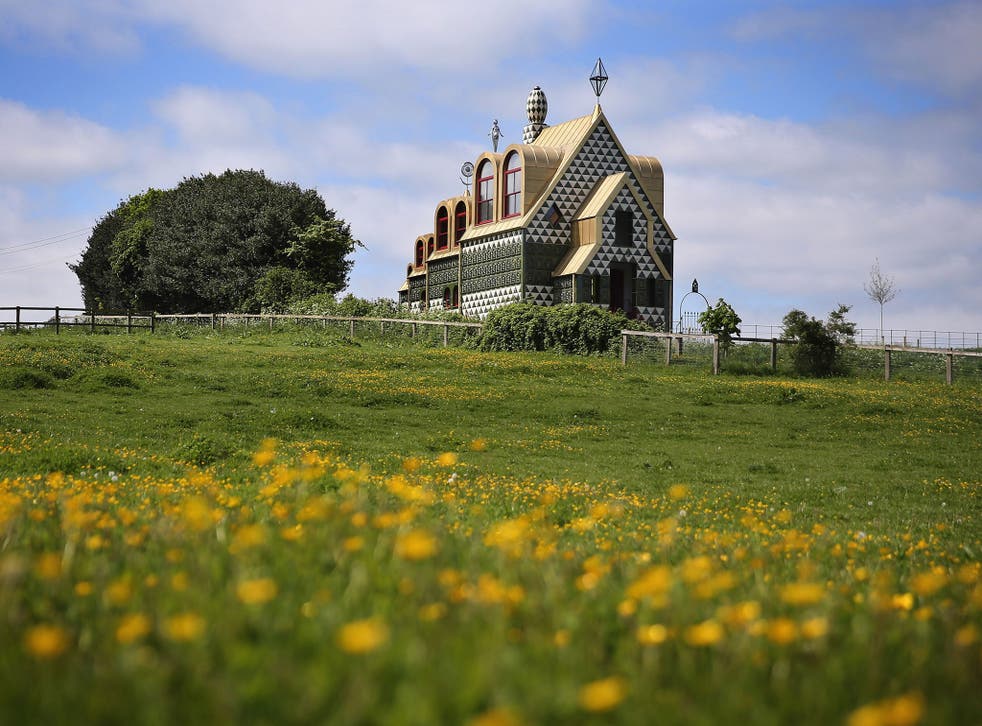 Most works of art are to be admired from a safe distance. Thanks to the Turner Prize- winning artist Grayson Perry, there is now one that art lovers can stay in.
It has a scooter hanging from the ceiling instead of a chandelier, trademark handmade pots on the walls and the exterior carries the influence of everything from medieval churches to Russian dolls. Welcome to a holiday house Grayson Perry-style.
Perry opened A House for Essex in the sleepy village of Wrabness, whose first guests will arrive next month, and took a swipe at the "Grand Designs generation" of home improvers for becoming "lame" and a "cliché".
The popular spot on the coast of Essex, Perry's home county, is set to attract a whole new crowd, including fans of unusual architecture.
Perry, born in Chelmsford, said it had been a "long held ambition" to build a secular chapel and described the design as "bonkers yet dignified". Two nights in the week in the two-bedroom, two-bathroom, house costs £850, going up to £1,800 for three nights over a weekend during peak times in the summer.


The influences of the exterior include arts and crafts houses, English Baroque architecture and Stave churches – medieval churches made of wood. Inside is a rich mix of colour and materials.
"I like the idea of the total environment. People can immerse themselves in it. It's like a Fabergé egg, small and rich. I could have gone on forever embellishing it, but it's done," the artist said.
"I don't think it is kitsch," he continued. "These days I think minimalism has got quite kitsch. The Grand Designs generation now is lame: put in a big plate glass window with a view and stripped wood. It's become a cliché."
The project took more than four years – the process is the subject of Channel 4 documentary – and was designed alongside Charles Holland of FAT Architecture.
Grayson Perry Who Are You? portraits

Show all 15
Perry admitted there was some resistance among the locals who feared their village would be overrun but Mr Holland said: "It feels like people have come on board. It feels slightly embedded in the community." It was commissioned in the tradition of wayside and pilgrimage chapels, and like those is dedicated to a saint. Perry's saint is a "secular Essex everywoman," a fictional character called Julie Cope, for whom he has created a rich back story. "I wanted her biography to reflect Essex and women since the war," he said."
Inside the property is a statue of Julie and four tapestries. They tell the story from her birth in 1953 during the great flood of Canvey Island to her death in 2014, when she was killed by a curry house delivery driver on a scooter.
Cate St Hill, of architectural magazine Blueprint, said: "It's overwhelming. It's a riot of colour and textures. You can see loads of different influences from architecture and motifs like arts and crafts to the Russian doll exterior, and churches. It's a smashing together of lots of influences.
"It works because it's so unique and different."
Register for free to continue reading
Registration is a free and easy way to support our truly independent journalism
By registering, you will also enjoy limited access to Premium articles, exclusive newsletters, commenting, and virtual events with our leading journalists
Already have an account? sign in
Register for free to continue reading
Registration is a free and easy way to support our truly independent journalism
By registering, you will also enjoy limited access to Premium articles, exclusive newsletters, commenting, and virtual events with our leading journalists
Already have an account? sign in
Join our new commenting forum
Join thought-provoking conversations, follow other Independent readers and see their replies