Have art restorers ruined Leonardo's masterpiece?
A crucial detail in The Last Supper is no longer how the artist wanted it, says expert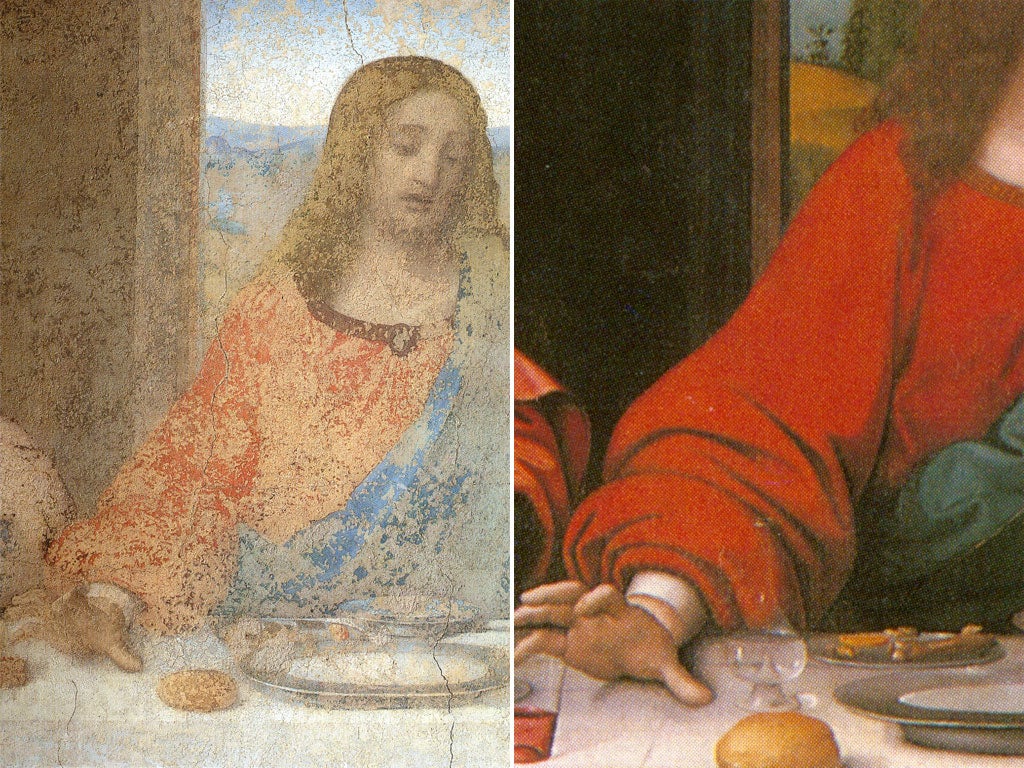 The restorer of Leonardo da Vinci's The Last Supper "blundered" in restoring the central figure of Christ, according to research by a British art expert.
Michael Daley, director of ArtWatch UK, spoke of his astonishment in discovering a draped sleeve had been reshaped so that Christ's right hand now emerges from a muff-like drapery that rests on the table when in both of the near-contemporary copies by Leonardo's own assistants the sleeve is painted falling behind the table.
Copies of the original, completed in Milan in 1498, include the 1520s painting by Leonardo's pupil Giampietrino, which is owned by the Royal Academy of Arts in London.
Comparing the restored figure of Christ in Milan with photographs of it before restoration, as well as with the contemporary copies, Mr Daley said: "There may now be a serious misrepresentation of Leonardo's final design."
The original, a mural in the refectory of Santa Maria delle Grazie monastery, is one of the world's most famous paintings. But little of Leonardo's hand survives, partly due to his own unfortunate experimentation with fresco technique, and Napoleon's troops amusing themselves throwing stones and horse-dung at it. In 1943, an Allied bomb also left it exposed to the elements. Its restoration, conducted between 1978 and 1999, has divided critics. Now the controversy has been reignited with research by ArtWatch, a restoration watchdog.
Mr Daley said he was surprised the restoration ignored Giampietrino's Last Supper. "Why was its testimony that the draped sleeve hung below and behind the table not heeded?"
Professor Pietro Marani, a Leonardo expert who directed the Last Supper restoration, downplayed the criticism, saying, "A small piece of drapery. Oh, my God." Suggesting the restorer found red pigments apparently linked to the sleeve's red drapery, he argued the Giampietrino copy perhaps "misunderstands" the position of the drapery, and the many copies of the painting alter details such as colours and objects on the table.
But Charles Hope, a leading Leonardo expert, criticised the whole restoration as "pointless" as so little was left of the original: "It's only through Giampietrino and other copies that we can make any sense of what it once looked like."
Mr Daley rejected Professor Marani's defence, arguing the fragments of paint taken as a guide for newly constructed drapery is not proof of Leonardo's painting. Copies of paintings always have tiny or trivial differences, but here the two most reliable copies both show "the drapery went below the table," he added, pointing to other copies showing the same design. They include an engraving thought to be the earliest copy, circa 1500.
Asked if he was surprised others overlooked the change, he said: "No, because they don't publish detailed comparisons with the copies."
Join our commenting forum
Join thought-provoking conversations, follow other Independent readers and see their replies