Hockney named Britain's most influential artist
According to a poll of 1,000 British painters and sculptors,  Hockney is the most influential British artist of all time.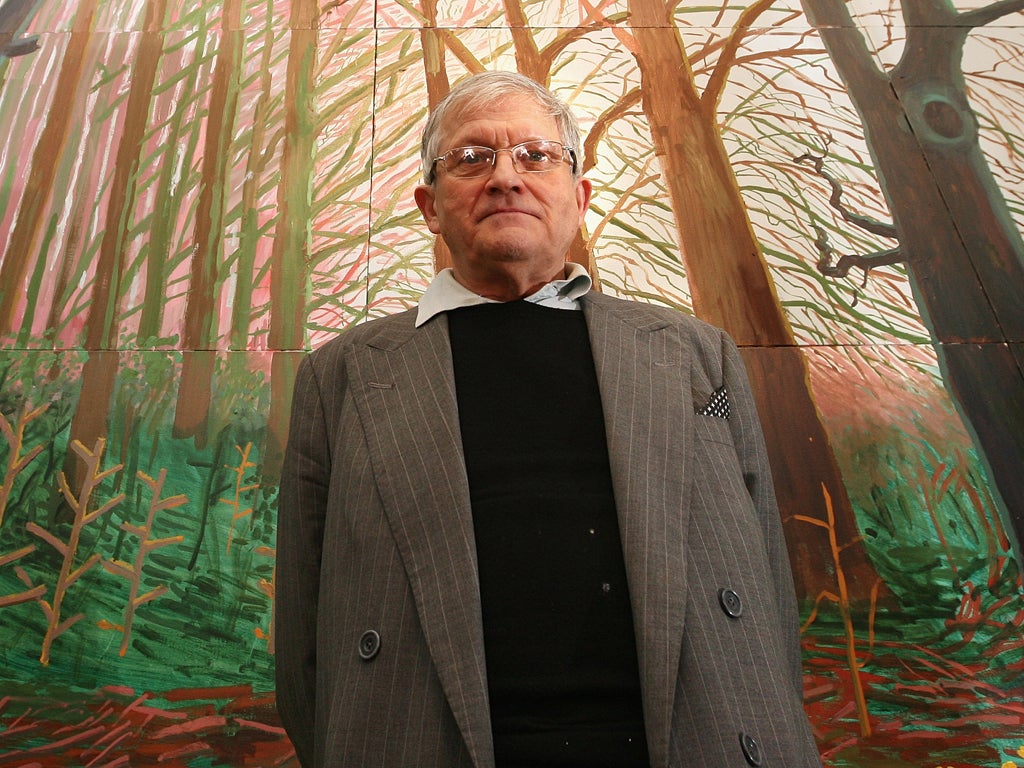 David Hockney is the most influential British artist of all time, according to a poll of 1,000 British painters and sculptors. Neither Damien Hirst nor Tracey Emin made the top 10 in a nationwide survey that is both revealing and damning for the Young British Artists.
Turner Prize winners and nominees have been eclipsed by Turner himself, who was voted into second place. The YBAs are constantly showered with accolades by curators, collectors and critics, supported by an art market PR machine that ensures they are rarely out of the limelight. Yet, as this poll suggests, they fail to inspire other artists - one of the tests of great talent.
Instead, contemporary artists look for inspiration in 20th-century masters such as Francis Bacon, Lucian Freud and Stanley Spencer, as well as the 18th-century master Gainsborough.
Of contemporary artists, Grayson Perry, the eccentric potter, Sir Peter Blake, the pop artist, and Banksy, the graffiti artist, have been singled out by their peers as major influences, but those conspicuous by their absence from the Top Ten, apart from Hirst and Emin, include Jake and Dinos Chapman, best-known for defacing Goya prints, Mark Wallinger, who videoed himself dressed as a bear, and Marc Quinn, who made a head out of his own blood. Nor are Antony Gormley, who made the giant Angel of the North, or Anish Kapoor, whose spiralling tower marks the London Olympics, towering figures for today's sculptors.
Rubbing salt into the wound of excluded artists is the inclusion of Jack Vettriano, the self-taught painter of The Singing Butler who has long been spurned by the art establishment, dismissed as the Jeffrey Archer of the art world, perhaps because his art sells so well on greeting-cards and posters.
Hearing of the poll's findings, Julian Spalding, former director of the Glasgow Museums and an art writer, said: "It's very refreshing that artists are using their eyes and making judgments independent of the art market. It's refreshing too that they're mentioning artists who could actually influence somebody; because how does Damien Hirst influence anyone? He's a dead end. When they come to do their own work, [artists] realise they can't follow [them]. You have to look at someone who's created something to be inspired. Hockney's top, I think, because not only does he make things, but he has this wonderful enthusiasm for looking and making. Now that's inspiring. He's valued for what he actually does rather than what he says he is."
David Juda, a leading art dealer who represents Hockney, said of the poll: "That is one of the nicest things I've heard for a long time - not because it's one of my artists. It shows that, however much PR is pushed on the public, the public still has a mind of its own. With the most incredible PR that there is on Hirst and Emin… this is fascinating."
Selby Whittingham, a leading Turner scholar, described the poll's findings as "encouraging", reflecting perhaps that the moment of the YBAs is passing.
The poll was commissioned by The Other Art Fair, a new fair in London that will allow the public to buy directly from artists instead of through individual dealers. A thousand artists, between the ages of 20 and 65, applied to participate and took part in the survey. They included recent art school graduates and established artists. A hundred artists were chosen to exhibit at the fair, which runs at The Bargehouse on the South Bank, from Friday until Sunday [25-27].
One of the selectors, the artist Charming Baker (real name Alan Baker) - whose collectors include Hirst - defended the poll's rejected artists: "Ask the question in 10 or 15 years' time and there'll be a whole different set of artists." Another selector, Godfrey Worsdale, Director of the Baltic Centre for Contemporary Art in Gateshead – which is hosting this year's Turner Prize – described the Top Ten as "a pretty sound list in most respects". He dismissed the suggestion of any insult to the rejected artists: "They're very highly regarded, cemented into art history."
The White Cube Gallery, whose artists include Hirst, Emin and the Chapmans, declined to comment.
Top Ten most influential British artists, according to a poll of 1,000 British painters and sculptors:
1. David Hockney
2. J.M.W. Turner
3. Grayson Perry
4. Francis Bacon
5. Jack Vettriano
6. Lucian Freud
7. Thomas Gainsborough
8. Sir Peter Blake
9. Banksy
10. Stanley Spencer
Join our commenting forum
Join thought-provoking conversations, follow other Independent readers and see their replies