Houston art gallery braced for backlash ahead of race exhibition by all-white artists including Ti-Rock Moore
'Why aren't more white artists aren't stepping up to take on issues of race?' asks curator of Houston Museum of African-American Culture asks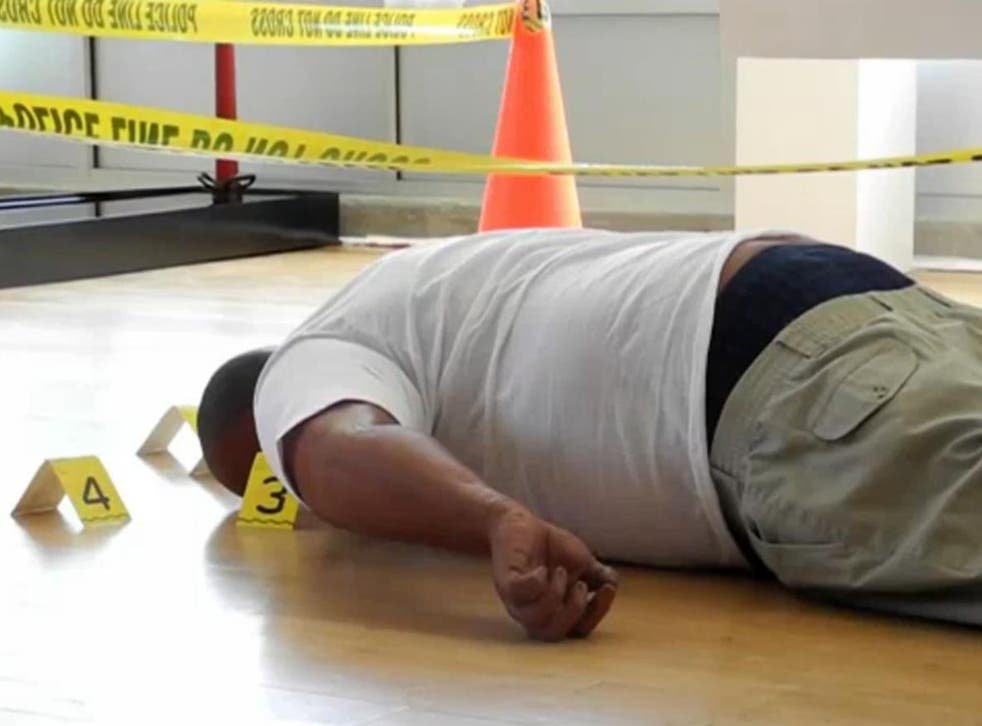 An American art gallery is preparing to field criticism for staging an exhibition exploring racial injustice purely from the perspective of white artists.
The Abolitionists: Different Eyes Seeing the Same Reality opens at The Houston Museum of African-American Culture on Friday.
It includes a life-size replica of the dead body of Michael Brown, the black 18-year-old who was killed in Ferguson in 2014 sparking a series of protests against racially-motivated police brutality, part of an installation which was roundly criticised when it appeared at the Guichard Gallery over the summer.
The provocative piece from the Confronting Truths: Wake Up! exhibition by New Orleans artist Ti-Rock Moore, shows the teenager who was fatally shot by a police officers lying prone on the floor surrounded by cones and police tape as the strains of Eartha Kitt singing "Angelitos Negros" plays in the background
Ti-Rock's exhibit proved to be something of a lightning rod for critical reaction, partly because Brown's father, Michael Brown Sr, was reportedly not contacted successfully by the artist and found the use of his son's image painful. The artist did have Brown's mother Lesley McSpadden's permission and she attended the exhibition personally.
However, reaction to the piece was complicated according to some online critics because the white artist, who describes her background as "privileged", courts a degree of ambiguity about her race by working under a rapper-style pseudonym.
Banned, censored and 'offensive' artworks

Show all 8
She later said in an interview on the Pelican Bomb website: "At the end of the day, am I just a big, fat, bleeding-heart liberal with massive guilt? Perhaps, but my battle is to stop perpetuating mindless hate."
The Houston Museum of African-American Culture wants to showcase other white artists who are prepared to take up issues of racial inequality, despite the risk of having their own racial privilege levelled against them.
"Part of the goal of The Abolitionists is to ask why more people who are not black are not stepping up like Ti-Rock," John Guess, CEO of the HMAAC and curator of the new exhibition, told The Art Newspaper.
He added "Where are our Peter Normans today?" referring to the white Australian athlete who stood in support of black American athletes Tommie Smith and John Carlos who accepted their Olympic medals with black power salutes during the 1968 Games.
Guess makes it clear that white artists have every right to comment on injustice, adding: "Real racial progress in this country has always involved people of many races. We just don't seem to have many of those folks standing up today, and we need them. It takes courage, and somehow that doesn't seem in abundance in white America when it comes to race."
The exhibition which opens on Friday features 40 works by Ti-Rock as well as cartoons by Pulitzer Prize winning cartoonist for the Chattanooga Times Free Press, Clay Bennett, and a video of US Senator Elizabeth Warren talking about race at the Edward M. Kennedy Institute.
However, the HMAAC's decision to stage another exhibition, As Small As a Giant: An Homage to the Black Lives Matter Movement, focusing on the black experience just a week after The Abolitionist opens, has been seen as an attempt to head off any backlash to it.
Artist Whitney Sparks, who was pushed out as curator of an earlier version of the Black Lives Matter show, says the second show is "meant to ameliorate the shock from the first show", but criticises it for not dealing with "actual grassroots leaders African-American culture in Houston" and claims it instead panders to a famous white artist "who exploits black bodies".
Abolitionists: Different Eyes Seeing the Same Reality, 13 November-23 January 2016, and As Small As a Giant: An Homage to the Black Lives Matter Movement, 21 November-30 January 2016, Houston Museum of African-American Culture
Register for free to continue reading
Registration is a free and easy way to support our truly independent journalism
By registering, you will also enjoy limited access to Premium articles, exclusive newsletters, commenting, and virtual events with our leading journalists
Already have an account? sign in
Register for free to continue reading
Registration is a free and easy way to support our truly independent journalism
By registering, you will also enjoy limited access to Premium articles, exclusive newsletters, commenting, and virtual events with our leading journalists
Already have an account? sign in
Join our new commenting forum
Join thought-provoking conversations, follow other Independent readers and see their replies