Ilana Halperin: The world as a game of stones
Miranda Kiek
Thursday 09 May 2013 14:38 Comments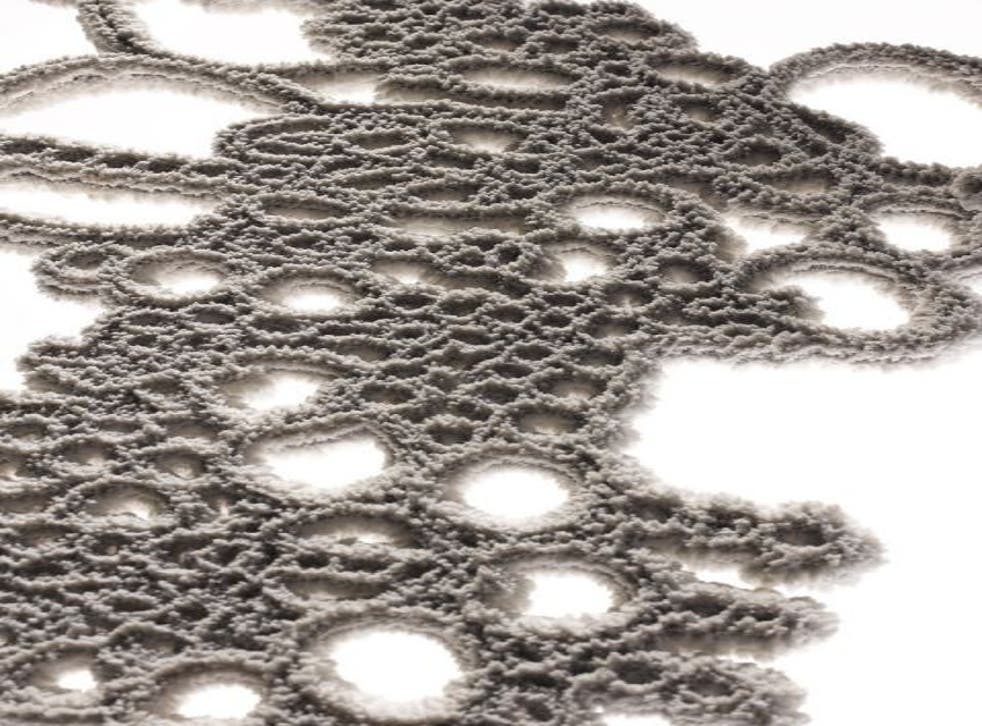 The noted American sculptor Ilana Halperin, who is based in Glasgow, dates her love of rocks back to a childhood spent "scrambling all over them" in Riverside Park in her native New York.
Later, she trained as a stone mason and although she has frequently used "geology as a language to explore our relationship to time and mortality", this is her first ever exhibition to be made up entirely of rocks and minerals.
Among the works going on display in Scotland will be a silica sculpture which formed in the Blue Lagoon, spelling the hard-to-decipher phrase "We Form Geology" (above), and a set of coral-shaped stalactites which are currently still forming in the caves of Les Fontaines Pétrifiantes de Saint-Nectaire. Another weighty exhibit – both literally and intellectually – is a 1.3 ton slab of rock hollowed out to the form of a bookcase. Still on site at the quarry in the north of Scotland, it will be filled with lumps of individually etched mica, a sparkling stone referred to in geological parlance as a "book" – a term which enchanted Halperin. "I thought that really resonated with the way that geology is not only a science but also a way that we encounter the world."
Ilana Halperin: The Library, National Museum of Scotland, Edinburgh (nms.ac.uk) 24 May to 29 September
Register for free to continue reading
Registration is a free and easy way to support our truly independent journalism
By registering, you will also enjoy limited access to Premium articles, exclusive newsletters, commenting, and virtual events with our leading journalists
Already have an account? sign in
Join our new commenting forum
Join thought-provoking conversations, follow other Independent readers and see their replies