Inside the jumbled mind of Peter Blake
As an exhibition of his collection of curios opens in Bath, the veteran Pop Artist tells Simon Tait why this 'junk' is his inspiration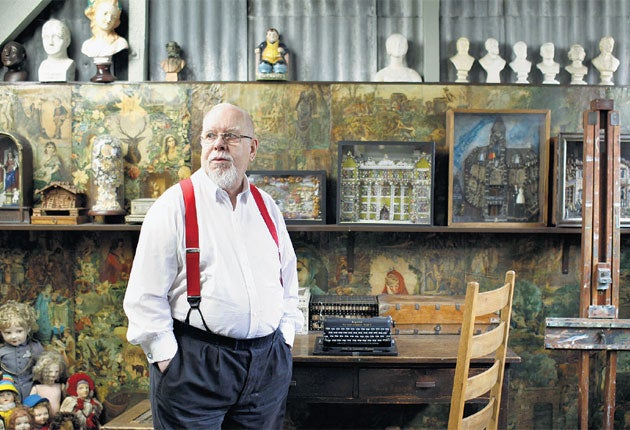 Art, goes the saying, is the stored honey of the human soul. Sir Peter Blake, the father of Pop Art in Britain, has busied himself with a lifetime of foraging for the objects that surround him while he works. And now he is ready to share – some of them, at least - with the world.
Speaking to The IoS ahead of an exhibition of his most treasured possessions, he confessed that he is an incurable collector, a habit he has tried to kick: "It's an illness, isn't it?"
About 150 items gathered by the 78-year old artist throughout his life will go on display next Saturday at the Holburne Museum, in Bath, which re-opens after an £11m refurbishment. Ranging from the dramatic to the almost prosaic, the trove offers an insight into the artist's world.
The exhibition, A Museum for Myself, is named after a 1982 collage Blake made of the things he couldn't part with – his daughters' found art; Marcel Duchamp's autograph; a photograph of George Formby; a painting of the Queen Mary liner and other, apparently random, things which take pride of place at the Holburne.
Blake began collecting as a 14-year-old when he went to Gravesend Art School. "I realised I was going there with no cultural history at all, so for the very first time I went into a junk shop and I bought a papier mâché tray, a painting of the Queen Mary [featured in the 1982 collage], and a set of Shakespeare. I've been going to them ever since."
When Blake was associate artist at the National Gallery, he became a close friend of the curator Alexander Sturgis. Now the director of the Holburne, Mr Sturgis asked Blake to be the subject of the museum's inaugural show after its refurbishment.
Speaking at his studio in west London, Blake gave a flavour of what people can expect. There will be a 5ft-tall ceremonial Indian elephant at the studio entrance that he bought half price from a Mayfair dealer. On a nearby table are six bowling balls, some china figures, miniature portraits and two undistinguished paintings of a house that have just arrived from a nearby auction house. "I go most weeks and leave a bid," Blake said. "And this is what I got this time."
Despite sending scores of items to be viewed in Bath, he is still so hemmed in by possessions that his work area is tiny. On his easel is a painting he has just returned to, a commission from the Knights Bachelor. He was knighted in 2002 and his order has been accorded a chapel in St Paul's Cathedral, for which they have asked him to depict St Martin.
As well as being the seminal pop artist, he is also a rock artist, having designed the album covers for musicians from Paul Weller to Brian Wilson, many of whose autographs are framed on his walls.
Elvis lives here in profusion, simply because there is so much memorabilia to collect, he said: "You'll be hard-pressed to get anything about the Everly Brothers or Chuck Berry." Somewhere here is a piece of the picket fence from Graceland and a tiny square of a gingham sheet from Elvis's bed.
In the corner is a life-size waxwork of Sonny Liston, a veteran of what Blake exasperatedly has to admit the public knows him best for, the Beatles' Sgt Pepper album cover – he was never properly paid for it. Liston was given to Blake by Madame Tussauds as a fee for some graphic design work. He wouldn't allow it to go to Bath.
"Underneath his robe he's also rather fragile, so he doesn't go anywhere any more," he says, patting the mighty shoulder. "And he's my guardian here."
Join our commenting forum
Join thought-provoking conversations, follow other Independent readers and see their replies