Jesus now available in S, M, L and XL: Inside the Church Supplies World Fair
A 'counter–reality' made of bored salesmen, busy nuns and misplaced items.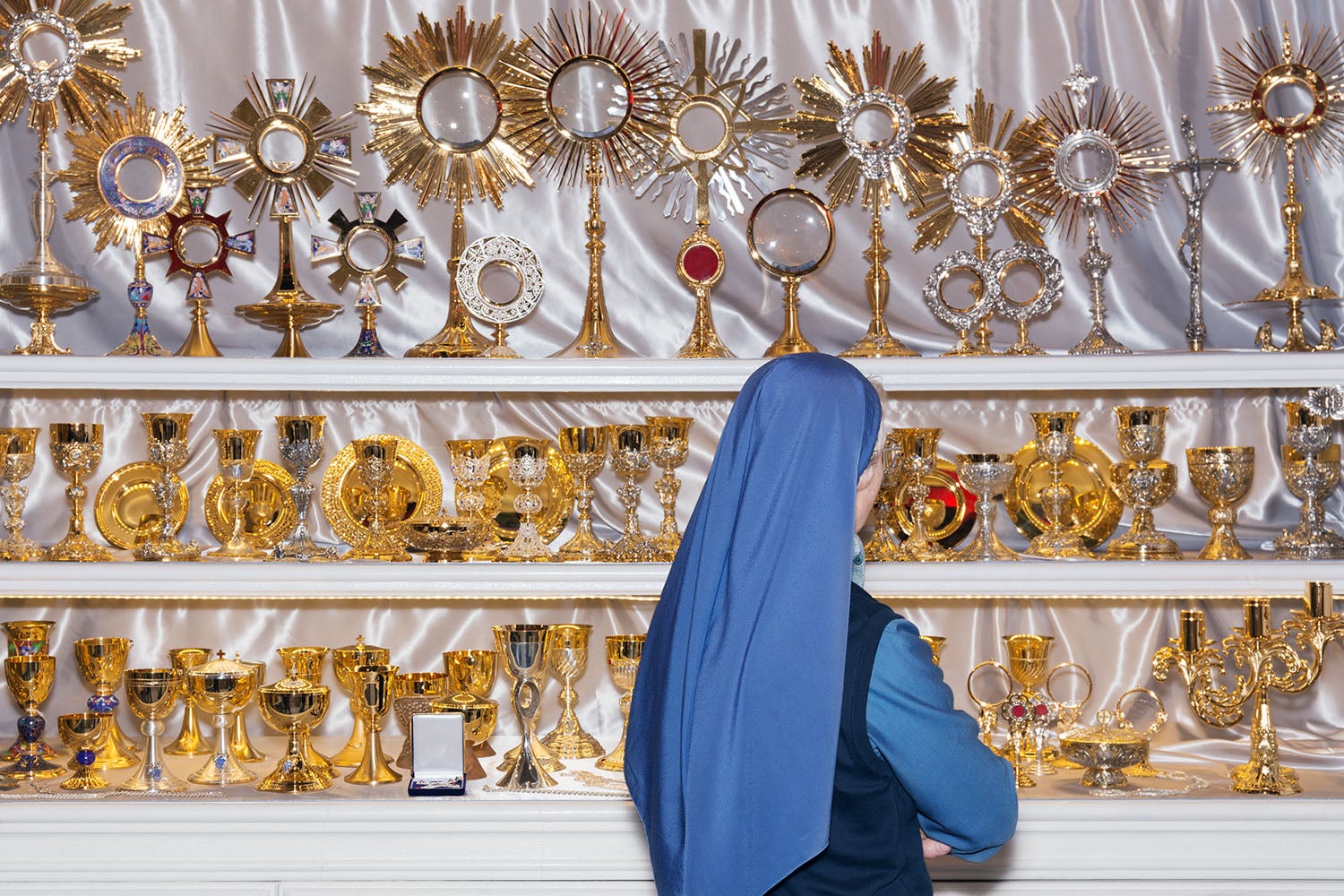 The monotheistic premise of Christianity implies that the crucified Jesus idol found in churches are divine and special, but of course they're sold in bulk just like any other ornament.
The World Fair for Church Supplies, Liturgical and Ecclesiastical Art is where religious paraphernalia is bought and sold, taking place every two years in Vicenza, Italy - a key event in a religious goods industry estimated to be worth $5.2 billion.
The fair was a photo opportunity too good to miss for Louis De Belle who immediately booked a flight and found "a 'counter–reality' made of bored salesmen, busy nuns and misplaced items: a last supper is hanging before a modest refreshment, agonising crucifixes are being quickly deposited, while industrious sisters do their business."
His resultant photo series, Besides Faith, 'invites the viewer to take a look at this picturesque happening by detaching for a moment all of its paraphernalia from the notion of faith.'
'Besides Faith' by Louis De Belle
Show all 20
There are baby Jesuses of all shapes and sizes, Madonnas arranged like matryoshka dolls and crucifixes being nailed into walls by quotidian men in jeans, all of the photos sharing a hollowness that evokes a gift shop.
"As it's a trade fair everyone was eager to be photographed and promote the products, though my focus was slightly shifted towards the uncanny side of the event," Louis told It's Nice That.
"Overall I wanted to see how one's perception of sacredness might change when looking at religious items displayed – or even just handled – in a different way.
"The trade fair's 'heterotopic' ambience was the perfect backdrop for such a visual investigation: no real context and very pristine setups."
A book of the images, printed on golden paper, is available here.
Join our commenting forum
Join thought-provoking conversations, follow other Independent readers and see their replies