Jimmy Savile portrait buyer tells charity: 'Keep the money, but I don't want the painting'
Matilda Battersby
Wednesday 24 October 2012 23:31 Comments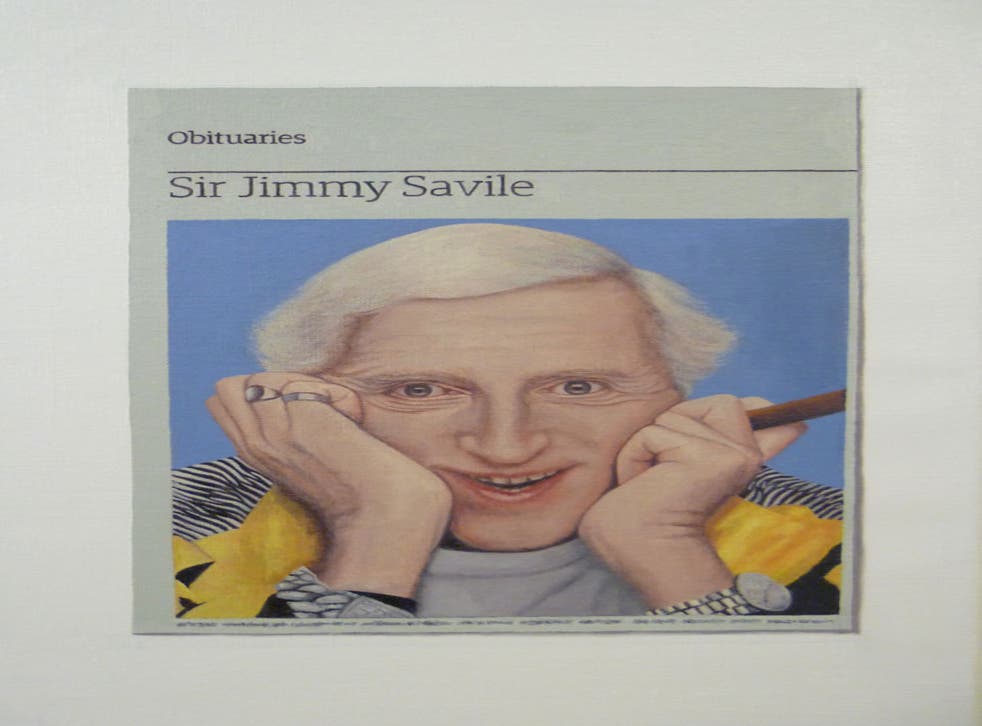 A woman who spent £400 on a portrait of Jimmy Savile at a charity auction just days before the allegations about his paedophilia made headlines across the country has told the charity: "Keep the money, but I don't want the painting".
The portrait by Hugh Mendes is part of his 'Obituary' series and was painted soon after Savile's death in 2011 from an obituary in a national newspaper.
It is the latest artwork donated by Mendes to the Macmillan De'Longhi Art Auction which took place on 25 September. Last year it was hosted by Jerry Hall who liked Mendes' painting of Hollywood siren Jane Russell so much she bought it herself for £500.
Mendes had been away on his honeymoon when the auction took place and the news about Savile broke. Upon his return he received an email from Macmillan saying that the person who'd bought the painting had contacted them saying they were happy for the charity to keep the money but could they please return the painting.
The Savile portrait is now back in Mendes' possession and the artist is unsure what to do with it. "I wouldn't want it on my wall," he said. "Who would?"
The artist has offered the buyer, who prefers to remain anonymous, another piece from his atelier as a replacement.
The Savile portrait is now at the CharlieSmith London gallery where Mendes is showing work as part of The Id, the Ego and the Superego exhibition with Sam Jackson and Gavin Nolan. He feels the Savile work might be appropriate but hasn't yet decided if it will be included.
"Somebody might want it. I've sold portraits of evil despots like Gaddafi, Pinochet and Bin Laden. So you never know," he said.
"I didn't set out to make a controversial painting, but that is what it has become."
This year's Macmillan auction raised £95,000 and included donated artworks from Antony Gormley, Gavin Turk, Sam Taylor-Wood, Gillian Wearing and legendary Beatles drummer Ringo Starr.
The Id, the Ego and the Superego: Sam Jackson, Hugh Mendes & Gavin Nolan is until 17 November at CharlieSmith London www.charliesmithlondon.com
Register for free to continue reading
Registration is a free and easy way to support our truly independent journalism
By registering, you will also enjoy limited access to Premium articles, exclusive newsletters, commenting, and virtual events with our leading journalists
Already have an account? sign in
Join our new commenting forum
Join thought-provoking conversations, follow other Independent readers and see their replies