Lost in the mists of time: saga of Anthony McCall's £0.5m Column drags on
Delays mean artist's plan for a three-mile vortex above the Mersey may be called off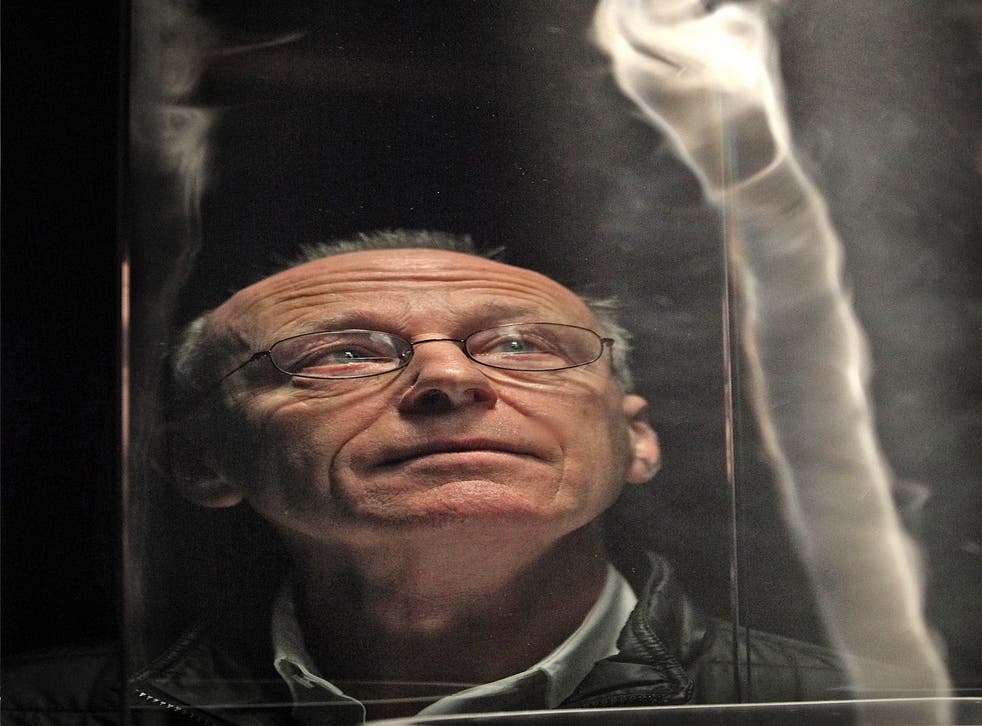 It was supposed to be one of the artistic pinnacles of the 2012 Cultural Olympiad: a three-mile vortex of mist dancing in the air above the Mersey.
But 2012 has come and gone, and Column, a £500,000 publicly-funded work by the avant-garde British-born artist Anthony McCall remains unfinished. A series of delays, adverse weather, planning wrangles and technical issues mean it will be months – at the earliest – before the controversial project is completed. The Arts Council, which has already had to find an additional £110,000 for the project, said it will provide no extra money but insists the ambitious artwork will be finished some time in 2013.
If Column is not in place by the summer, the whole project could be off. Planning permission is due to expire in July and might not be renewed.
Further testing was underway last month on the project, which will beam the spinning cloud from the surface of East Float, part of the £4.5bn Wirral Waters regeneration project.
Speaking during his most recent visit to the city, New York-based Mr McCall, who has been paid a fee of £40,000, said he was hopeful that Column – commissioned in 2009 – would be completed in the first few months of this year.
"We found that the project was so unfamiliar that the regulatory process was very slow and convoluted, and involved redesigning the physics of the piece a couple of times, so we are a little behind," he said. Column was due to be finished by the start of 2012. Visible from up to 60 miles away, it first had be proven to the Civil Aviation Authority that it would not interfere with planes using John Lennon International Airport. Hopes that it would be ready in time for the Liverpool Biennial in November were also unmet.
But the Arts Council said it was satisfied after undertaking a review of Column, one of 12 schemes commissioned under the title Artists Taking the Lead. These included works such as Nowhereisland, in which a 144ft chunk of Arctic rock was towed around the English coast, and Forest Pitch, which saw two football matches staged on a cleared area of remote Scottish woodland.
So far it has put £425,000 into Column and said it was "liaising with the team about the circumstances under which the remaining £75,000 might be released".
Moira Sinclair, executive director London of Arts Council England, said: "Although the delays to its delivery are disappointing, the Arts Council is absolutely committed to enabling artists to take risks because that's when great art often happens. The Column team has made a lot of progress during this final testing phase. By allowing them the extra time they need we hope to see Column realised in 2013, as a world-first and for the people of Merseyside and beyond to experience and enjoy."
Wirral Council, which has not provided any money towards Column, said planning permission was valid until the end of July. It will not be renewed if the project is found to be impacting on the Mersey Estuary's rich bird life. Otherwise it will remain in place for a further 13 months.
Join our new commenting forum
Join thought-provoking conversations, follow other Independent readers and see their replies