Man held over Rothko painting damage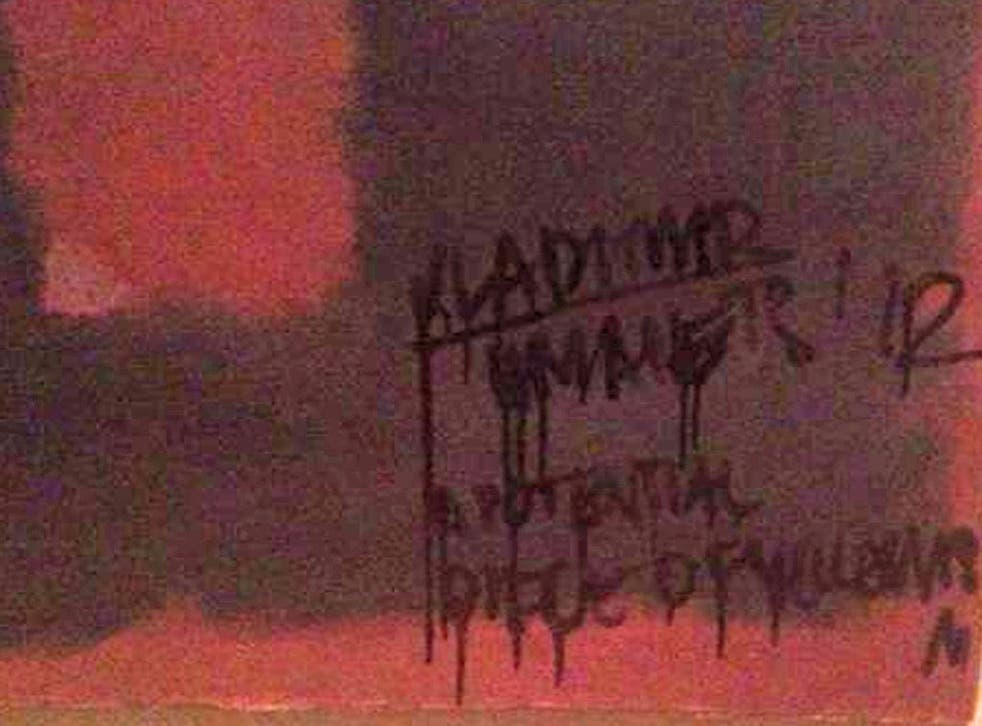 Vladimir Umanets, 26, was arrested in Worthing last night by Sussex Police on behalf of officers from Scotland Yard.
He was held at a Sussex Police station before being transferred to the capital for questioning hours after explaining his actions.
A man was seen to daub on the Rothko mural on Sunday afternoon before fleeing the gallery.
Yesterday Umanets said he was responsible for writing on the painting.
The wording on the bottom-right corner of the piece appears to read: "Vladimir Umanets, A Potential Piece of Yellowism."
Sources last night confirmed Umanets, originally from Russia, was the arrested man.
Umanets said he was not a vandal: "Some people think I'm crazy or a vandal, but my intention was not to destroy or decrease the value, or to go crazy. I am not a vandal."
Umanets, who studied art, is one of the founders of "Yellowism", which he describes as "neither art, nor anti-art".
"Yellowism is not art, and Yellowish isn't anti-art. It's an element of contemporary visual culture. It's not an artistic movement.
"It's not art, it's not reality, it's just Yellowism. It can't be presented in a gallery of art, it can be presented only in Yellowistic chambers.
"The main difference between Yellowism and art is that in art you have got freedom of interpretation, in Yellowism you don't have freedom of interpretation. Everything is about Yellowism - that's it.
"I am a Yellowist. I believe what I am doing and I want people to start talking about this. It was like a platform.
"I don't need to be famous, I don't want money, I don't want fame, I'm not seeking attention.
"Maybe I would like to point people's attention on what it's all about. What is Yellowism? What is art?
"It's good people are shocked about what happened. No one is realising what actually happened, everyone is just posting that the piece has been damaged or destroyed or defaced.
"But I believe that after a few years they will start looking for it from the right angle. So that's why I did it."
Umanets added: "I believe that from everything bad there's always a good outcome so I'm prepared for that but obviously I don't want to spend a few months, even a few weeks, in jail.
"But I do strongly believe in what I am doing, I have dedicated my life to this."
He said he did not plan which painting he would write on, but thinks he found "the perfect choice", and said he feels he may have increased the value.
"To be honest, I do believe I increased the value. It seems probably ridiculous for someone but I do believe in this. I didn't decrease the value, I didn't destroy this picture, I put something new."
The Tate Modern was shut for a short period then reopened after the incident at 3.25pm on Sunday.
The gallery said it does not have a price for the defaced piece, but paintings by the Russian-born artist often fetch tens of millions of pounds.
A spokeswoman said: "There was an incident at Tate Modern in which a visitor defaced one of Rothko's Seagram murals by applying a small area of black paint with a brush to the painting.
"The police are currently investigating the incident."
Eyewitness Tim Wright posted on Twitter: "This guy calmly walked up, took out a marker pen and tagged it. Surreal.
"We gave a description to the gallery. Very bizarre, he sat there for a while then just went for it and made a quick exit."
A picture he uploaded to the social networking website showed five or six words scrawled on the bottom-right corner of the piece, with black streaks of paint running down from the daubed writing.
Earlier this year, Rothko's Orange, Red, Yellow sold for £53.8 million - the highest price paid for a piece of post-war art at auction.
The 1961 painting went under the hammer at Christie's in New York.