Man who's made an art form out of auction records
Star performer of Sotheby's saleroom is the first ever to take a $1m bid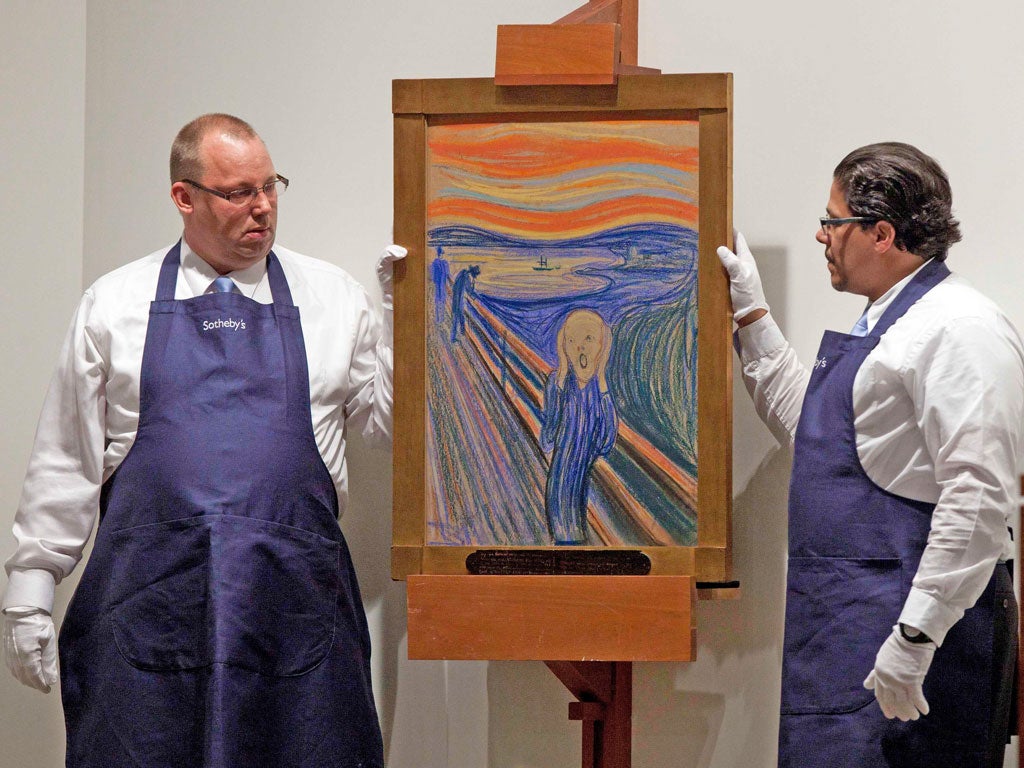 For Tobias Meyer, the moment that bids for The Scream reached $100m was special.
It was then, during what was a dramatic evening at Sotheby's New York, that the man dubbed "seller of the century" realised a personal dream: to become the first auctioneer to take a nine-figure bid on a painting.
Impressively, he had time for a moment of levity as the landmark bid came in. "Can I say I love you?" he remarked to a packed room, cutting briefly through the tension and dispelling a few stereotypes about po-faced auctioneers with one quip.
Mr Meyer's hammer eventually came down at $107m (£66.1m), shattering the auction house's pre-sale estimate of $80m and making Edvard Munch's painting, at $119,922,500 including commission, the most expensive ever bought at auction. Two anonymous phone bidders slugged it out at the last, and the identity of the eventual victor remained a mystery last night.
It was, said Mr Meyer, Sotheby's worldwide head of contemporary art and principal auctioneer, "a historic night. I'm very happy to have been a part of it."
The Scream sold on Wednesday is one of four and the only one in private hands. For the German-born Mr Meyer, who has been described as Sotheby's "weapon of choice" for his skill of "separating collectors from their millions", it "is worth every penny that the collector paid for it. It is one of the great icons of art in the world, and whoever bought it should be congratulated."
Philip Hook, senior specialist of impressionist and modern art at Sotheby's said: "Tobias was very excited. He said it had always been his dream to be the first auctioneer to take a bid of $100m." He added: "As far as I was concerned, that was the top night ever."
The art world was last night desperately seeking the new owner of the Munch work, which beat the $106.5m - with commission - paid two years ago for Pablo Picasso's Nude, Green Leaves and Bust. But there were little clues as bidding had come from all over the world. "The buyer may want to reveal themselves in the not too distant future," Mr Hook said. "Or whoever bought may just remain anonymous."
"The spread of those who competed was extraordinary," he added. "There was interest from Asia, Middle East, Europe and America. It's a reflection of the uniqueness of the image and shows how the art market has globalised."
Certainly, there was little sign on Wednesday night that the world's richest art collectors are feeling much ill-effect from the economic downturn. In total, the evening's auction saw $330.5m splashed out on impressionist and modern art - the highest ever total for a Sotheby's auction of its type and its second biggest sale ever. Perhaps unsurprisingly, Mr Meyer called the night a "dream for an auctioneer".
Anthony McNerney, head of contemporary art at auctioneers Bonhams, said that The Scream sale "could have gone either way" and described the record outcome as "a great result".
"It is the most unique work you are likely to get. It is one of the trophy works of art in the world."
But for Tania Buckrell Pos, head of art advisory firm Arts & Management International, there was little doubt as soon as Mr Meyer entered the room: "We knew history was going to be made when Tobias turned up in a tuxedo. The whole game was elevated."
Join our commenting forum
Join thought-provoking conversations, follow other Independent readers and see their replies