Mayfair hails convicted faker Myatt as a genuine artist with new exhibition
Repentant counterfeiter has found a second artistic wind by selling reproduction artworks openly marketed as fakes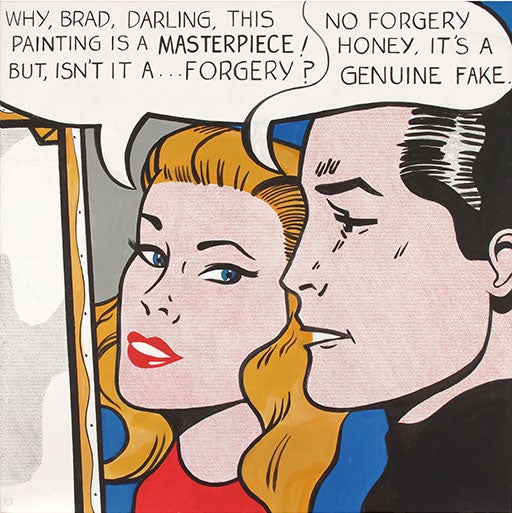 Two paintings in John Myatt's new exhibition neatly bookend the tale of his chequered history as an artist. The first is a depiction of the view from E Wing of Brixton Prison. The second, in the comic-book style of Roy Lichtenstein, depicts a couple discussing a painting. It is entitled Genuine Fake.
Mr Myatt, a former art teacher from Staffordshire, was once one of Britain's most prolific forgers – an activity which earned him a 12-month prison sentence and provided the inspiration for his jail painting Pigeon and Apple View from E Wing.
He has since pursued a different path; one which has taken him back to the rarefied world of the art galleries of London's Mayfair, this time as a legitimate artist producing sought-after canvases convincingly mimicking household names from Monet to Lichtenstein, Miro to Van Gogh.
The 69-year-old repentant counterfeiter, whose latest exhibition opens this week in Mayfair, is one of several British former forgers who have sought a second artistic wind by selling reproduction artworks openly marketed as fakes.
Another counterfeiter, Bristol-based John Andrews – who like Mr Myatt featured in a Scotland Yard-sponsored exhibition at the Victoria and Albert Museum three years ago displaying art by convicted forgers after he faked an Egyptian mask – has started selling "high-quality counterfeits" of antiquities on eBay.
Forgery, of the undeclared variety at least, is a continuous headache for the international art market. Last week a £1.75m Matisse painting was returned to its rightful owners, the Caracas Museum of Contemporary Art, after it was stolen around 2000 and an accomplished copy put in its place. It was not until 2002 that the Venezuelan museum's curators realised they were the custodians of a fake.
The Chinese art market, now the world's most lucrative, is feared to be saturated with fakes. When one prominent contemporary painter, He Jiaying, was recently shown 100 works attributed to him, he identified 80 as fake.
But it seems there is also an appetite for reproductions or imitations of the sort produced by Mr Myatt.
After an eight-year criminal career producing more than 200 canvases, he had vowed to put down his brushes in 1999. But he was persuaded to start again by a detective from the Yard's art and antiques unit, who asked him to paint a portrait of him and his family.
The former forger is at pains to point out his work consists of copying the brushstrokes and style rather than existing works, spending hours studying paintings and signatures.
He told The Independent: "I only choose artists who interest me and I adopt their style. It is to some extent quite skilled. I hope what I do in a sense makes art accessible once more."
While Mr Myatt's Monets and Renoirs in his exhibition of 47 paintings cost a tiny fraction of the eight-figure price tag for a real one, the fakes nonetheless provide a reasonable income. The largest canvas in his show, a "Monet" entitled Avenue of Flowers, has an asking price of £39,000.
Meanwhile, Mr Andrews, who runs his eBay shop under the title "Phosphene Gallery – Deceptively Ancient Art", sells reproduction antiquities complete with fake antique provenance documents, including in one example a "letter" from Agatha Christie to her nephew enclosing an Egyptian idol.
However, experts complain that there is also nothing to stop high-quality counterfeits eventually being returned to the market as the real thing.
There should be little chance of Mr Myatt's "Lichtenstein" being mistaken for the real thing, however. It depicts a lipstick blonde turning to her partner and asking if a "masterpiece" is a forgery. He replies: "No forgery honey, it's a genuine fake."
Join our commenting forum
Join thought-provoking conversations, follow other Independent readers and see their replies