Moving pictures of Israel-Gaza conflict drawn by Palestinian children go on show to mark one year since crisis
The pencil drawings, which will go on show in London, were created in art therapy classes for young Palestinians experiencing death and displacement
Daisy Wyatt
Friday 07 August 2015 21:16 Comments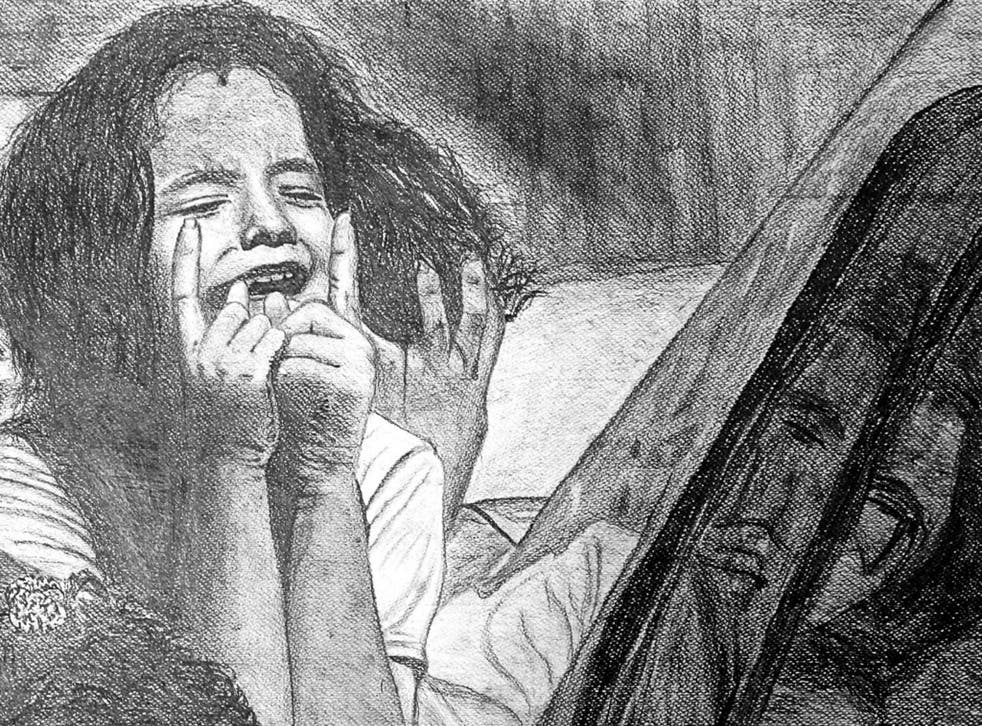 Drawings by Palestinian teenagers who witnessed the Israel-Gaza crisis are to go on show to mark one year since the conflict.
The teenagers, aged between 15 and 17, were asked to express their emotions using a pencil as part of art therapy classes offered to them with support from Christian Aid and other international development organisations.
The pictures show moving stories of the young artists' experiences of displacement, death and destruction. Read about them below:
Soliman Shaheen, 15
"I drew this image because I was so attracted to this girl's eyes. Pain and sorrow reflected in her stare as she stood behind the apartheid wall! Her only dream is to live in peace!"
Hadeel Quidh, 16
"It is too painful to see children in the world without security and a safe place to live. I drew this image because it reflects our homeless childhood and to ask people around the world, 'Where is our right to live safely and in peace?'"
Madeeha Al Majayda, 15
"I drew this picture to honour the innocent people who defend their lands."
Hamza Shaheen, 17
"I am 17 years old. Just like the other Palestinian children, I have experienced three wars on the Gaza Strip. I have witnessed how this has torn the lives of many children apart. That was my reason for tearing this painting when I finished it."
Ayah Sha'ath, 16
"I drew this picture to show a child who lost her right to play with her doll."
Lama Shakshak, 15
"My paintings express the rights of Palestinian children to live in an environment that is safe, without conflict and violence. Palestinian children still stand despite the difficult destruction surrounding them."
Remembering the Israel-Gaza conflict

Show all 12
The artworks will go on display as part of the exhibition Through Young Eyes at the P21 gallery in London from 7-22 August.
Register for free to continue reading
Registration is a free and easy way to support our truly independent journalism
By registering, you will also enjoy limited access to Premium articles, exclusive newsletters, commenting, and virtual events with our leading journalists
Already have an account? sign in
Join our new commenting forum
Join thought-provoking conversations, follow other Independent readers and see their replies