National Gallery spends $25.5m on George Bellows' Men of the Docks – its first major American painting
Painting by the US 'master' artist will be displayed alongside works by Monet and Pissarro
Nick Clark
Friday 07 February 2014 04:00 Comments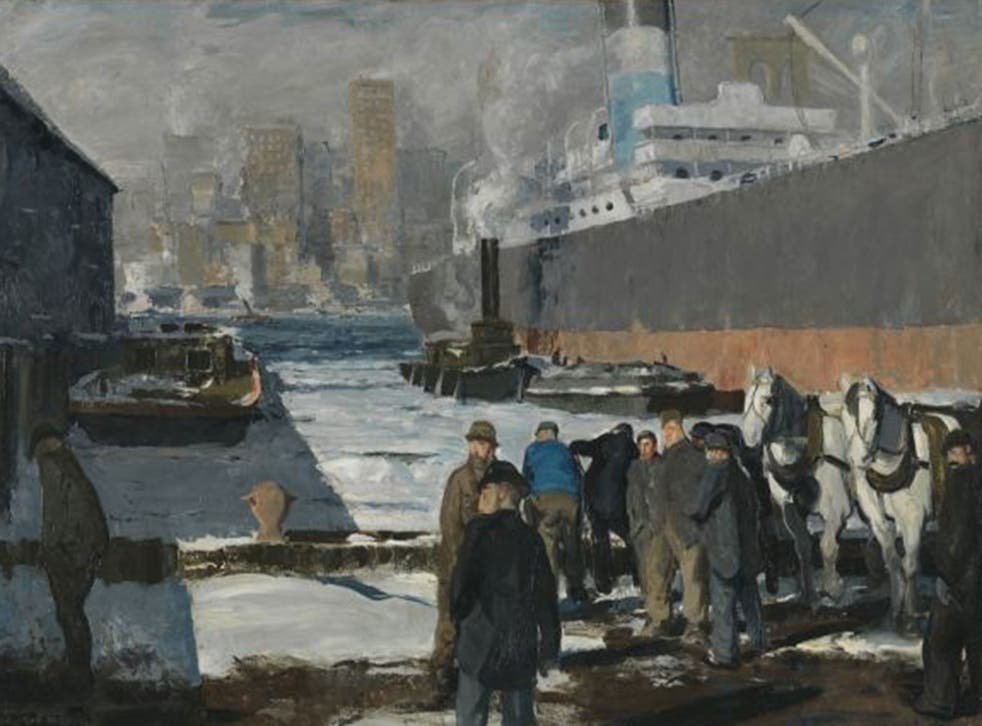 The National Gallery has bought its first major American painting, in a deal worth $25.5m, becoming the first British collection to have work by "master" artist George Bellows.
The institution will today unveil the 1912 work Men of the Docks by the artist who was the focus of his first UK retrospective last year at the Royal Academy of Arts last year. It will be displayed alongside work by Monet and Pissarro.
National Gallery director Nicholas Penny said: "We are thrilled to have been able to purchase this painting" adding visitors "will understand him in a different way."
Men of the Docks was bought with money from the fund established by Sir Paul Getty for the National from Randolph College in Lynchburg, Virginia.
The National Gallery previously had one work by an American artist, but called it "minor" and has kept it in storage. George Inness's The Delaware Water Gap of 1857 was a bequest to the Tate in 1939 before it was transferred and is rarely on display.
It is the last and largest in a series of Bellows paintings of workers gathered on a New York waterfront on a winter's day and described as an "outstanding example of the socially engaged, modern realism that was central to American art in the early 20th century".
For the National, the deal "marked a new direction in its acquisition policy – seeking to represent paintings in the Western European tradition, rather than solely those made by artists working in Western Europe". It started bringing US paintings to London in 2009 for a series of exhibitions including one on Bellows in 2011 but did not target them for the collection.
Bellows was born in Ohio in 1882. He was at the forefront of a group of American realist painters depicting the growing American metropolis of New York.
The National Gallery said that "by 1908, Bellows was acknowledged as the most brilliant of the young generation of painters". He died at just 42 in 1925, perhaps hampering his wider fame. Christopher Riopelle, the gallery's curator of post-1800 paintings called Bellows an "American master".
Bradley Bateman, president of Randolph College said he was " proud that an international audience will now become more aware of Randolph and our long stewardship of Men of the Docks, as this painting takes its place among the masterpieces in the National Gallery".
The deal marks what the National dubbed a "new, transatlantic academic partnership, the first of its kind between an American college and a UK gallery".
---
Register for free to continue reading
Registration is a free and easy way to support our truly independent journalism
By registering, you will also enjoy limited access to Premium articles, exclusive newsletters, commenting, and virtual events with our leading journalists
Already have an account? sign in
Join our new commenting forum
Join thought-provoking conversations, follow other Independent readers and see their replies