National Gallery unveils 'uncompromising' portrait of Tony Blair by Alastair Adams
Oil painting is a dramatic close-up of the former Labour leader
Jamie Merrill
Friday 20 December 2013 12:48 Comments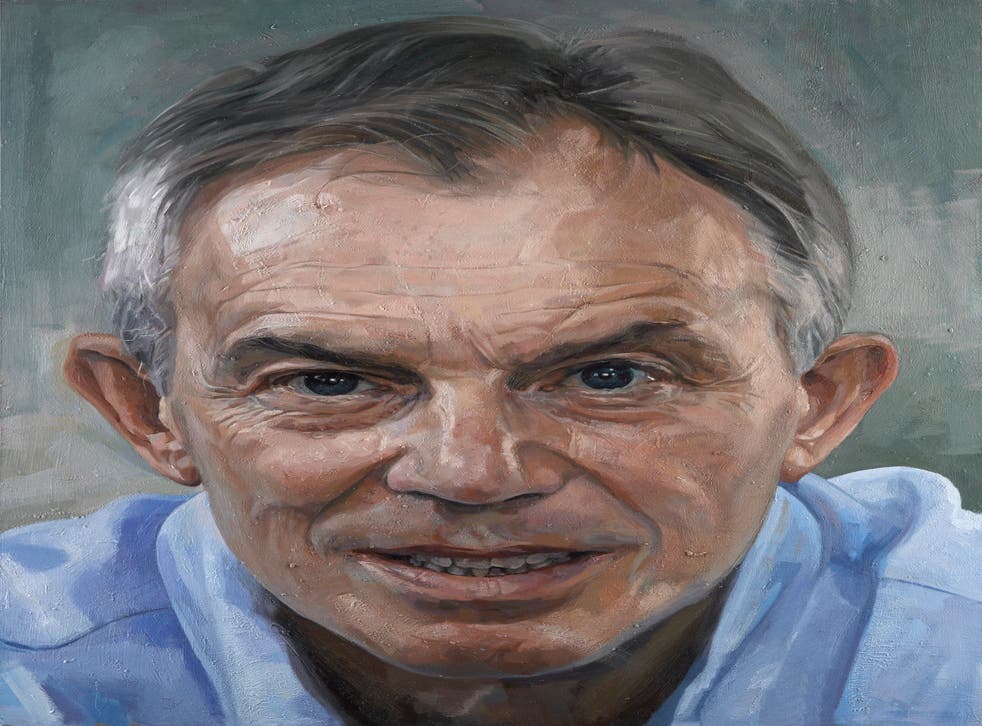 He was notoriously unwilling to sit for a portrait when he first left office, but the National Portrait Gallery today finally unveiled an "immediate" and "uncompromising" work of former Prime Minister Tony Blair.
The four feet by three oil painting by Alastair Adams, President of the Royal Society of Portrait Painters, is a dramatic close-up of Mr Blair who is remembered for transforming the Labour Party, initiating vast public sector reform, negotiating the Good Friday Agreement in Northern Ireland and taking the country into bloody conflicts in Iraq and Afghanistan.
Mr Blair sat for the painter during the spring of 2011 at his home in Buckinghamshire and according to the gallery the resulting work "very immediate portrayal of the longest-serving Labour Prime Minister and, to date, the youngest Labour Prime Minister to take up office since 1812".
Sarah Howgate, contemporary curator of the National Portrait Gallery, said: "The direct gaze of the sitter is uncompromising but also reflects his considerable skill as a negotiator on the world stage. The Gallery is now able to represent Tony Blair with a portrait consonant with the personality of an individual who has considerably shaped the political, economic and cultural climate of Britain".
Without a tie or his trademark mug of tea, the former Prime Minister's portrait is the latest in the National Portrait Gallery's plan to house portraits of all former British Prime Ministers, in a similar manner to a permanent collection of American Presidents at the Smithsonian portrait gallery in Washington.
While this is the first painted portrait of Tony Blair to enter the Gallery's collections, he's already represented in photographs in the gallery, while a portrait of him by Jonathan Yeo has hung the Great Hall of London's Lincoln's Inn since 2008.
Portraits of Prime Ministers and royalty

Show all 6
Register for free to continue reading
Registration is a free and easy way to support our truly independent journalism
By registering, you will also enjoy limited access to Premium articles, exclusive newsletters, commenting, and virtual events with our leading journalists
Already have an account? sign in
Join our new commenting forum
Join thought-provoking conversations, follow other Independent readers and see their replies